Not all high-end watches are just about looks and nothing really illustrates this better than the Milgauss line of watches by Rolex. This is a line of watches where cutting-edge science meets elegant design to create something really special. This is not only an elegant watch, but it is also one of the toughest and most durable you can find as well. Like many Rolex watches, there are unique design features exclusive to this watch that make it easy to recognize on sight. 
While you may not work at a particle physics laboratory, you can certainly appreciate a watch that is tough, durable and designed to withstand some pretty intense conditions. And not only is it tough, but it is also cutting-edge. It is one of the most precise and reliable watches you can find. With Rolex-exclusive internal components like movements and mechanisms, you are getting something truly one-of-a-kind that you won't find anywhere else. But what makes the Milgauss really special is that it is still elegant enough for a night on the town or a more formal event. This is a versatile watch that will look great with a whole host of different looks for different social occasions. 
Precision and Durability
You don't have to be a scientist to appreciate a highly precise timepiece like the Milgauss by Rolex. Time is money and it is important to show that you value other people's time as well as your own. A way to do this, and to also telegraph the fact, is with a high-end wristwatch. Nothing says professional quite like a good watch. It just gives you that put-together look that makes you look serious and businesslike. In today's really competitive world of business, any little edge can make a real difference. Looking professional is part and parcel of being taken seriously as a professional.
But it isn't even necessary to be in the field of business to appreciate precision design and a durable timepiece. It is nice to have something that can go where you go. A watch that can withstand a wide range of rigors is not always easy to find. Especially not one as elegant and stylish as the Milgauss. It is a perfect combination of form and function. You wouldn't know just by looking at it that it is one of the most cutting-edge timepieces on the market. It just looks like a really elegant and stylish high-end watch. 
Elegant Design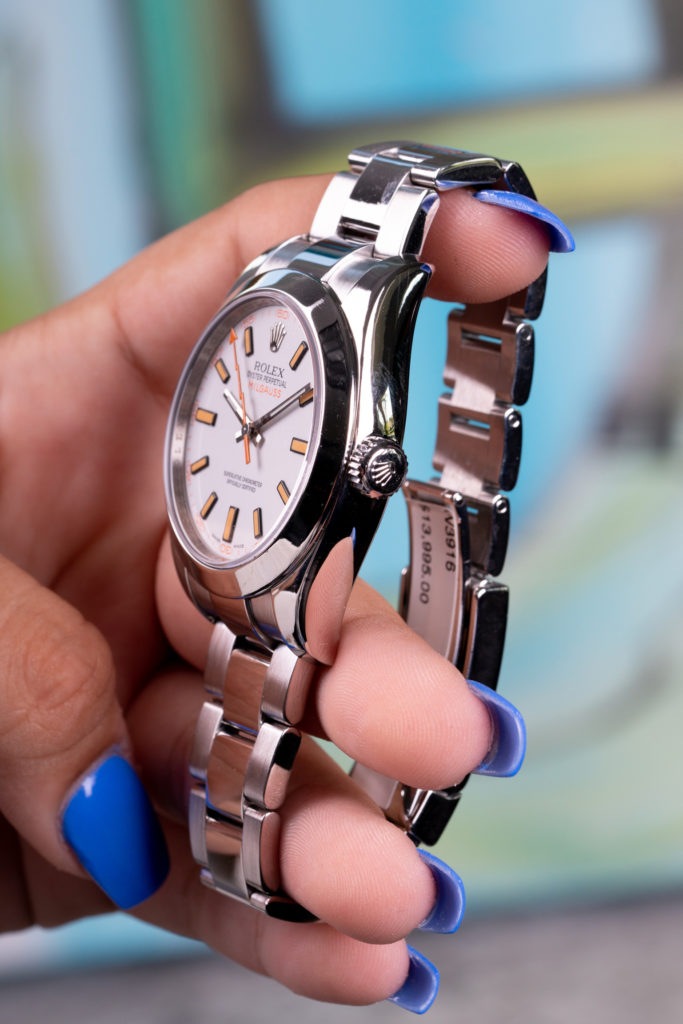 Just because something is meant to be tough and durable doesn't mean it can't still be elegant and beautiful to look at as well. This is exactly what you get with the Milgauss line of watches by Rolex. These are watches that have a classic profile and clean lines. This classic look and feel make the watch have that timeless quality that helps defy trends. Trends come and go, but the classics have staying power. And what you get with the Milgauss is a really cutting-edge watch that also happens to have classic and timeless design features.
These clean lines make the watch elegant enough to pair with a well-fitting suit or other formal attire. It will give you that put-together, professional, businesslike appearance that so many of us need for our careers. But not only that, this is a watch that will also look great with more casual and even more formal attire as well. Not only is it tough enough to go where you go, it is also elegant enough as well. There are numerous options within this line, which makes it easy to find the perfect version of the watch for your taste and style. The version we feature here has all the classic design elements you expect of a Milgauss, with a unique white dial. 
Unique Design Features
One of the great things about Rolex watches is that almost every line has a few design features that are unique to that line. It is what makes certain models really easy to recognize. And there is absolutely nothing wrong with someone recognizing your high-end and elegant watch. Rolex is a really unique brand in that they hold patents on a wide range of elements that will feature in their watches. Many of these elements are functional, such as mechanisms and movements. But others include unique metal blends, bracelet configurations, and more. What this means is that what you get from Rolex really is unique and one-of-a-kind.
With the Milgauss line of watches by Rolex, you get quite a few unique design features. First and foremost are the inner workings of the watch which feature Rolex-exclusive shields that allow it to protect the inner mechanisms from magnetic fields. But there are also easy-to-spot features as well. One of the most recognizable is the lightning bolt-shaped second hand. It is almost always in bright orange, which is another feature of this elegant and unique line of watches. The lightning bolt is a design that hearkens back to the original Milgauss model from the 1950s.
A Scientific Watch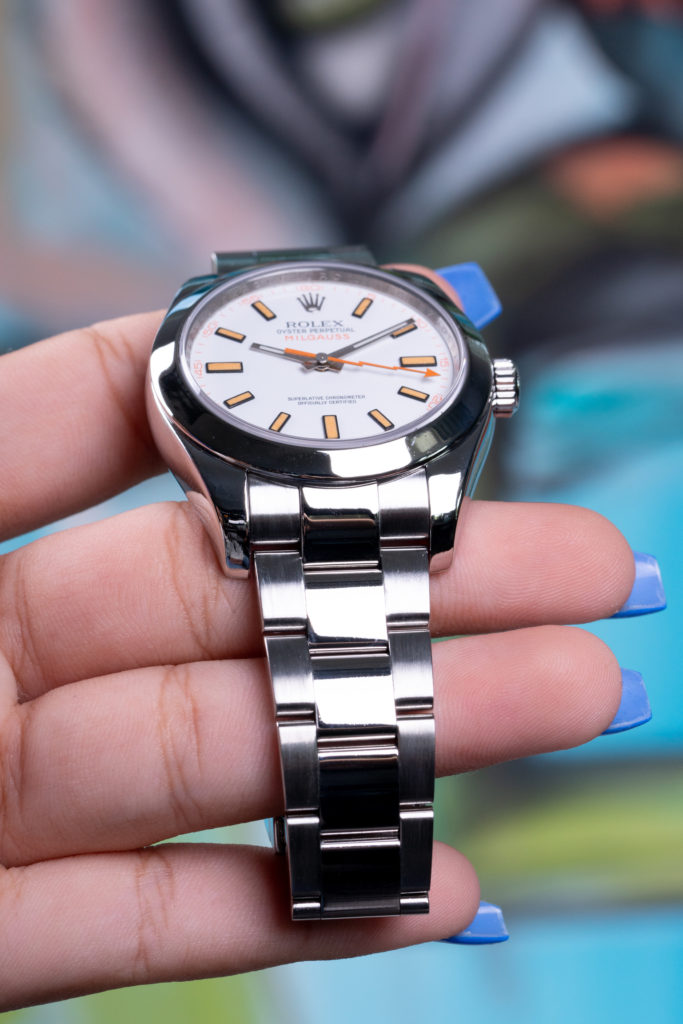 The Milgauss line of watches is quite a bit different from your traditional high-end watch. One of the things that have always set Rolex apart from other companies is its dedication to innovation and providing for the needs of scientists of all stripes. The line of watches we feature here is one that hearkens back to the early days of particle physics research. Scientists in this field would have exposure to a range of unique elements that most timepieces just couldn't withstand. 
Most specifically was magnetic fields. Working in a particle accelerator would expose these individuals, and any hardware they may be wearing, to intense magnetic fields that could cause irreparable damage to said hardware. Rolex set out to design a watch that could withstand these elements and still function optimally. It took science to come up with a solution. Science, as always, helps other sciences. With some innovative design, Rolex came up with the Milgauss which features a really unique shield that protects the internal workings of the watch from the intense magnetism that these scientists would face. And the thing is, you don't have to be a scientist to appreciate a watch that can withstand even the most extreme elements. 
Rolex Innovation
Rolex is likely one of the first brands you think of when you consider high-end watches. But you should also think of Rolex when it comes to innovation and cutting-edge design. Creating some of the most cutting-edge timepieces, that are still elegant and beautiful, has long been a focus of the Rolex company. And they continue to make good on this effort. To do this, they will work with people who have careers in unique and trying environments. The company will find solutions that will allow them to create a watch that meets these unique needs. These elements will then find their way into almost every Rolex watch.
This means that even if you don't get one of the purpose-built timepieces, you are still getting technology that was pioneered in those pieces. And the Milgauss is one of those watch lines that combines cutting-edge technology with elegant design. The fact that Rolex holds a wide range of patents on elements that feature in their watches is just another way that what you get from Rolex really is one-of-a-kind.
The Rolex Milgauss Line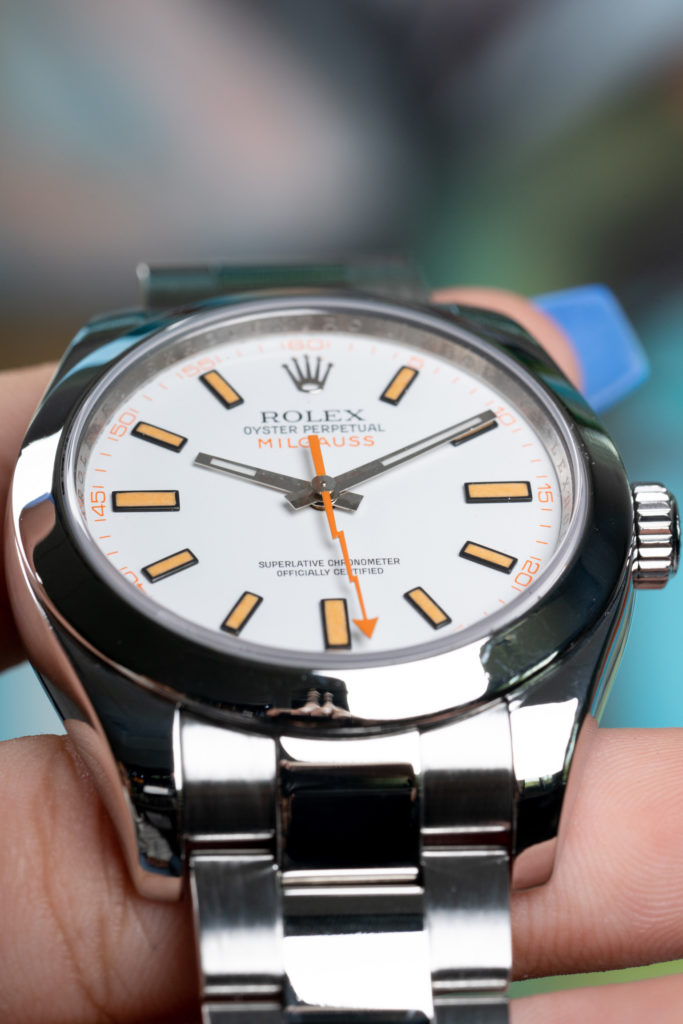 The Milgauss line of watches by Rolex is one of the most cutting-edge and precise lines you can find on the market today. This is a purpose-built watch that is meant to withstand the rigors of certain scientific environments. The name comes from the French word for one thousand, mille. That is because when the watch saw its first introduction in 1956, it was resistant to magnetic fields of up to 1,000 gauss. 
This was really cutting-edge at the time and continues to be to this day. There are a few design elements that are consistent across different versions of the watch. First and foremost are the clean lines and elegant profile. The watch also features a lightning bolt-shaped second hand. This is an homage to the original version of the watch and makes it recognizable on sight. 
Rolex would work with the particle physics laboratory, CERN, to ensure that these watches could meet the various needs of this unique environment. 
The latest versions of the Milgauss feature a synthetic scratch-proof sapphire crystal. This makes the watch incredibly easy to read, even in lower lighting conditions. The hour markers boast a luminescent material that gives a clear blue glow when the lighting conditions diminish. 
It is the resistance to magnetic fields that really sets this watch apart from others. Made from ferromagnetic alloys, it contains a shield that protects the movement from magnetic fields and interference. 
The latest version of the Milgauss features a Calibre 3131. This is a Rolex-exclusive mechanism that is meant to be precise, durable, and reliable. The way the mechanism is designed provides a huge amount of stability, even in conditions that entail fluctuating temperatures. 
Cutting-Edge
Whether or not you are a scientist, we know that you can appreciate a timepiece that is on the cutting edge of science and engineering. This is exactly what you get with the Milgauss line of watches by Rolex. This is a line of watches that is elegant and beautiful to behold, but what is on the inside is just as amazing. What this means for the wearer is that they have a timepiece that is really stunning and the epitome of high-end style, but that also can withstand a wide range of environments and elements all the while. And the Milgauss is especially tough and durable. 
Versatile
Not only is the Milgauss line of watches by Rolex tough and durable, but they are also versatile. There really aren't a ton of high-end accessories that are also incredibly versatile, but this line of watches fits the proverbial bill. This is a watch that you can easily wear with a well-fitting suit to a day at the office or even a more formal event. But this is not a watch that you have to relegate for special occasions. It also looks great with casual attire, sporty attire, and more. It is this versatility that makes it a great option for daily wear.
The Milgauss can easily become part of your signature look. It will pair well with a huge range of different fashions. And, it will also pair well with other accessories. If you stick to the same metal across your different accessories, you can actually pair a pretty diverse array of different pieces together. This will help you create a look that is truly all your own. We all want to have our own unique look and the accessories we choose to wear every day are a great way to do this. 
In Closing
Rolex is one of those brands whose reputation precedes them. And there are many good reasons for this. First and foremost, this is one of the most well-known luxury watchmakers in the world. The company is known for making highly elegant and stunning watches that are also cutting-edge in their engineering and craftsmanship. A Rolex watch really is a perfect blending of form and function. The Milgauss line of watches is a great example of this. They are incredibly elegant and have unique design features that set them apart from even other Rolex watches.
And, they are also some of the toughest and most durable timepieces as well. The name even shows you its toughness. This is a line of watches that is meant to withstand strong magnetic fields, which is where it takes its name. While this is a watch that was made with the scientist in mind, you don't have to be a scientist to appreciate the fine design and cutting-edge craftsmanship of the watch. It is one of the toughest and most durable timepieces the company makes. This is one of those watches that really can go where you go, and whether you are going smother formal or maybe somewhere outdoorsy, you can be sure that this watch will do the trick.