Although custom, in-house jewelry design is only one of the many premium services we offer at Raymond Lee Jewelers, it is a favorite. We love to create a piece of jewelry completely from scratch, like this custom firefighter pendant necklace we recently made for a New Hampshire firefighter.
Nothing compares to bringing a new piece of jewelry to life, from start to finish, and then presenting that to our customers in hopes that they will love the design as much as we do. Custom, one-of-a-kind jewelry is something to admire, cherish, and pass down to future generations. It's meaningful, it's a work of art, and it holds a lot of value. 
We take great pride in the process. Everything is done entirely in-house, from start to finish. We use raw materials and loose diamonds for all of our creations.
How Do We Make Custom Necklaces at Raymond Lee Jewelers?
Here is our step-by-step jewelry-making process (with the process for the featured custom firefighter pendant necklace also explained)
The first step of our in-house custom jewelry designs is developing a concept. Our team of designers and jewelry makers brainstorms ideas based on hot trends, customer insight, vintage styles, and more. 
Also, we take inspiration from other areas outside of jewelry. We consider designs based on nature, the fashion industry, color schemes, and periods. 
At this point, we essentially have a mood board full of the main ideas that we want to incorporate into our design. Sometimes the design is simple and elegant; other times, it is intricate and sophisticated. Every piece is unique, so it's all just a matter of what the inspiration is at that moment. 
Once we have all of our ideas and the main concept mapped out, we look through our extensive selection of loose diamonds and gems. We choose the stones we want to be the centerpiece; whether it's a pendant or accent diamonds, we lay them all out on the table.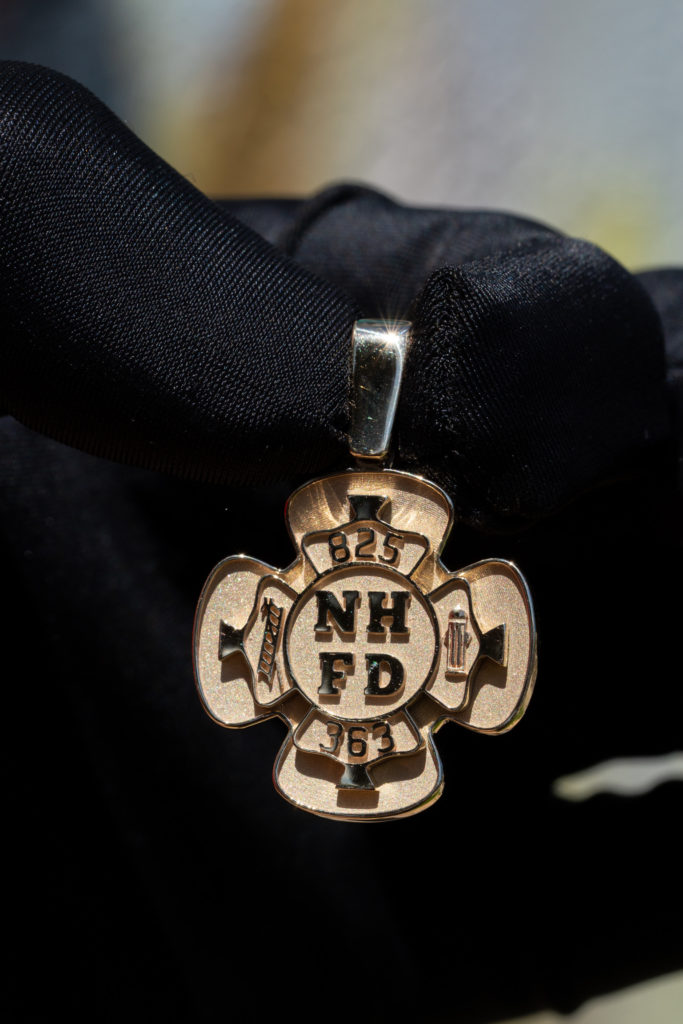 Having a clear understanding of the concept, we can select the suitable metal that will be the most fitting for the new piece of jewelry we are designing. From here, we sketch out designs on paper and choose the best one(s) that we want to create based on what we love and what we think our customers will appreciate. 
Again, we use research-based concepts to give us the best chance at successfully creating a design people will love.
The Idea behind this Custom Firefighter Pendant Necklace
We worked closely with our client to figure out exactly what he wanted. Using our cutting-edge computer technology, we could mock up a piece before we ever worked on a piece of gold.
The client wants yellow gold and something masculine yet elegant. With this idea in mind, we could create a mockup of the piece. After consultation with the client, we then began work on the piece. The result is a beautiful yellow gold pendant representing his particular firehouse.
Working Out a CAD (Computer Aided Design).
Once we decide on a sketch, our in-house jewelers bring the idea to the virtual world by creating a 3D computer-generated image. This digital 3D model created by our master jeweler is then thoroughly reviewed to ensure it meets our highest design standards. 
This image will be the master jeweler's guide to ensure every detail is exactly how we want it to be. Adjustments within the CAD are easily made to perfect the design. There are tons of features to work with. After we finalize and confirm the 3D design, we move on to the next step, which is bringing the piece to life. 
Hand-crafting a High-End Masterpiece
This is the step where things come to life. For many jewelry designs, such as custom rings, this would be the step where we use a CAD to make a physical wax model so we can analyze the size, shape, and structure of a new piece of jewelry we are making. Wax models allow us to test for fitting and functionality. It is also our last opportunity to make any necessary changes.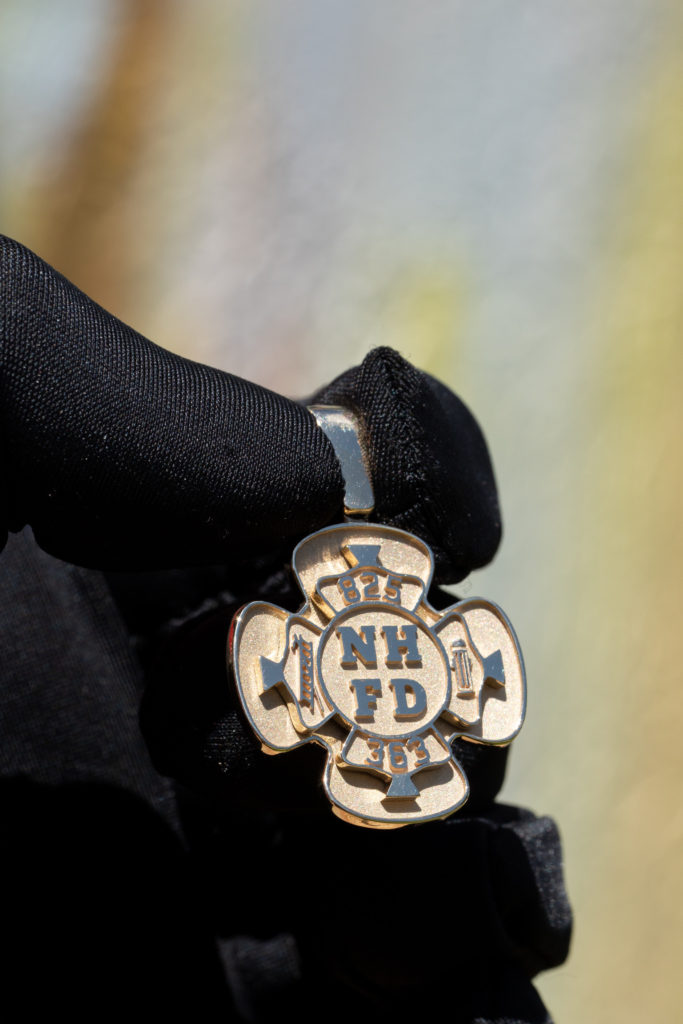 However, with this custom firefighter pendant necklace design, we used traditional tools to make sure the form was flawless, and we soldered it together. From here, we hand finish and polish the pendant, and we solder the chain necklace to the pendant. 
When you look at the steps it takes, it's all straightforward. However, to create the design immaculately requires the hands of a very skilled jeweler. Everything needs to be smooth and seamless, and in the end, it's so perfectly done that it almost appears as if it was made entirely by a machine.
End Result: A Piece of Symbolic Luxury
After the piece of jewelry gets perfected, we polish it to give it that absolutely luxurious finish. All of our custom, in-house jewelry is then placed in Raymond Lee Jewelers presentation boxes and placed in our showroom for sale or delivered to our customers, like this custom firefighter pendant necklace.
This Custom Firefighter Pendant Necklace is a Symbolic Piece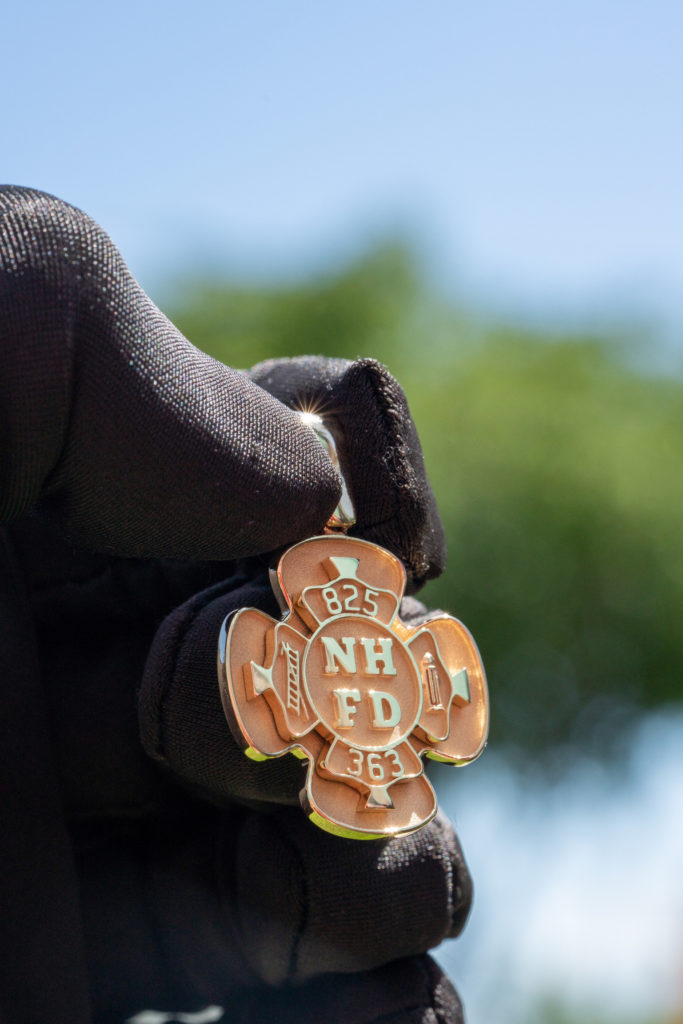 While the way a piece looks is definitely the main selling point, it isn't the only one. Sometimes, we want a piece of jewelry for its meaning or symbolism. Take, for example, an engagement ring. We may choose something like an eternity band for the symbolism it entails. 
When we marry, we are joining two lives together as one, hopefully for eternity. So, the eternity band is a meaningful and sweet symbol of that joining and long-term relationship. Choosing something with meaning elevates an accessory from a piece of jewelry to something that will have memories and can even be passed down to later generations. 
Here, we feature a custom firefighter pendant necklace created for a New Hampshire firefighter. This is a job that is full of public service and sacrifice. Firefighters may get hurt or even perish while trying to save someone. 
That creates a strong bond between firefighters, as well as the departments they work for. So, the custom firefighter pendant we created for the firefighter has a lot of meaning for them. It is a visual representation of the brotherhood and the sacrifice these heroes make daily to ensure our safety.
Handmade Jewelry Pieces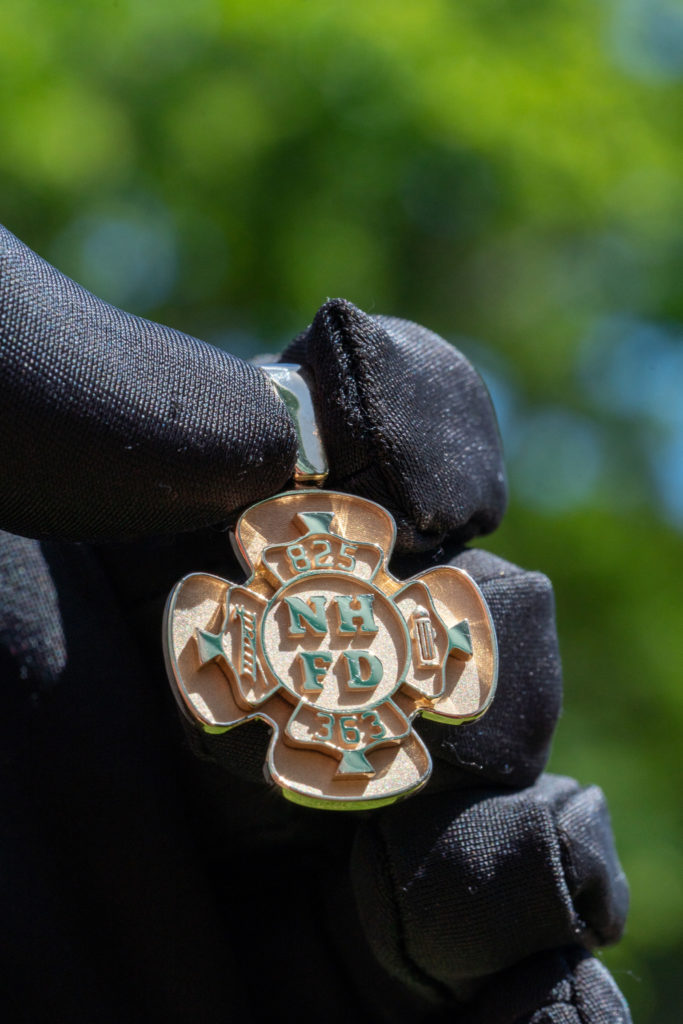 Many of our customers want hand-crafted jewelry as it offers a personal touch. These in-house jewelers are one-of-a-kind, so you can be proud to wear something unique to you and yourself alone. 
From the moment you enter our showroom, you will be transported to a place where special jewelry becomes a reality. 
Although we have an extensive collection of various high-end brands, we want our customers to know they can get something distinct. Something that hasn't been mass-produced. Something that was made with someone's bare hands and a few tools.
Alluring and Auspicious Yellow Diamonds in this Custom Firefighter Pendant Necklace
There is no other diamond color that can capture the rays of the sun like a yellow diamond. The color is dramatic and brilliant. Indeed, diamond necklaces are lustrous, but, with yellow gold diamonds, it goes a notch higher.
Yellow diamonds glow stunningly, both day and night. They are a red carpet favorite among the famous. Because of this, Yellow Diamonds, aka Canary Diamonds, are the most talked about fancy color diamonds.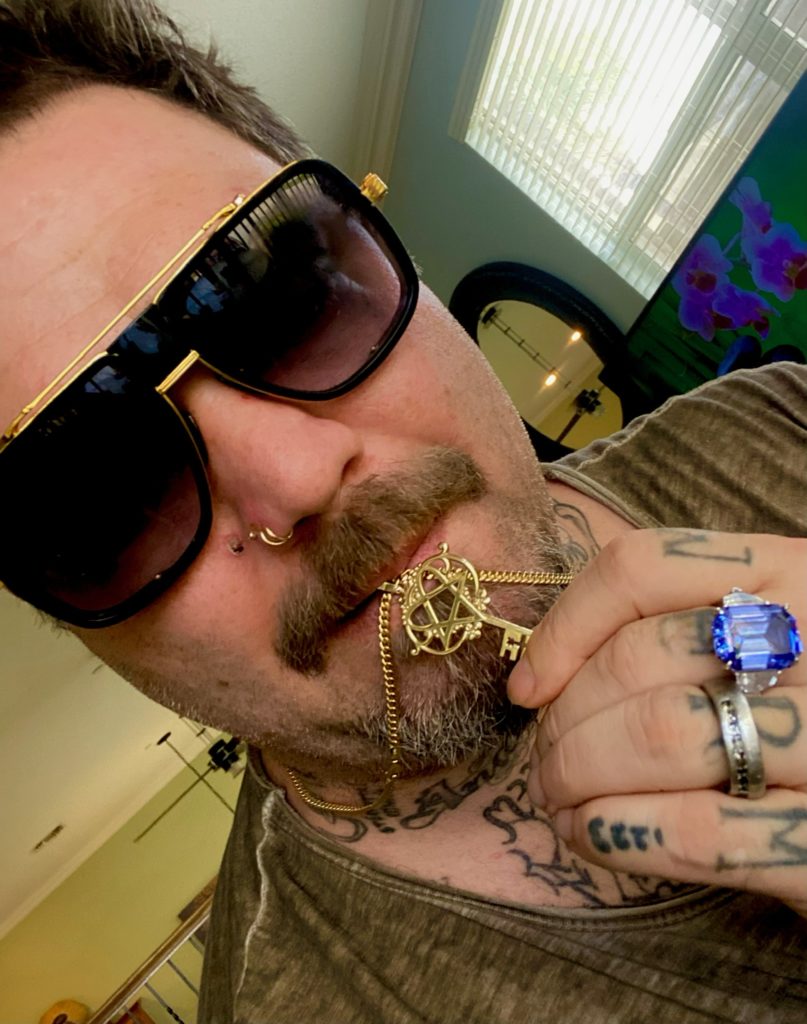 Most people think of yellow gold as being "pure" gold. While we can agree that yellow gold is the most classic, natural color of gold out of the three (white, yellow, and red), jewelry makers don't use pure gold for their jewelry. Pure gold is too soft, and it's less durable. 
The best gold will be 18K or 14K, as it is easy to care for, it can be worn every day, and it will last forever. 18K and 14K yellow gold is an alloy made from pure gold, copper, silver, and zinc. Lighter 18K yellow gold will typically have 75% gold, 12.5% copper, and 12.5% silver. Darker 18K yellow gold will be 75% gold, 15% copper, and 10% silver. 
These alloys will give you the closest look to pure natural gold. 
The distinct color of yellow diamonds is a product of the presence of nitrogen in the composition of the diamond. Most diamonds contain nitrogen. With yellow diamonds, the nitrogen atoms have grouped themselves in a very particular way. This occurs during and right after the diamond has formed. 
The nitrogen molecules absorb blue light, making the stone a shade of yellow. Depending on how much nitrogen is in the composition, yellow diamonds can range from very light yellow to dark yellow. 
Yellow diamonds are part of the fancy color diamond family, and many yellow diamonds contain different hues, such as orange, green, or brown. These hues can decrease the value of the yellow diamond. 
Pure, natural, yellow diamonds are an intense shade of yellow, referred to as Canary Diamonds. These are, of course, much more expensive. Their color is pure and doesn't contain many if any, different color hues. 
Outstanding Yellow Diamond in Jewelry Pieces
Almost all of the most remarkably large and vivid yellow diamonds in the world were discovered in South Africa. One of the most famous yellow diamonds is the Allnatt. It is a 101ct cushion shape fancy vivid yellow diamond. It was named after its first owner, Major Allnatt, in the 1950s. 
Fun Fact: One of the largest polished diamonds in the world is a 407ct internally flawless brownish yellow diamond. It is called the Incomparable—a very fitting name for such a rare find.
Yellow Diamond Intensity Levels Using the Grading scale
As most people know, white diamonds are graded for color from D to Z, D being colorless, and Z having a noticeable yellow or brown tint. Now, if the scale were to go beyond Z to rich, yellow color, you'd have a Fancy Vivid Yellow Diamond. 
So, once you reach this point where there is no trace of whiteness, you are dealing with yellow diamonds that are fully saturated. This is when the diamond becomes more special.
Here is the GIA color grading scale for yellow diamonds:
Faint, Very Light, Light, Fancy Light, Fancy, Fancy Intense, Fancy Vivid (or Fancy Deep or Fancy Dark)
As GIA is the most reputable institute for grading diamonds, this is the most common scale for jewelers across the globe. As simple as it may read, determining a yellow diamond's grade on the scale can be difficult to pinpoint. This is because each color grade has its own range before moving up or down the scale.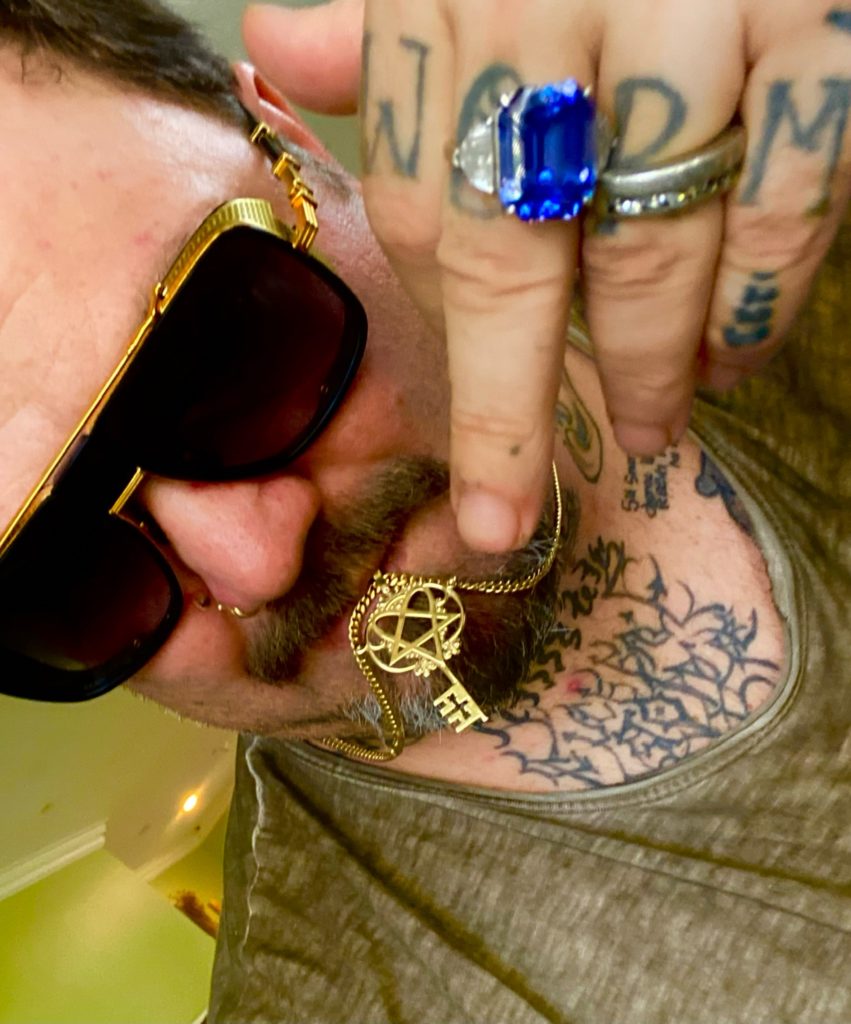 For example, you may have a yellow diamond that borders on the fancy light and fancy territories, making it hard to say which. This is why it's important to trust your jeweler. At Raymond Lee Jewelers, we pride ourselves on fair dealings and have an outstanding reputation with over 30 years in business.
FAQs for Yellow Gold Diamonds 
Who is Yellow Gold Good for?
The great thing about yellow gold is that it looks good on anyone. It is particularly gorgeous for olive and darker skin tones. 
How Do You Care for Yellow Gold Pieces?
Yellow gold is the least durable of the three gold colors. So it requires more aftercare. If it gets any scratches, you can always polish them. That's the beauty of yellow gold. All it takes is good polishing for it to look brand new again.
Why Choose Yellow Gold For Your Necklaces?
Yellow gold diamonds make an excellent pick for the following reasons:
It goes amazingly well with yellow diamonds.

It offers a vintage look.

It's classic. You can't go wrong with yellow gold. Ever.
Custom Diamond Jewelry Service at Raymond Lee Jewelers
We work with you every step to ensure you get your perfect piece of jewelry that is uniquely yours. At Raymond Lee Jewelers, we do necklaces, bracelets, rings, and earrings of all styles
So, are you interested in any of our in-house jewelers or our premium custom design jewelry service? Don't hesitate to get in touch with us today with any questions you may have. You can also pop into our store any time we are open.
We look forward to hearing from you.