There is a particular factor behind their outstanding nature. You can recognize a heart-shaped engagement ring as soon as you see one. A heart-shaped diamond looks stunning in a pendant, ring, or any other piece of jewelry. At the same time, these rings still offer additional value compared to other round diamond rings of the same size.
Meanwhile, the same rule that applies to every diamond applies to these heart-shaped engagement rings. When choosing a heart-shaped diamond, you must pick one with the best features. 
Be on the lookout for diamonds that come in a certain length-to-width ratio. Also, a diamond of 1 carat or higher than that is necessary if the heart shape must come out clearly. 
Truly, heart-shaped diamonds aren't as popular as round-cut rings. However, you can still find heart-shaped engagement rings with high quality online effortlessly. Try out vendors like Diamonds By Raymond Lee. There, you can find a vast array of GIA-certified heart-shaped engagement rings with lovely settings. 
Peculiarities Of Heart-shaped Diamond Engagement Rings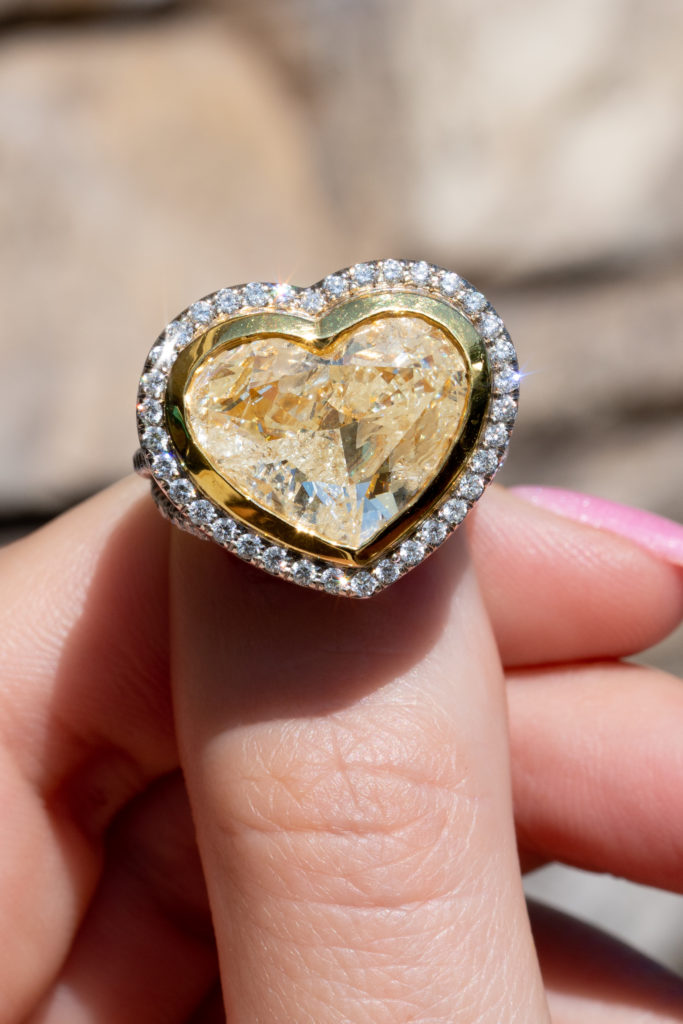 – A Diamond Ring With A Message
Over time, the heart-shaped diamonds featured on heart-shaped engagement rings present that lovely message. A message of timelessness and an elegant emblem of love. Heart-shaped diamond engagement rings are distinctive, special substitutes for the more popular diamond cuts out there.
– A Rare and Special Pick
Over two-thirds of all diamond rings sold out there come in round brilliant cuts. On the other hand, heart-shaped engagement rings make up barely a little portion of this total. From the many diamond rings sold every year, only a few are heart-shaped diamond engagement rings. 
Therefore, heart-shaped engagement rings are distinct, precious, and rare picks for those that choose them. 
– Usage Variety
When it comes to usage, heart-shaped diamonds can feature in a variety of jewelry pieces. You can find them on pendants, bracelets, rings, and many more. 
Nevertheless, diamonds of this nature mostly feature as center stones in diamond engagement rings. 
– Rich And Classy History
Heart-shaped diamond engagement rings date back to the 16th century. The first time we saw a heart-shaped diamond ring was in 1562. Black then, it was a gift of friendship to Queen Elizabeth from Mary Queen of Scots. Note that! This ring enjoyed its first spotlight with royalties.
Similarly, in recent times, heart-shaped engagement rings continue to appear on celebrities. Celebrities like Lady Gaga, and Nicki Minaj recently rocked these heart-shaped diamond rings. Lady Gaga rocked her as an engagement ring from Taylor Kinney.
– A Prodigy Of The Famous Round Brilliant Cut
These rings might appear very unique. Yet, the heart-shaped diamond cut is actually a prodigy of the very prominent round brilliant cut. 
Hence, a heart-shaped ring commonly comes with 56 to 58 facets. They also have six to eight facets that complete the diamond's pavilion. 
– Displaying Striking Radiance
When cut to an outstanding grade of quality, a heart-shaped engagement ring displays a unique and striking brilliance. This brilliance is so striking and catches the eye thanks to the unique shape it has. Nothing beats a diamond ring that embodies you and your spouse's shared affection. 
– Varieties On Display
Heart-shaped diamond engagement rings come in a variety of lengths and widths. These varieties go on to take a big toll on the eventual appearance of these rings. In this review, we present you with more details on all of these factors and varieties. 
Therefore, look out for them when shopping for a heart-shaped engagement ring, a pendant or any other piece of jewelry.
Heart-shaped Engagement Rings Cut
Thanks to the unique appearance of a heart-shaped diamond ring, this becomes vital. The cut quality is a major among the most significant factors to watch out for when comparing numerous diamonds.
However, assessing the cut quality of a heart-shaped diamond engagement ring isn't an easy task. It is not as simple as reading such a diamond ring's GIA certificate. This is in contrast to round brilliant diamonds and other popular cuts. 
The GIA certificate that you find with a heart-shaped engagement ring is different. It doesn't provide all of the details you need on its cut quality. 
You simply have to cast a glance at the cut grade. You can be sure at that instant whether or not what you're buying is quality cut-wise. You can instantly discover if it is a well-cut diamond ring with fantastic symmetry and a lovely appearance.
Hence, it becomes rather crucial for you to scrutinize and verify any heart-shaped diamond ring thoroughly before you buy it.
Essential Nuggets About Heart-shaped Diamond Engagement Rings Cut
We already stated earlier how certain major factors stand out in a heart-shaped diamond engagement ring's cut. You must pay attention to all of these factors when making a choice. 
First is a suitable or close-to-perfect length to width ratio. Then, there is an optimal depth and table. Also lookout for an outstanding symmetry. Plus, there should be a perfect overall shape to aim for.
For successful scrutiny, you must use a diamond vendor that delivers high-resolution, 360° pictures of their diamond rings. Particularly, Diamonds By Raymond Lee delivers these fabulous images. Hence, it becomes simple to recognize diamonds that conform to the above standards.
Meanwhile, if there is any doubt in your mind as to what to search for, we are here for you. Reach out to our diamond experts. They will provide you with all the help you need to find a lovely heart-shaped diamond engagement ring. The kind that fits your wants and budget.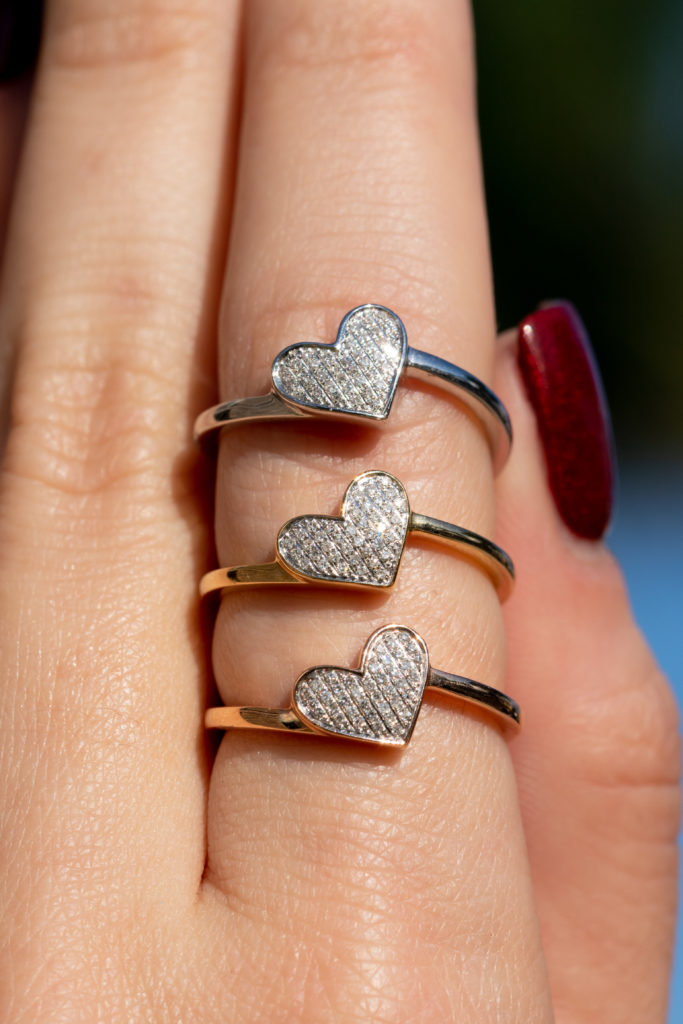 Heart-shaped Engagement Rings Clarity
Clarity is the next part of .this dimension to look into. Clarity is all about how clean a diamond comes off when it's sighted by a gemologist. 
When you see a diamond with high clarity grade, they generally have close to zero inclusion or blemish. However, diamonds with lesser clarity grades mostly possess numerous huge, very obvious inclusions. 
Particularly, the GIA rates Clarity based on the following scale:
IF – Internally Flawless
VVS1 – Very Very Small Inclusions
VVS2 – Very Very Small Inclusions
VS1 – Very Small Inclusions
VS2 – Very Small Inclusions
SI1 – Small Inclusions
SI2 – Small Inclusions
I1 – Inclusions
I2 – Inclusions
For the higher grades on this rating, such as IF and VVS1, you have only a tiny amount out there. In fact, a diamond that falls into that grade IF is too rare to find. Plus, you'll pay a massive premium to buy a stone that falls in this clarity grade category.
The Grading Process
The process where a gemologist grades a diamond to judge the clarity is particularly specialized. The gemologist carefully assesses the diamond with the aid of a jeweler's loupe with 10x magnification. 
Thanks to how magnified the view is, it's simple to pick out flaws. The gemologist can even pick out flaws that are totally hidden from the human eye. 
It is best to look out for a diamond that appears eye-clean. What this implies is that you can't see any inclusions or any flaws at all with your naked eye. 
As for heart-shaped diamond engagement rings, any clarity grade of SI1 or higher will do. That will give you an eye-clean diamond. Due to the heart shape being an improved brilliant-cut, tiny inclusions might appear rarely to the human eye.
To get the best value for your money, thoroughly inspect the photos of any diamond that strikes your interest. Afterward, go for the least eye-clean clarity grade.
Heart-shaped Engagement Rings Color
According to the GIA, the diamond color grades vary from D to Z. When it is a D grade, it reflects that such diamond is totally colorless and clear. On the flip side, a Z grade spots a diamond that carries an evident brown or yellow stain.
Heart-shaped engagement rings are an improved model of the round brilliant cut. This explains why these rings reproduce lots of brilliance. As an extension, the color of a heart-shaped diamond is difficult to discern.
Therefore, you do not have to select a flawless color grade. When you do this, you simply raise the cost of the diamond ring. Plus, it adds no obvious effect on the ring's appearance when looked at with the human eye.
Our Recommendations
The situation is just as it is with heart-shaped diamond engagement rings. With these diamond rings, you cannot pick out a one-size-fits-all color grade. Such a pick cannot give you the best value for the money you spend on it. 
On the contrary, we recommend that you go for a color grade judging by your preferred kind of metal. The type of metal you intend to use for the diamond's setting should guide your choice of color grade.
For example, white gold or platinum setting is best with a diamond that carries a color grade of H. You can even go for a better grade. This is what we most recommend. 
While for a yellow or rose gold setting, you should pick out a lower color grade. That will work perfectly. In all, we recommend the J color grade or any grade that is better for solitaire settings. A heart-shaped diamond ring in these color grades possesses a tiny yellow tint. Yet, it appears clear when compared with other metals like rose and yellow gold.
Heart-shaped Diamond Engagement Rings Carat Weight
Similar to other diamond shapes, a heart-shaped diamond engagement ring comes in a wide variety of carat weights. 
You should check out this guide to carat weight created based on recommendations from GIA.
Based on that guide, our usual recommendation for anyone is to go for the biggest. We always recommend going for the biggest carat weight that your budget can accommodate. 
Following all of the details above, you can easily save on clarity and color. Then, you can retain the purchasing power to get a considerably larger diamond than your budget initially projected. 
More so, you should consider fancy cuts like heart-shaped engagement rings. With them, the shape of the diamond is more appealing to the eyes when it comes in a larger carat weight. Therefore, the higher the carat weight of the diamond, the more noticeable and striking the heart shape appears.
Our Recommendations
We normally recommend selecting a heart-shaped ring in the 1+ carat grade. This is as a diamond of this size appears uniquely heart-shaped. However, the heart shape of a lesser diamond can be difficult to notice as soon as it goes into the ring.
For someone with a rather limited budget, go for 0.5 carats. That should be the absolute minimal carat weight for you. Anything below this point comes off as being increasingly tough to see. You leave the unique heart shape of this diamond cut at the peril of being unnoticed.
Finally, the perfect carat weight for a heart-shaped ring mostly banks on your preference and budget. Regardless, if you want help selecting the ideal diamond, get in touch with our experts. They will assist you in getting the best and highest quality diamond that suits your budget. 

The Price Of Heart-shaped Rings
Heart-shaped rings are normally 15 to 20% less expensive than round-cut diamonds. This is the same even when they have the same cut, carat weight, color, and clarity. Therefore, you can get a huger diamond if you go for a heart shape instead of a round brilliant cut. 
Similar to every other diamond shape, the cost for heart-shaped engagement rings vary. The variation is majorly established on the four Cs. Those 4 Cs include color, cut, clarity and carat weight. Do not forget that.
Therefore, to get these rings at their best is very easy. All you need to do is to follow all of the tips provided in this article. That way, you can get the best quality at a price that fits your budget.
Conclusion
They are unique. They are beautiful. A gorgeous heart-shaped diamond engagement ring is an excellent way to express your love for your partner. Thanks to the heart shape and the amount of diamond used for it, this is truly something special. Moreover, it is a more cost-effective option compared to a round brilliant cut ring.