Shopping for the perfect engagement ring can be a challenging endeavor. From setting a budget and getting a fair price to choosing a style and a center stone, it can become stressful rather than exciting. More often than not, it is the cost that really gets people thinking. Engagement ring prices range from a thousand dollars all the way up to hundreds of thousands of dollars. The price spectrum is vast. On the whole, we all want the same thing, to get the best diamond engagement ring bang for our buck. In many cases, we can achieve this by looking at the second hand market for engagement rings. We all think new is better, but when it comes to engagement rings, that is far from the truth. There is a lot of merit in buying a used engagement ring and we are here to discuss that.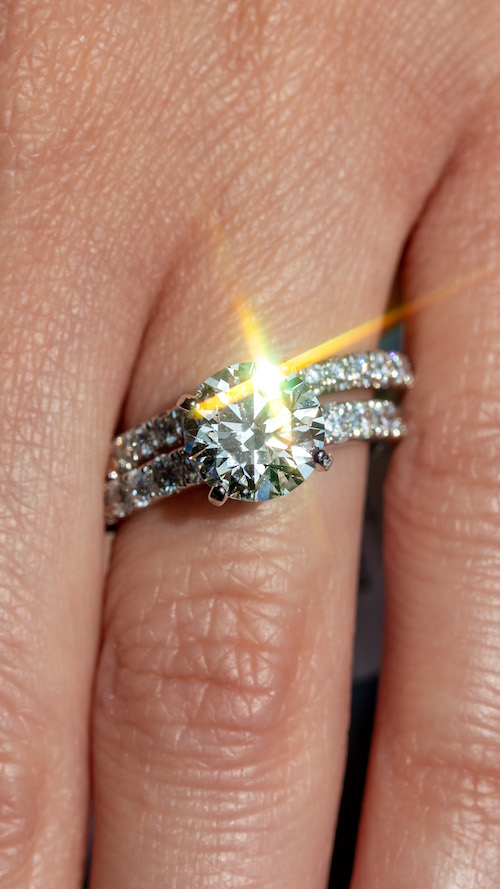 NEW VS PRE-OWNED ENGAGEMENT RINGS
In this post, we are going to be comparing pre-owned engagement rings with new engagement rings based on a few points of discussion:
Value & Price
Quality & Appearance
Style & Options
Prestige
So, whether you are on the fence about buying a new or used engagement ring or you haven't even considered buying a pre-owned engagement ring, you should continue reading on because this will help you become an informed buyer.
Without further ado, let's begin…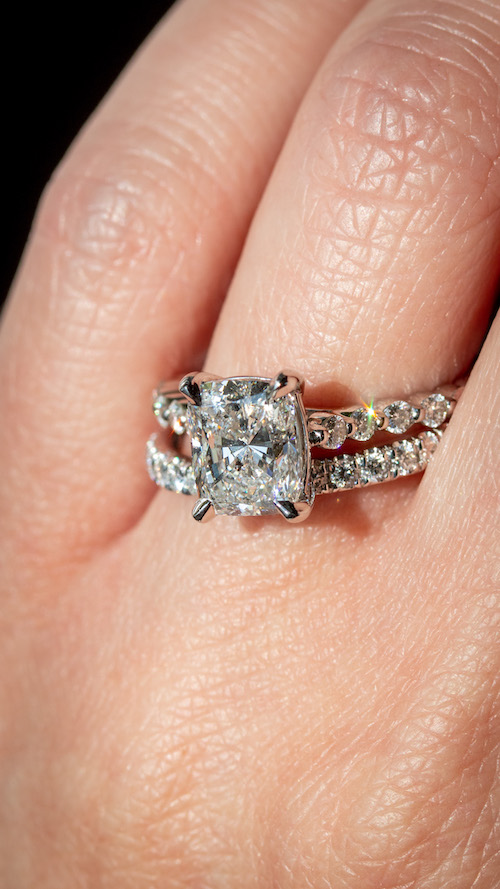 1. VALUE & PRICE
Prices for engagement rings are continually increasing year by year. Currently, the average amount people spend on an engagement ring is around $9,000. Of course, you could spend a lot less and a lot more. However, if you plan to spend significantly less, you won't be able to get a very impressive new engagement ring.
For $9,000, you probably want a ring that looks expensive, right? Well, for a new engagement ring, at $9,000, you are looking at something like a plain solitaire setting with a 1.3 carat diamond of Good Cut, SI1 Clarity and K-L color OR an Excellent Cut, VVS2 of D color at .75 carats.
If you aren't familiar with the 4C's (cut, color, clarity, and carat weight) of diamonds, be sure to learn about that before you start shopping for diamonds.
Needless to say, you'll have many options in terms of settings and diamond center stones with a $9,000 budget, but the above two examples should give you a good general idea. And while both options are very respectable, they aren't going to knock her socks off.
Most people want an engagement ring that is as big and beautiful as they can get. After all, you are dropping thousands of dollars on it, so you surely want something that looks the price. Unfortunately, oftentimes, the price of a new engagement ring doesn't match the look…
This is where pre-owned engagement rings make sense. If your budget is in the range of the average engagement ring price, then you can get something far grander for the same price when buying used.
Let's compare the same price of $9,000 to see what you could get if shopping for a second hand engagement ring.
$7,500 – 14k White Gold 1.02ct EGL Radiant Cut Diamond Halo Engagement Ring
$7,500 – 14k White Gold 1.02ct EGL Radiant Cut Diamond Halo Engagement Ring
$8,995 – Platinum 2ct Marquise Diamond Art Deco Engagement Ring
$7,500 – 18k White Gold GIA Certified 1.01ct Fancy Yellow Diamond Halo Engagement Ring
Now, if we look at an exact comparison of a 1.3 carat Good Cut, SI1, K-L Color diamond that we mentioned above, which cost $9,000 new, you could get it for 20-30% less when used. That is a significant savings.
All in all, when buying used, you can get a much bigger bang for your buck, and it's not just about size and beauty, it's about value…
DEPRECIATION
A diamond engagement ring is like a car, as soon as you buy it, it loses a substantial amount of value. Typically speaking, a diamond engagement ring is worth around 20-30% of the retail price you paid. So, your new engagement rings will lose around 70% of its value as soon as you leave the jewelry store.
The same is not true with pre-owned engagement rings. The depreciation is far less. You are basically just losing the mark-up value that the jewelry store set. On average, the value will be 20-30% less than what you paid for a used engagement ring. From there, you have no further depreciation, and over time, your ring will appreciate as the market continues trending up.

Now, you might be thinking, "but I don't ever plan to sell it, so why does it matter?" While that may be true, it's always nice to know the value is close to the price you spend, and that is the truest with used jewelry and engagement rings. You never know if you will have to sell it or maybe someday your wife wants to upgrade to a new ring.
But, more importantly, your money will go a lot further when shopping on the secondhand market for an engagement ring, because you don't have to deal with such high mark ups set by big box jewelers who sell new engagement rings.
TLDR: You can get a much better engagement ring for a far lower amount when shopping pre-owned. A second hand engagement ring of 3 carats has an equivalent price to a 1-1.5 carat new engagement ring.
MYTH #1: You have to spend three months salary on an engagement ring. This was an advertising campaign led by De Beers, the world's leading diamond seller. You should spend what you can afford. If you want something grandeur, but your budget is only $5,000-10,000, then you really need to look to used engagement rings.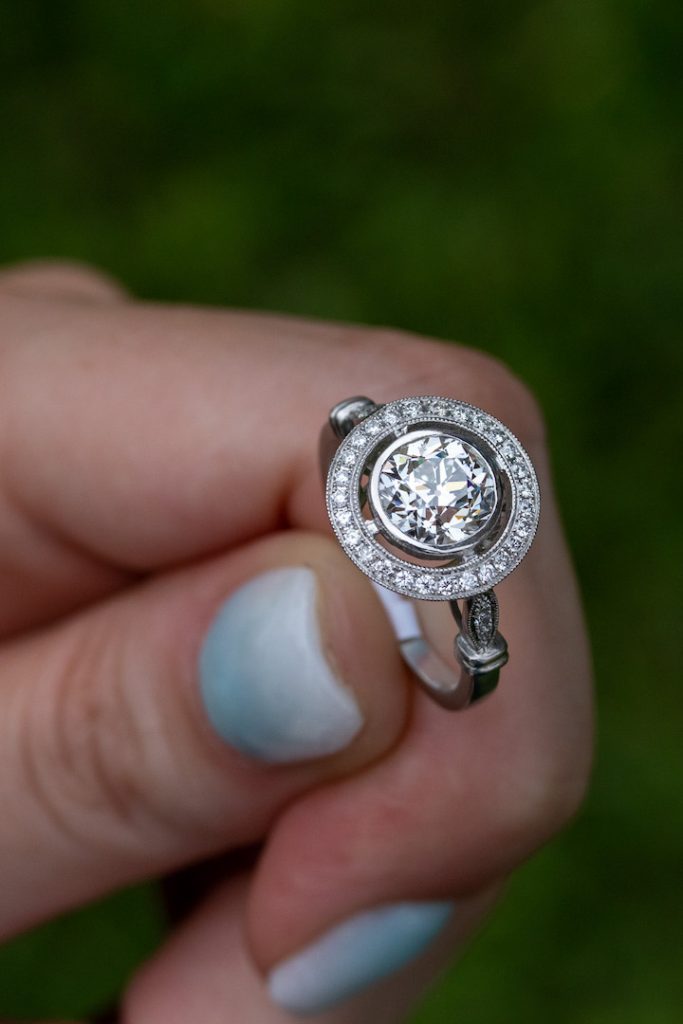 2. QUALITY & APPEARANCE
You might be under the impression that second hand engagement rings are of lower quality because it has been worn before. However, that is completely false. A diamond engagement ring is not like a pair of shoes, the materials are meant to last forever.

Diamonds are the hardest rock on the planet. It is virtually impossible to damage them. So, the look of a used diamond from a new diamond is indistinguishable.
In terms of precious metal, a simple polishing will remove any scratches the gold or platinum may have and it will return it to its once-new luster. Precious metals, like diamonds, can last forever.
Remember, a diamond engagement ring is only new until it is bought, then it's used. So, that new engagement ring your friend bought is exactly the same as the used engagement ring you are considering to buy.
Much of the new jewelry market is made up of recycled precious metals and diamonds!
There will be no way to guarantee that a new engagement ring is actually using a new diamond (meaning one that just came from a mine and was just cut for the first time for the new engagement ring in question). The same goes for precious metals like gold and platinum. They are often melted down and then reused for new jewelry.

Unless you are buying a new engagement ring from Tiffany (they buy directly from mines), you really can't be sure if the materials that make up the engagement ring are, in fact, "new".
Plus, what is "new", when you are dealing with rocks and metals that have been on earth for millions of years…
The point is, in terms of quality, there is no difference between new and used. The appearance will be exactly the same as long as the used engagement ring is polished.
With used engagement rings, you get the same look for a lot less money.
Have a look at these used engagement rings, would you call these poor quality or would you say these look "used"?
3.10ct GIA Certified Pear Shape Diamond Engagement Ring
18k White Gold GIA 1.01ct Pink Pearshape Diamond Engagement Ring
Platinum 2.08ct Old European Cut Diamond Art Deco Style Ring
All that said, if the label "new" means that much to the wearer, then get new. But remember, you are going to be paying a serious premium for it, not to mention, the material that comprises it might not be new at all…but what you don't know won't kill you, right?
MYTH #2: Used engagement rings are poor quality, that's why the owner didn't want them. The vast majority of used engagement rings on the market were sold by the original owner because of financial reasons. As long as you are buying from a reputable jeweler, a used engagement ring will have the same quality and appearance as a new engagement ring.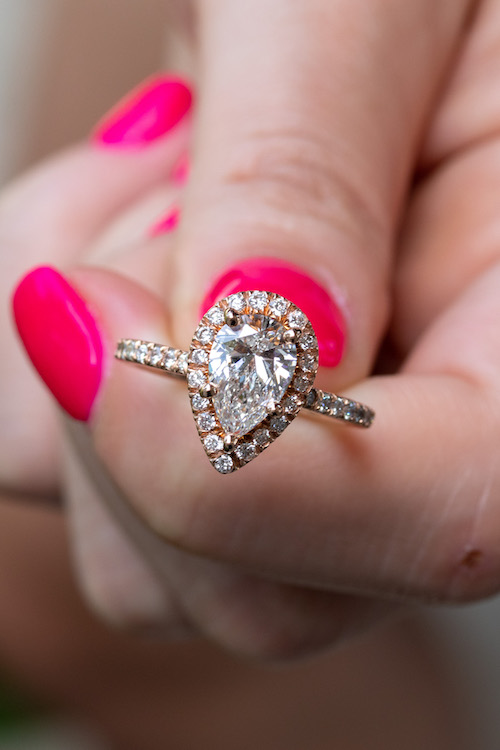 3. STYLE & OPTIONS
While there are tons of options for new engagement rings, you'd be surprised to learn that there is an equally rich selection when looking to the second hand engagement ring market.
With new engagement rings, you are going to find a lot of mass produced, new styles.
By the way, when we say styles, we are talking about everything from settings to diamonds shapes and cuts.
If you have a very contemporary taste, perusing catalogs and showcases of new engagement rings will surely satisfy you. There are all kinds of unique styles for the modern bride.

However, if you have a more individualistic sense of style, you may find that the second hand engagement rings market is more appealing. You will have much of the same modern rings to choose from, along with tons of cool vintage and antique rings.
Engagement rings from classic jewelry eras like Art Deco, Art Nouveau, and Victorian will surely only be found in pre-owned condition. You'll have the choice of all kinds of diamond cuts, from fancy modern brilliant to classic diamond cuts of the past like Old European to engagement rings that use colorful precious gemstones like Sapphires.
What's more, the used engagement ring market tends to have much more "one-of-a-kind" pieces. A lot of independent jewelers create private label engagement rings that sell straight to the second hand market. Many of which repurpose diamonds and gold from old jewelry.
In any case, whether you choose to shop for new or used engagement rings, you will find the following settings and diamonds shapes.
Settings:
Solitaire
Halo
Three-stone
Cluster (super trendy setting style in 2020)
Bypass
Tension
Bevel
14k White Gold 0.96ct Oval Cut Diamond Engagement Ring
Band settings:
Pave
Channel set
Twist shank
Split Shank
Plain
Platinum 1.01ct GIA Certified Diamond Engagement Ring
Diamond shapes:
Round brilliant
Princess
Oval
Pear
Cushion
Marquise
Heart
Emerald
Radiant
Asscher
Baguette
Trillion
If you like fancy colored diamonds, you can also find plenty of options for those, especially when looking to private label collections.
MYTH #3: Used engagement rings have old styles that are outdated. Engagement rings are meant to last forever, both in quality and style. Take the Tiffany Setting for example. It was created in the 1800s and it is still the most classic and popular style (6 prong solitaire setting). Used engagement rings tend to be classic styles that are timeless. And while vintage styles are in right now, here's the thing, they are always in. When it comes to jewelry, styles of the past are always hot. So, you won't find outdated engagement rings on the second hand market. The engagement ring market doesn't work like that. It's not like clothes that designers make based on current trends, and people will wear for a year or two. Engagement rings and jewelry are designed to be in style forever, as they are going to be worn forever, passed down generation to generation. Take the Cartier Love Bracelet for example, it was created in the 1960s and it is still as iconic and coveted as ever, if not even more!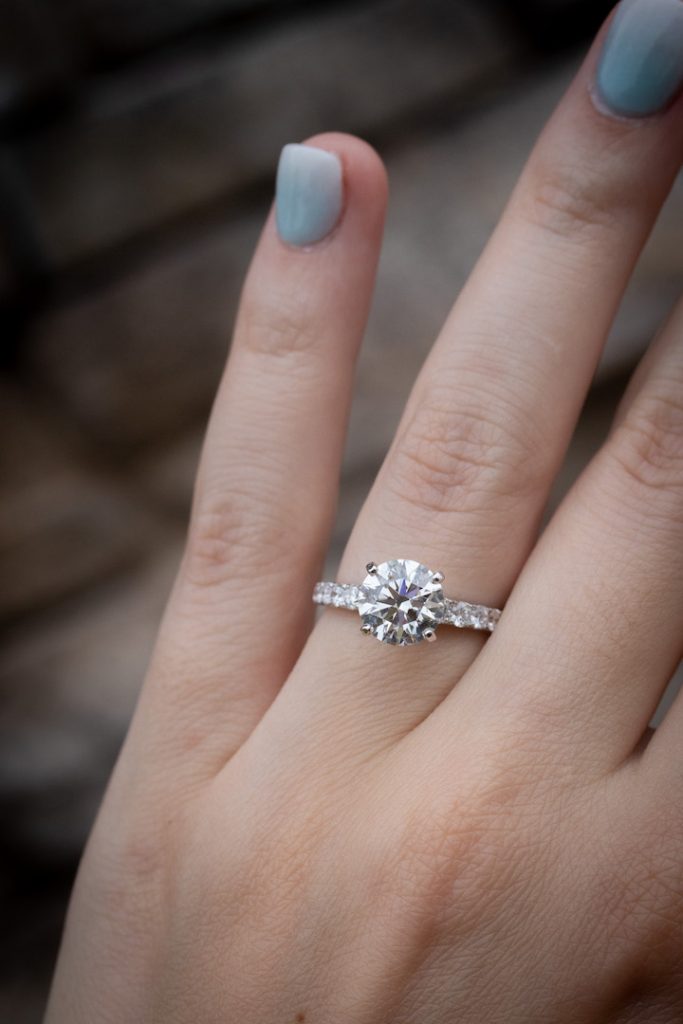 4. PRESTIGE
It's undeniable that some women will feel self-conscious if they have to tell someone their ring was used. Unless it was an heirloom or special antique ring, of course. But here's the thing, no one ever asks, was that ring used or new? Would you ask that?
Needless to say, there is a sense of prestige that comes with buying something new. However, there is also prestige in a ring with history, a story, and, what we haven't mentioned yet, a ring that is more environmentally friendly.
SOMETHING TO CONSIDER – THE ENVIRONMENT
You might think diamonds are rare, but in actuality, they are not particularly rare. However, mining them is a complicated and laborious process. Moreover, it is a process that can be harmful to the environment, such as the air, soil and water. While there are new environmentally friendly (and socially ethical) ways to mine diamonds, much of the diamonds that are mined are still using old fashion methods that aren't.
All in all, if everyone was to buy new diamonds all the time, it is not sustainable.
So, by buying a pre-owned engagement ring, you are reducing the demand for another diamond to be mined. Buying a used diamond engagement ring over a new one is without a doubt the most environmentally conscientious decision.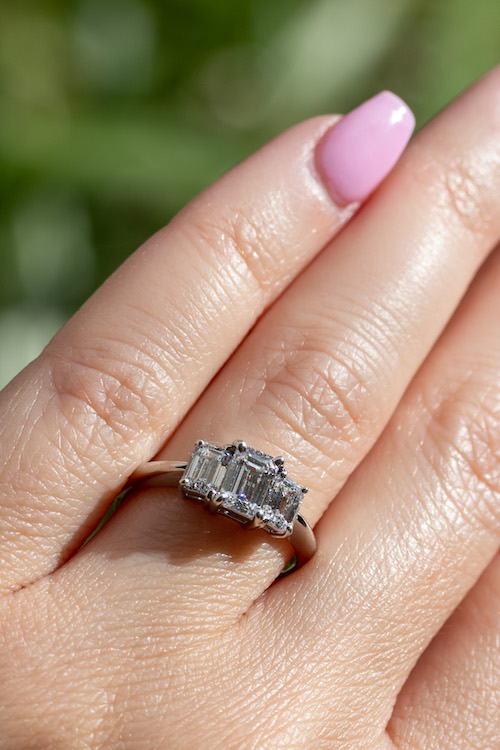 SUMMARY – SHOULD I BUY A NEW OR USED ENGAGEMENT RING?
After reading this, you might think we are all about used engagement rings. However, let us make it clear right now, we do not think new is better than used or used is better than new. After all, we sell new engagement rings too!
Our goal with this post was to simply help people become more informed buyers when shopping for engagement rings. We want to stomp on the nonsensical taboo that used engagement rings are not as good. We are trying to help people get the best engagement ring they can at a fair price.
So, to answer the question…
In our opinion, if money is not an issue, by all means buy new and get the engagement ring of your dreams. But if money is tight, get the best bang for your buck by shopping for engagement rings second hand.
And, if you want something unique or vintage, used is your best bet. Although, you can find vintage-style engagement rings new too if you look around.
WHERE TO BUY NEW & USED ENGAGEMENT RINGS IN BOCA RATON?
If you live in Boca Raton, come visit one of our two showrooms – Diamonds By Raymond Lee (East Boca) or Raymond Lee Jewelers (West Boca). We have an extensive selection of new and pre-owned engagement rings. From vintage pieces to modern exquisites, we have it all and we guarantee the best price. We've been serving Boca Raton's insatiable needs for diamonds for many decades, which is why we are the #1 trusted boutique for diamond engagement rings.
We have any setting, motif, and diamond shape that you could think of. We also have collections of engagement rings from all the top designer brands, like Tiffany, Gabriel & Co., Verragio, Tacori, and many more.
Shop Second Hand & New Engagement Rings at Diamonds By Raymond Lee
Shop Second Hand & New Engagement Rings at Raymond Lee Jewelers