Ever desired something popular, authoritative, and classic? Then, what you need is a solitaire engagement ring. Solitaire engagement rings will always hold a place close to the heart of your partner. Why not? It is very difficult to go wrong with any of these modest rings.
Consider an engagement ring defined by a solitary diamond placed on a plain band. Even as plain as that might sound, solitaires can be one of the most enticing engagement rings available out there.
Moreover, thanks to the plainness of the band, the center stone is highlighted. Hence, that draws eyes directly to the lovely diamond at the center.
What Are Solitaire Engagement Rings?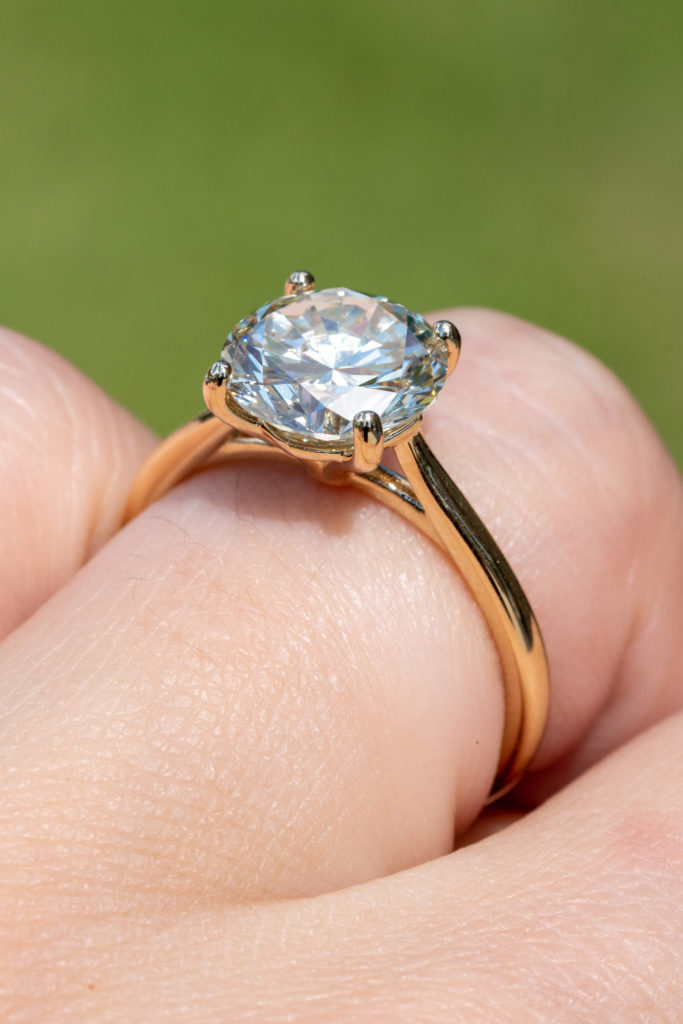 Simply put, a solitaire engagement ring is any jewelry that contains just a single diamond. This kind of ring does not contain any additional diamonds or gemstones. They neither appear on the shank of the ring or the sides of the center gemstone. 
The phrase "solitaire engagement rings" is most generally linked to the solitaire setting. That is a kind of ring setting featuring a sole diamond or gemstone. 
Beyond its application to rings, solitaire style can also feature on earrings, necklaces, or various other pieces of jewelry. All they need is to have only one diamond. 
However, we mostly refer to it with rings. And in this case, the phrase "solitaire ring" refers to a ring that highlights only one diamond in its core. For these rings, you will find no side diamonds or any pavé diamonds, or stones. Rather, the ring features a tidy, basic style that majorly calls attention to the center gemstone. 
A solitaire engagement ring is an elegant, distinctive engagement ring. This explains why it manages to stay relevant for several years. Besides, they are not only for engagements, solitaire rings are occasionally presented to celebrate other unique events. Events such as an important anniversary, a personal feat, or a milestone birthday.
However, note that in a solitaire engagement ring, the center stone is commonly aided by prongs. This is the kind of view you get from a four or six-prong ring setting. 
Every single little metal claw clenches on the diamond to clutch it tightly in place. Also, these prongs can be edged, circular, V-shaped, or flat.
The Meaning Of The Phrase
Furthermore, what does the phrase "solitaire ring" mean? 
First off, the word "solitaire" comes from the exact root word, "solitary" comes from. Think of this in a positive sense. Solitaire engagement rings are the kind of rings that emphasizes a sole, isolated diamond stone.
This stone stands alone without the addition of any other diamonds. Therefore, this enables additional emphasis on the gemstone itself. Consequently, the quality of the diamond at the center becomes particularly significant. 
Tip: If you are in the market shopping for a diamond solitaire, do not forget this! Ensure that you review the 4 Cs of diamonds. Do so to ensure that you discover the perfect stone for that solitaire setting.
More so, you can be sure of one fact. The perfectly styled solitaire engagement rings will make your partner's diamond stand out on her ring. Regardless of the cut, you select, all you need is the right gemstone to crown your lovely solitaire engagement rings. 
Evolution of Solitaire Engagement Rings
The words out there on the streets of jewelry affirm the popularity of solitaire engagement rings. They are the most famous engagement rings on the market without a doubt. They double as the oldest rings as well. 
However, how did they come to be?
Diamonds that featured simple gold bands were prominent in Ancient Rome. They remained fairly famous until a massive rumble in the 1940s. This rumble welcomed the solitaire making its sales skyrocket significantly. 
However, there was an issue due to the reduced profit margins of the Great Depression. Hence, diamond experts agreed on trying and improving diamond sales all around America. 
It is important to note that before now, diamonds were commodities owned only by the wealthy. Now, the industry leaders proceeded to create smaller diamonds. Thanks to this, they could expand the market to more buyers. 
This initiative birthed the renowned "A Diamond Is Forever" advertising movement. Following this, the solitaire diamond engagement ring became an instant success. 
Even today, solitaire engagement rings continue to denote "forever" to several people. With solitaire rings, you can agree that a single diamond is the most distinct and standard styling. It is good to add that this is set to be a design that will perhaps stay permanently.
Celebrities That Rocked Solitaire Engagement Rings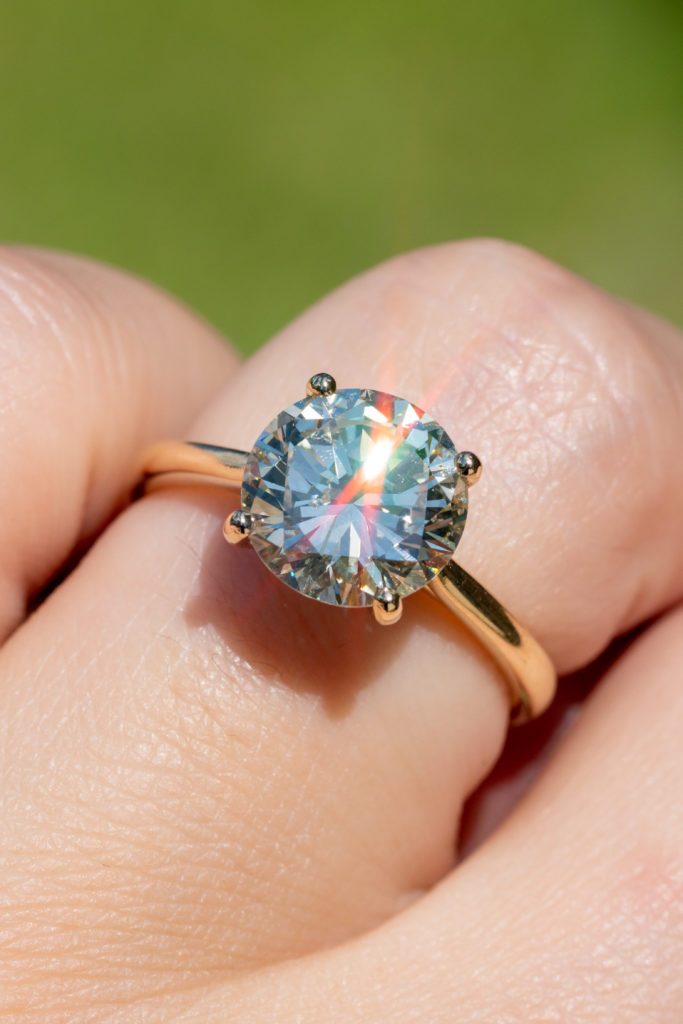 The classic and ageless quality of a solitaire engagement ring is not new to most people. In fact, this is responsible for it being a famous ring for many ring lovers. This world of lovers does not accept celebrities as well. 
Below are only a few of the well-known fingers to rock this style of engagement ring.
Presently, she does not rock one anymore. However, Michelle's actual present from President Obama was as gorgeous as anyone would hope it will be. Her round-cut diamond ring with the outstanding solitaire setting on a gold band reportedly commands a price of $10,000.
Kate collected a traditional yet stunning engagement ring from her husband Michael Polish. Plus, the huge princess-cut diamond treads in a solitaire setting placed on a bare platinum ring.
Husband Matthew Broderick presents Sarah with a ring that pushes the diamond into the limelight. Particularly, her emerald-cut diamond of nearly five carats treads in solitaire and on a modest platinum band.
Spouse William Tell gave Lauren one of the most distinctive rings available in the market. This two-carat round-cut diamond sits pretty in a four-prong solitaire setting. Then, it spots itself on a bare yellow gold band. Reportedly, the ring is worth roughly $40,000.
She is known for her signature gorgeous style wherever you find her. James presented Keira with a beautiful ring that emphasizes her rare elegance. The round-cut diamond is likely one or two carats. Plus, it comes on brightly on a slim, platinum band.
Why Go For A Solitaire Engagement Ring?
A solitaire setting is similar to an Oval Cut art on a platinum band. It is a wonderful pick for you if you are a lover of the plain and gorgeous. 
First off, there is a smooth layout and simple glamour. This ring is a spectacular complement to every dress and event. There is no limitation. Everyone can select their beloved style. You can go for the thin bands or the larger types.
Additionally, diamonds draw in the interest in a solitaire setting. This is as you can find no extra stones or decorative materials. Simply put, there is nothing to deflect attention from the center gemstone.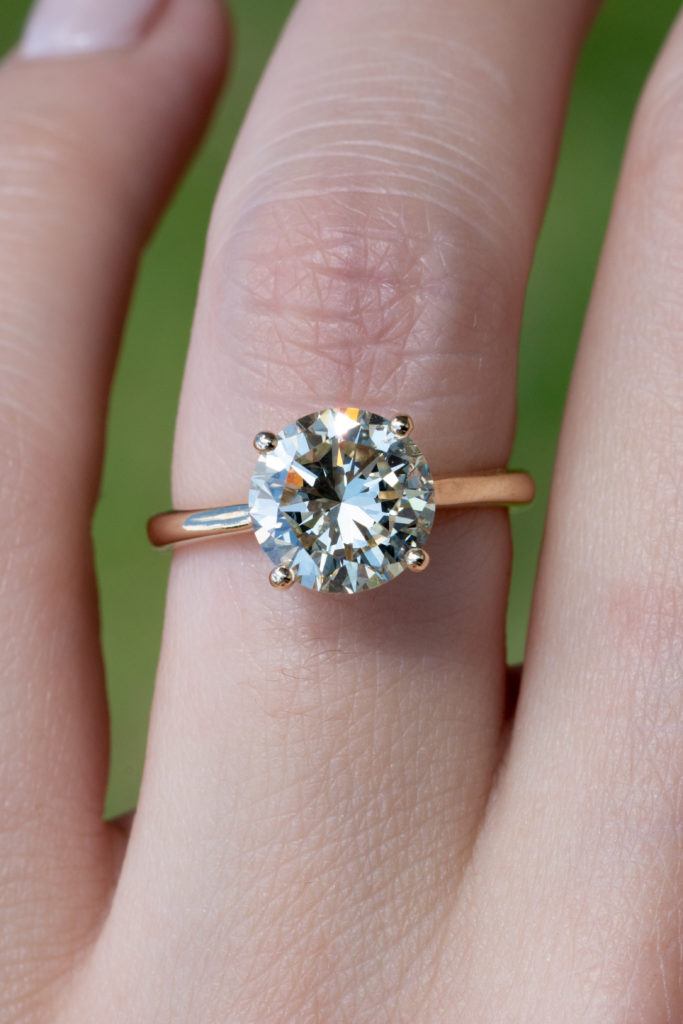 Also, with a prong solitaire setting, you do not have too much metal. Therefore, you have more diamonds in your view and more light to bounce back. Hence, augmenting the diamond's grandness.
Finally, solitaire engagement rings are not just unique. These rings are one of the most definitive and classic pieces of jewelry you can use in expressing your affection.
Getting The Best Solitaire Engagement Rings
The first reason why the solitaire engagement rings are most people's favorite is the simplicity. However, there are still certain choices you must make if you must get the best of these rings out there.
Moreover, it is way more than merely selecting between rose, white, or yellow gold for the band. Fur to this, we provided a list of guidelines to assist you in working out the components of your ring.
Do not forget the central fact about solitaires. Always remember that the diamond will sit at the core of the ring. 
Therefore, without a pavé or halo to put in more brilliance, your diamond will be all there is to see. Hence, you should carefully select a stone with close to zero flaws. Go for a color that your lady will adore. Also, choose a carat size that you will love to see on her.
This is one of the most exciting parts of the solitaire engagement ring. Simply put, any diamond shape you pick will suit it perfectly. With the absence of pavés, side stones, or halos to battle with, you don't have to evaluate any other thing. All you need to think of is which cut fits your significant other the most.
You have a long list of options. There are the pear-cut diamonds and the radiant-cut diamonds. Make your choice!
Understand that there are not too many alternatives for adding decorations to your solitaire rings. Due to the kind of band, there is not much room for customization. 
With a simple band, you can have a complex diamond-cut brought into the limelight. And, with a more complicated band, you can add allure to a classic shape. 
However, to get a well-balanced ring, combine a plain band with a radiant or emerald cut. Similarly, you can blend a weaved band together with a round-cut diamond. 
In addition, you are given some customization. The customization works more depending on the type of setting you select. Cathedral setting, prong setting, and traditional solitaire setting are your three choices. Every one of them comes with its design and perks.
The color of the band is another room for adding extra appeal. This is one way you can be sure to please whoever you want to gift this piece of jewelry. 
This is exactly the medium from which her personality can glow. Thanks to the durability of platinum types, they are popular pieces of metal. However, you still have other precious metals that should feature on your list of options before making a choice.
Take, for instance, a 14k gold solitaire setting. It may appear as a more regular pick. However, if your lady is a lover of something a little bit fierce, opt for a rose gold ring. With a rose gold ring, you can add a distinctive spin to the regular solitaire.
Pros And Cons Of Solitaire Engagement Rings
The first part is to choose the perfect setting that suits the style and preference of your significant other. Having done that, you need to confirm it suits their lifestyle. Plus, it must be moderately simple to preserve. 
Check out the pros and cons of a solitaire engagement ring below. With this, you can make that important final choice.
Pros
Boosts the diamond stone, making it more dominant and striking

Enables a substantial amount of light to pass through the gemstone. This increase the stone's brightness and spark

Enhances and favors a variety of diamond sizes and shapes

Simple to clean, and preserve

Delivers a distinctive, timeless appearance
Cons
Likely to catch on clothing, furniture, and other stuff. This gets more serious when the diamond is high-set. If you lead an active lifestyle, you should opt for a lower-set prong style instead.

As it wears, it is likely for the prong to loosen. We suggest getting the prongs examined at least every two years. That way, you can be sure the diamond stays in the best shape.
Conclusion
Solitaire engagement rings feature the kind of setting that gives you a distinctive, rustic, yet, ageless look. Also, it does not matter what kind of diamond shape you choose. It appears grand regardless.
In addition, it embraces varieties. Hence, you can pick from a wide range of options. There are:
The elegant Oval Diamond in yellow gold

Also, a striking Round Cut in white gold
These are only two of the several alternatives that are accessible within the solitaire engagement rings collection.
In conclusion, it is important to buy the best engagement ring that suits your fiancé-to-be's preference. Moreover, one way to get that done is to ensure you buy your ring from a reliable vendor. 
Based on this, we recommend Diamonds By Raymond Lee. Their collections will guarantee you're buying the best product based on quality and value.