Since the 90s, the rap & hip hop culture have prominently displayed themes of luxury, material wealth and status by showcasing fully diamond-covered watches from brands like Rolex, Audemars Piguet, and Patek Philippe. The vast majority of these diamond-encrusted watches were customized with aftermarket diamonds – not factory-set diamond watches done by the brand themself. Iced Out Watches are commonly referred to as Bust Down Watches (they've been taken apart, set with diamonds, then put back together). And while iced out watches are far from a trend of the past, with many influentials still talking about and rocking watches covered in aftermarket diamonds, the "Plain Jane" (watches without diamonds – completely untouched from their factory finish) has started to share the spotlight. Superstars like Jay-Z, Kanye West, Drake, Eminem, and Niki Minaj all sport luxury watches in their original state, without diamonds. Many songs, like 'Plain Jane' by Asap Ferg, have spread an "awareness" you could say, for leaving the watches as they are.
It's not hard to understand the appreciation for "Plain Jane Watches". Put simply, adding diamonds to a watch lowers its value…and, in a way, it goes against what the brand intended to create. It's like taking a Picasso painting and adding colors to it, changing the beauty of what it was supposed to be in the eyes of the creator.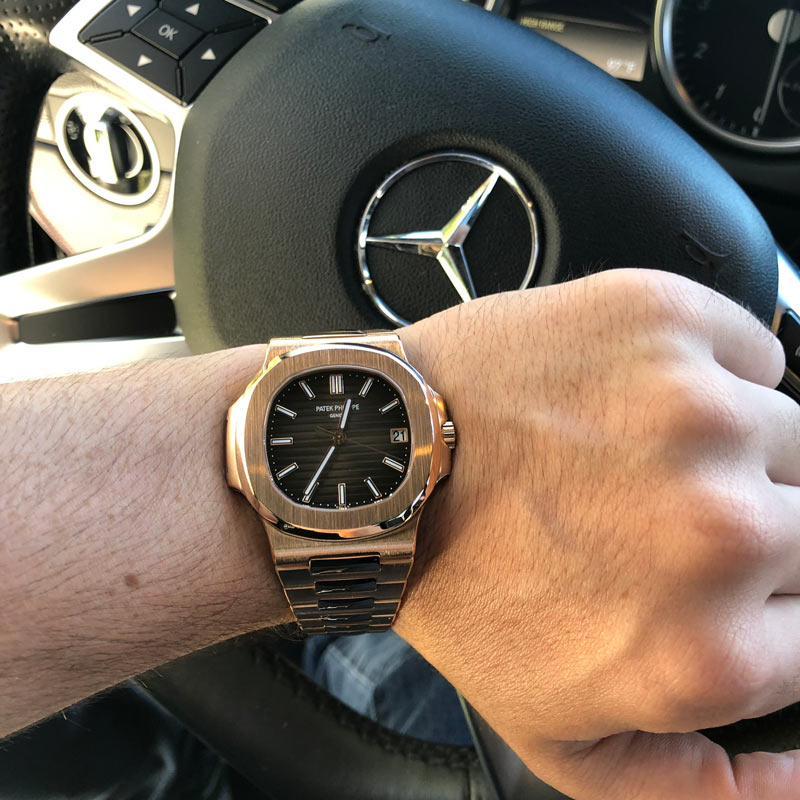 What are Plain Jane Watches?
Plain Jane Watches are high-end luxury watches without diamonds. They have not been touch in any way after leaving the factory. They mainly refer to the most popular watch brands, such as Rolex, AP, and Patek. It's a term coined by the rap culture and is now understood across the globe by younger generations of watch buyers.
Why are Plain Jane Watches So Popular Now?
Plain Jane watches are popular for younger watch connoisseurs now more than ever for a few reasons. By not adding diamonds to your watch, you retain its value and allow for the chance of it to potentially increase in value. As you know, luxury watches, from the likes of Rolex, Audemars Piguet, and Patek Philippe, retain value extremely well. Many even increase in value over time. So, a Plain Jane is more than a watch, it's an investment on your wrist.
Plain Jane watches show you understand value. Moreover, it shows that you appreciate history and what the brand has created. These high-end watch brands have been around for a long time, some even centuries, so by changing their creation, you are going against what they intended the watch to be. It's like changing any work of art by a famous designer or artist. Only in the watch world would that happen. It's not to say you shouldn't Buss Down a watch. But by not doing so, you show your appreciation for tradition and the brand. Real watch purists, and watch collectors, would never accept a highly sought after luxury watch that has been customized.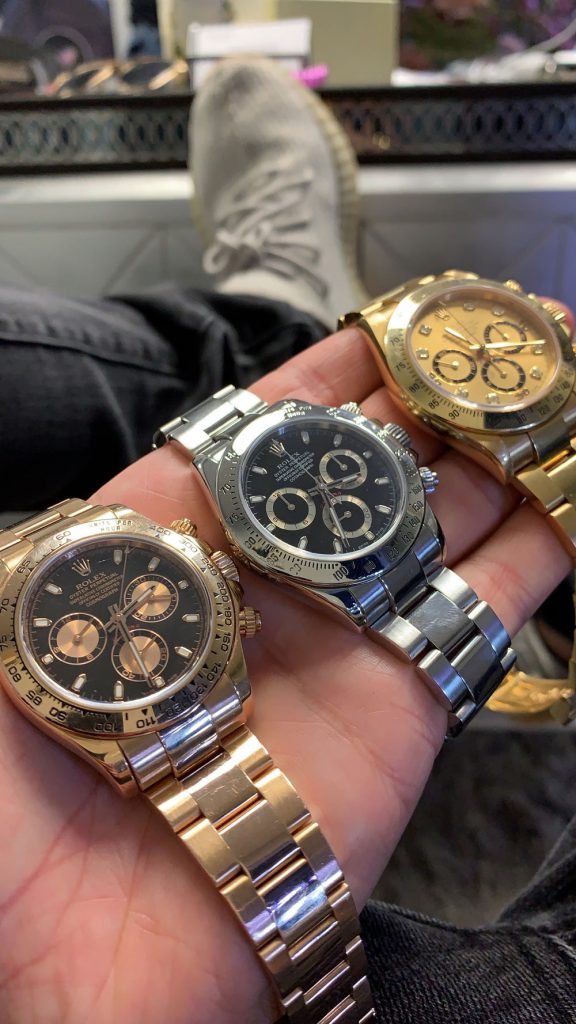 All in all, Plain Jane Watches are iconic. They need nothing to achieve that. They are status symbols as they are. A Plain Jane is a watch that shows style, status, and an understanding of this age-old craft. They are watches in the purest form, they are collector worthy, they are history, they are a beautiful investment that you can wear day in and day out. So, not only is it cool to wear a Plain Jane, it is smart.
Now that we've ranted, let's check out 10 of our favorite Plain Jane Sports Watches, all of which are available on request. Simply click the associated links to see the full sales listing and pricing or contact us with your inquiry.
10 Plain Jane Sports Watches That Will Set You Apart From The Rest
The 10 timepieces below are Plain Jane Sports Watches that everyone wants but not everyone can have.
Why we chose these Plain Jane watches?
We chose these Plain Janes based on a few simple yet crucial factors.
First, they are timeless in style. These are models that are iconic and highly sought after by watch collectors.. Anyone who knows watches will see these plain metal watches and be in awe.
Second, they are good investments. These timepieces will retain value, and they are watches that are most likely to increase in value.
Lastly, we chose based on the metal type. Stainless steel is the most classic metal for sports watches. They are also the most coveted watches in the collector community, so they are the hardest to get your hands on, which might come as a surprise to those not as versed in the watch industry. What's more, because they are often so hard to find, collectors pay exorbitant prices for them. This applies to both new and discontinued references, but especially discontinued ones. Again, this makes for a good investment. We also chose some yellow gold and rose gold options because we know Plain Jane enthusiasts still like some pure lavish and opulence in their life. Nothing declares luxury like fully precious metal watches in rose or yellow gold.

So, to sum it up, highly coveted stainless steel and gold watches because we only want to present Plain Janes that impress and invest. These Plain Janes will captivate people as much as a fully iced out bust down watch, and for those who truly know watches, much more so.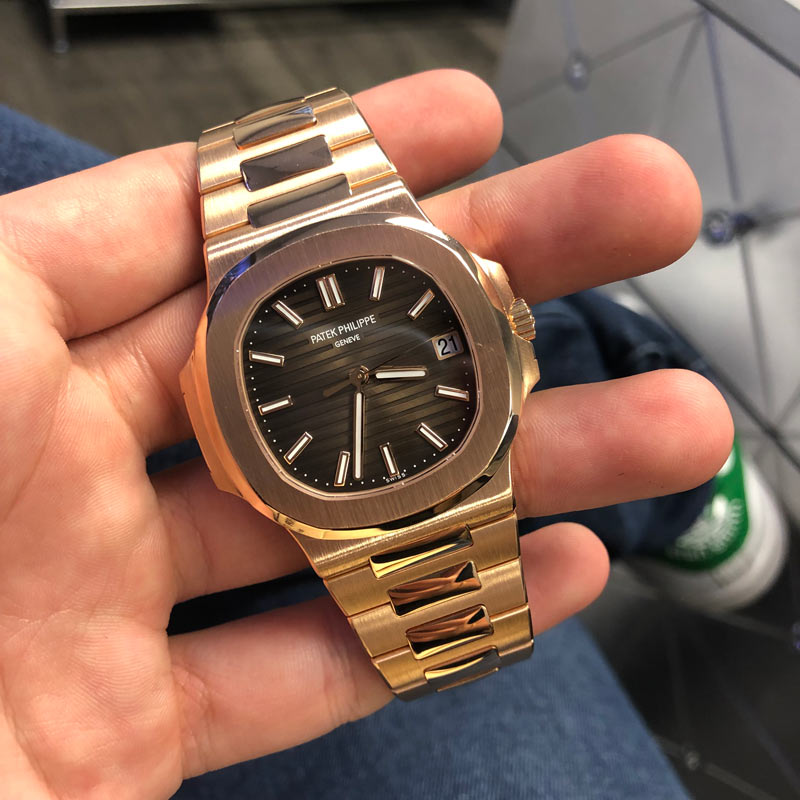 This is the most prestigious watch on the list, so we figured we start with it. The Patek Philippe Nautilus in rose gold is a timepiece that watch enthusiasts dream of. It represents the highest status in the watch industry. It's the watch for royalty. 
The Patek Philippe 5711R is still being produced. It features a pure rose gold composition and a brown horizontally embossed no-nonsense dial. It's the definition of classy and smart. Moreover, it is the most comfortable watch you will find. It is lightweight yet it feels substantial, it is thin so it slips under cuffs and sleeves easily and it never gets in the way, and the ergonomics of it conform to the wrist beautifully. If you want a Plain Jane watch that is lavish in looks, status and value, the Patek Philippe Nautilus in Rose Gold is the one.
See the full sales listing for this Patek Philippe 5711R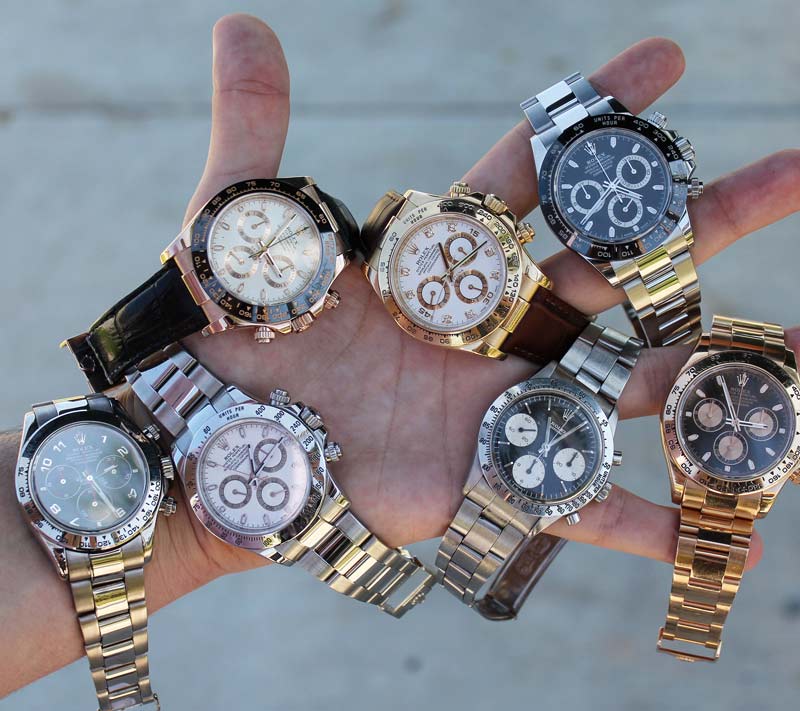 The Rolex Daytona Cosmograph is the most sought after sports watch in history. It's a model that has proven itself to be the best value. When you buy a Daytona, you are truly making an investment. The Paul Newman Daytona is the perfect example, having sold for $18 million at an auction in 2017. 
A Rolex Daytona is like gold, and ironically, this especially applies to the stainless steel version. It will sell anywhere, at any time, in an instant.
The Daytona in Stainless Steel epitomizes "classic sports watch". Every single collector out there wants a Rolex Daytona in Stainless Steel. It's a must-have for any watch collection. Unfortunately, not everyone can get their hands on one. They have the longest waiting list of any watch, ever.
Now, while we kind of only want to mention the Stainless Steel Daytona here, we feel the all yellow gold and all rose gold models are more than worthy of acknowledgment, especially when talking Plain Janes. It takes the most iconic sports watch in the world and puts an extravagant twist on it. 
See our collection of Rolex Cosmograph Daytona watches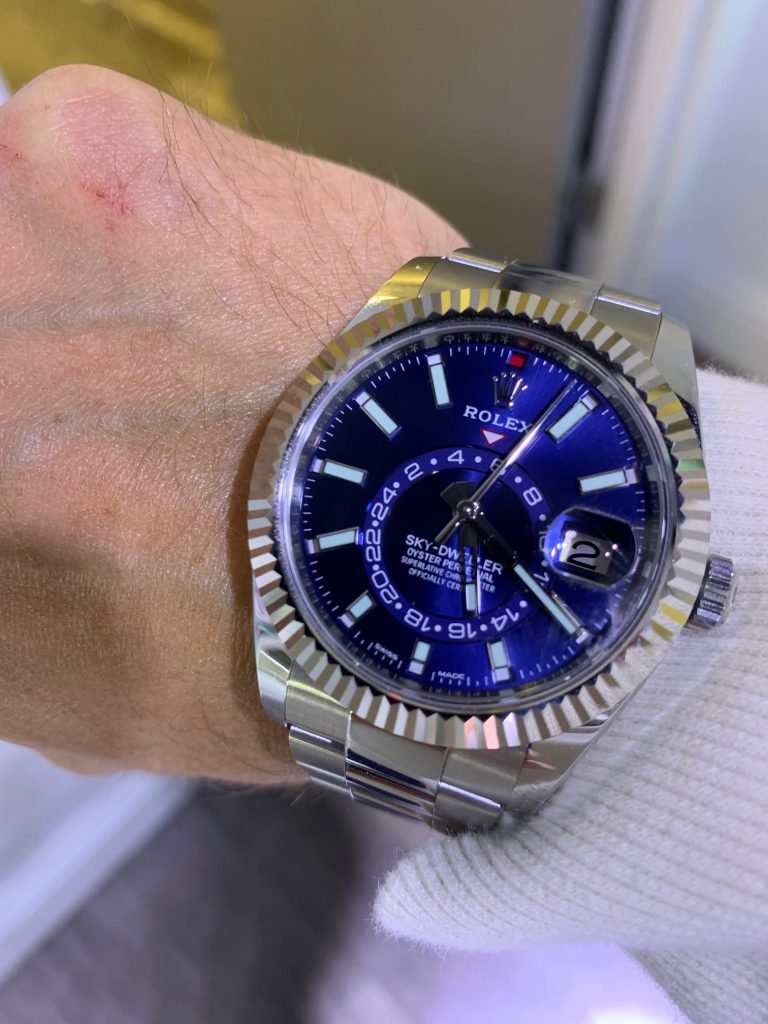 An instant classic, the Sky-Dweller. It is Rolex's newest watch collection, making its debut in 2012. When it was released, it was the first completely new Rolex in 20 years…but that's not even the main reason why we love this watch.
Here's why the Sky-Dweller easily makes our list of best Plain Janes. First, it is the most complicated Rolex watch ever. For those who appreciate watch engineering, you gotta love the Sky-Dweller for that…Of course, that's not all.
Next, it's Rolex's most expensive (MSRP) sports watch, so you already know it is exquisite and extravagant. They come in Rolesor (stainless steel with a white gold bezel) and full gold. It takes a pure sports watch stature (large 42mm case) and throws a fluted bezel on it and a completely distinct sunburst dial, making this watch the perfect combination of sporty and dressy. And the last reason we love this watch so much is because not many people have it. The sunburst blue dial version typically has a year-plus long waiting list. This is a watch that will surely set you apart. A lot of people have GMT-Masters, Yachtmasters, Submariners, etc., but you will be hard-pressed to find a Sky-Dweller on any Average Joe. So, if you want to stand out with a Plain Jane, the Sky-Dweller is where it's at.
See the Sky-Dwellers available at Diamonds By Raymond Lee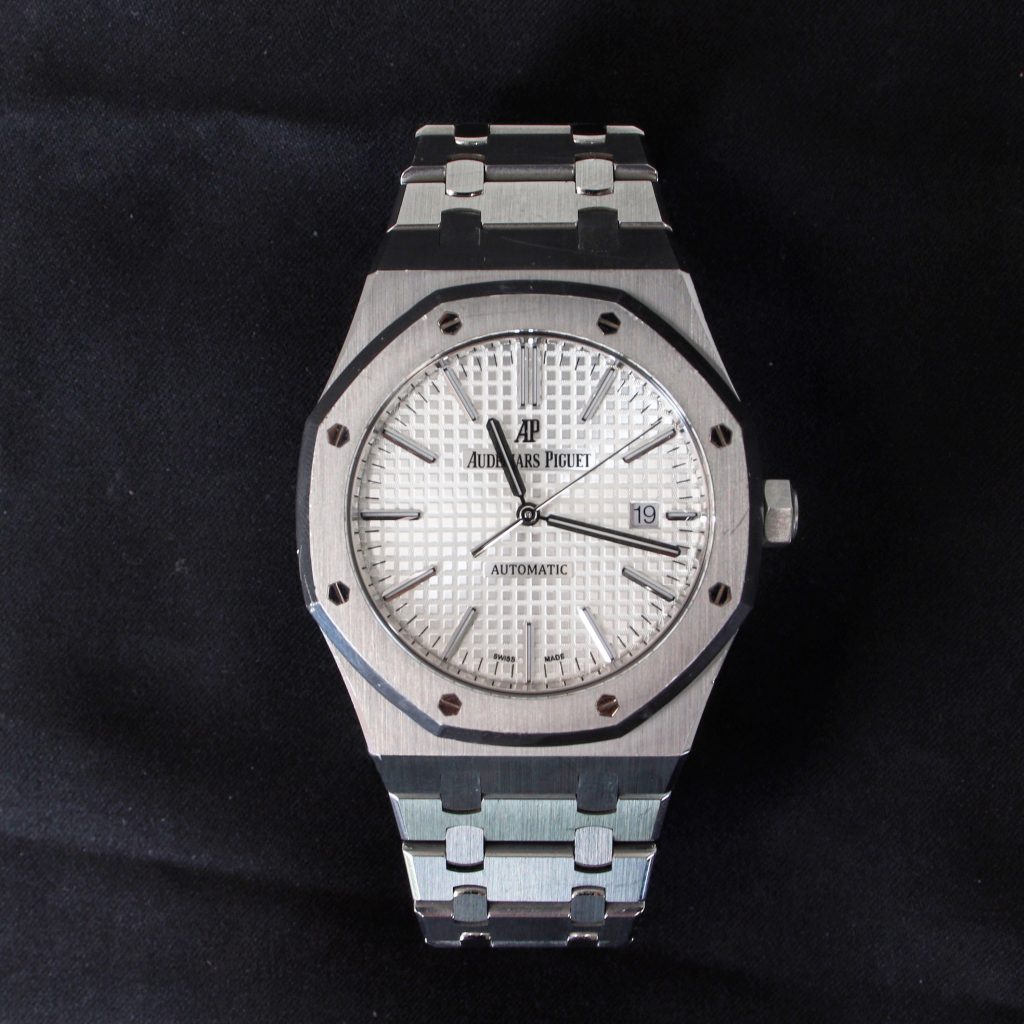 Like the Patek Nautilus, the AP Royal Oak is a Gerald Genta design. Gerald Genta is one of the most illustrious watch designers in the world. He needs no introduction, so we won't be talking about him here…but we will say that this is the watch that put Audemars Piguet on the map, and for good.
The original Royal Oak was released back in 1972. After four decades of existence, the Royal Oak is still one of the most talked about, most iconic and most recognizable watches on the planet Earth. The Royal Oak is beloved by the watch community in a cult following kind of way. It's one of the most coveted watches in the game. Young people want it, middle aged people want it, older people want it. It's a watch with a style that transcends time. A dream watch for watch collectors.
Out of the many versions of the Royal Oak, the most sought after and hardest to find Royal Oak is the stainless steel blue dial. If you are wearing one of those, you are undoubtedly a true horology aficionado. That said, any Stainless Steel Royal Oak is going to get you some major attention. There's nothing crazy about the looks of it. It's clean, beautiful, but we wouldn't call it fancy. That said, the details are impeccable. When you see one in person, you'll see exactly what we mean. The finishing is unreal. You'd never think stainless steel could look so opulent. The dial is stunning. STUNNING. It catches your eye and keeps it there.
Overall, if you appreciate horology, the Royal Oak is a must-have. Unfortunately, you might have trouble getting a new one in stainless steel. Thankfully, used Royal Oaks are just as great and they hold all their value straight off the lot. 
See our collection of AP Royal Oak Watches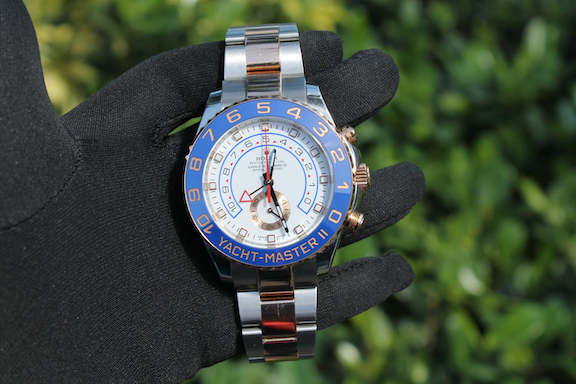 The Rolex Yachtmaster 2 is one of those Plain Janes that isn't so plain. Nevertheless, it qualifies. The watch is big, so oversized watch devotees love this one. It has a 44mm case that produces major wrist presence. Not to mention, the dial and bezel pop like no other. This is a stand out watch for a stand out person. If being the center of attention is something you like…well, the Yachtmaster 2 does too. 
What's more, the Yachtmaster 2 is a highly complicated watch. It has a chronograph movement with the complication of a programmable timer that counts down ten minutes. All programmed by the bezel.
Although this watch was made for skippers (captain of yachts) and regatta races (boat races), as the functions lend itself to that, if you simply party on Yachts, there is no better watch for the occasion. Note: It looks just as good onshore as it does off.
Now, when it comes to the Yachtmaster 2's metal type, all versions are equal in our book. However, we do favor the stainless steel and two-tone references, as they have the blue bezel, which creates a gorgeous contrast on the white metal. In any case, you can't go wrong with a Yachtmaster 2, the sheer size of it makes it so it can't be missed. 
See our collection of Plain Jane Yachtmaster 2 watches
Now let's have a look at the back 5 of our list, yet watches that are surely equal to the rest and more than worthy of this list.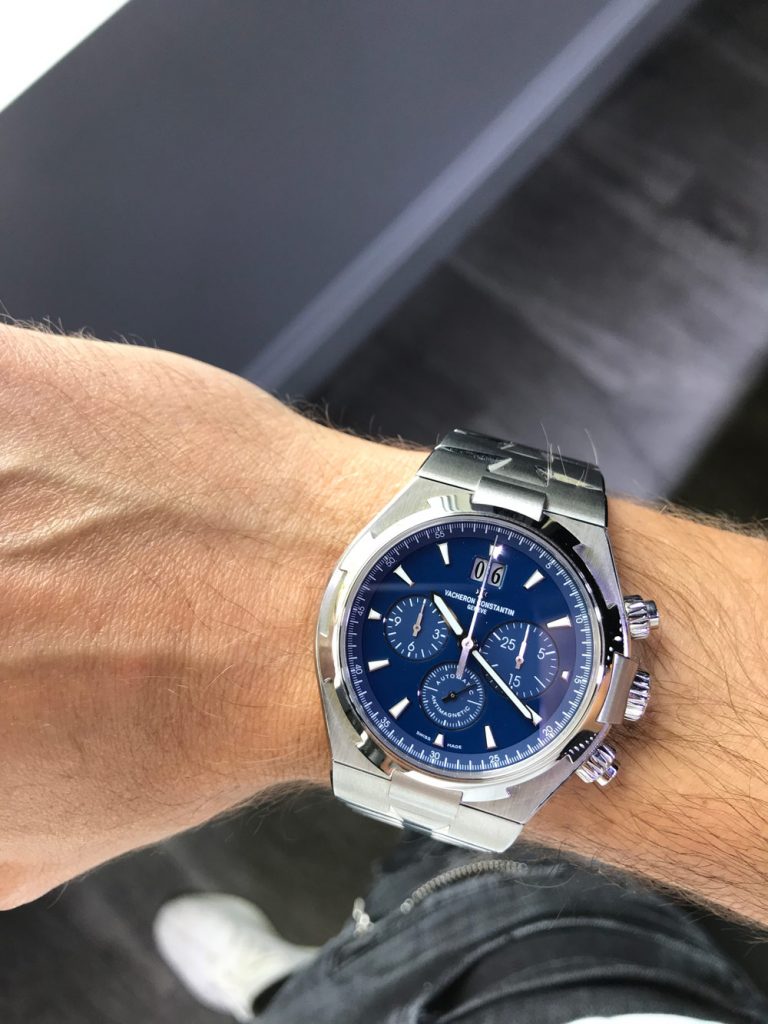 A watch from one member of the Big Three (or Holy Trinity of Watches), the Vacheron Constantin Overseas sports watch is majorly underrated. After all, it's a timepiece from the oldest watchmaker with continuous operation, having been founded in 1755.
See the full sales listing for the Vacheron Constantin Overseas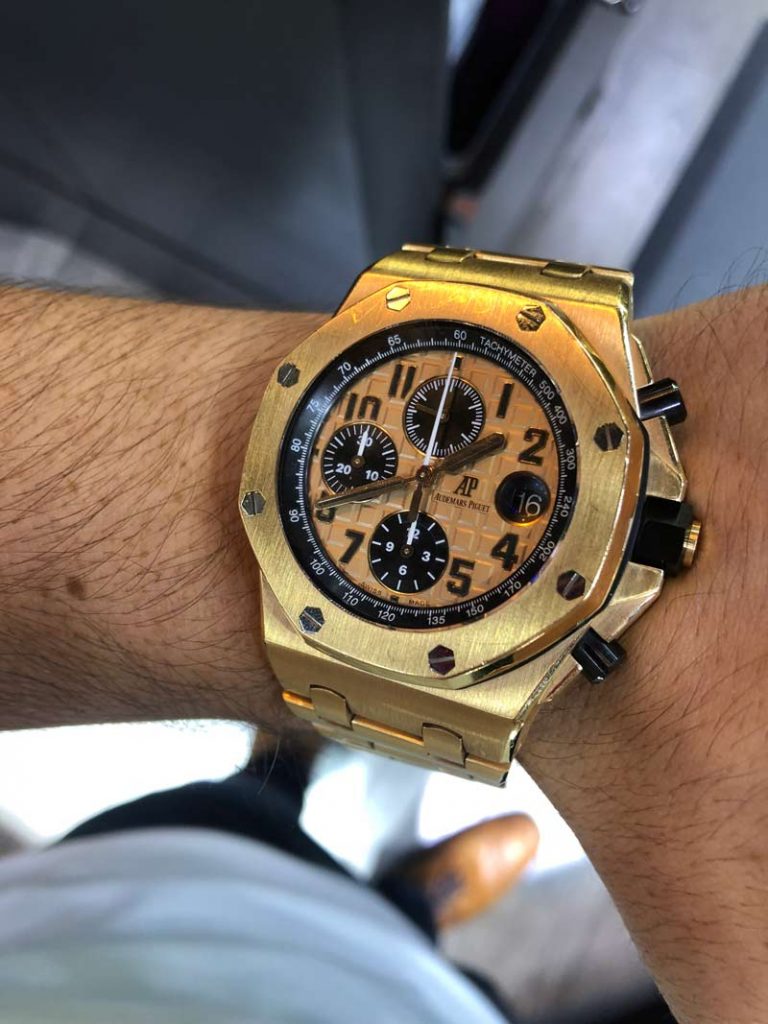 It's a Plain Jane, but it's anything but boring and plain. The Royal Oak Offshore Brick is exactly as it sounds, a BRICK. It's massive and it's pure gold. It's a watch that declares "spending power", that's for sure. 
See the full sales listing for the AP Royal Oak Offshore Brick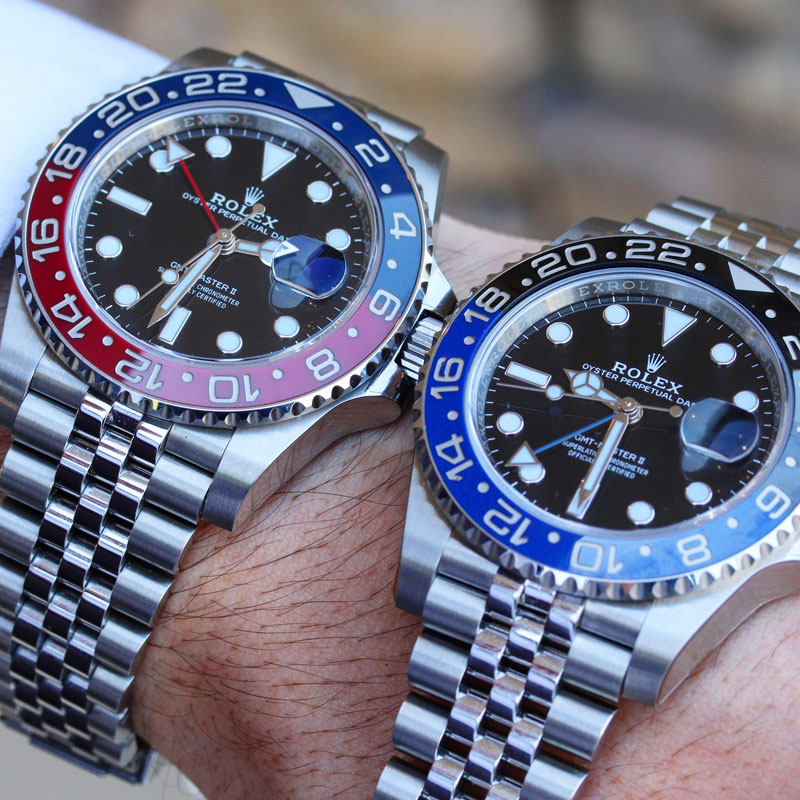 It's a tie for this one as both watches are extremely iconic and incredible investments. The Pepsi maybe slightly more so, being that it has a longer history. Decades longer in fact. Nevertheless, both watches are greatly desired by watch collectors for a reason – they have a remarkable look and they only continue to rise in value. 
See the full sales listing for Rolex Batman
See the full sales listing for Rolex Pepsi (newest version)
This is a watch you might not expect to make our best Plain Jane watches list. Yet it does, and proudly. The Rolex Milgauss Z Blue (and GV) offers incredible originality and it is electric. Moreover, the story behind the Milgauss is very interesting. 
As experts in the watch game, we have a strong understanding of trend developments. The Rolex Milgauss Z Blue is increasing in value and desire, fast. There weren't so many produced either. So, if you rock one of these, you will have a necessary Plain Jane sense of uniqueness. 
See the full sales listing for the Rolex Milgauss Z Blue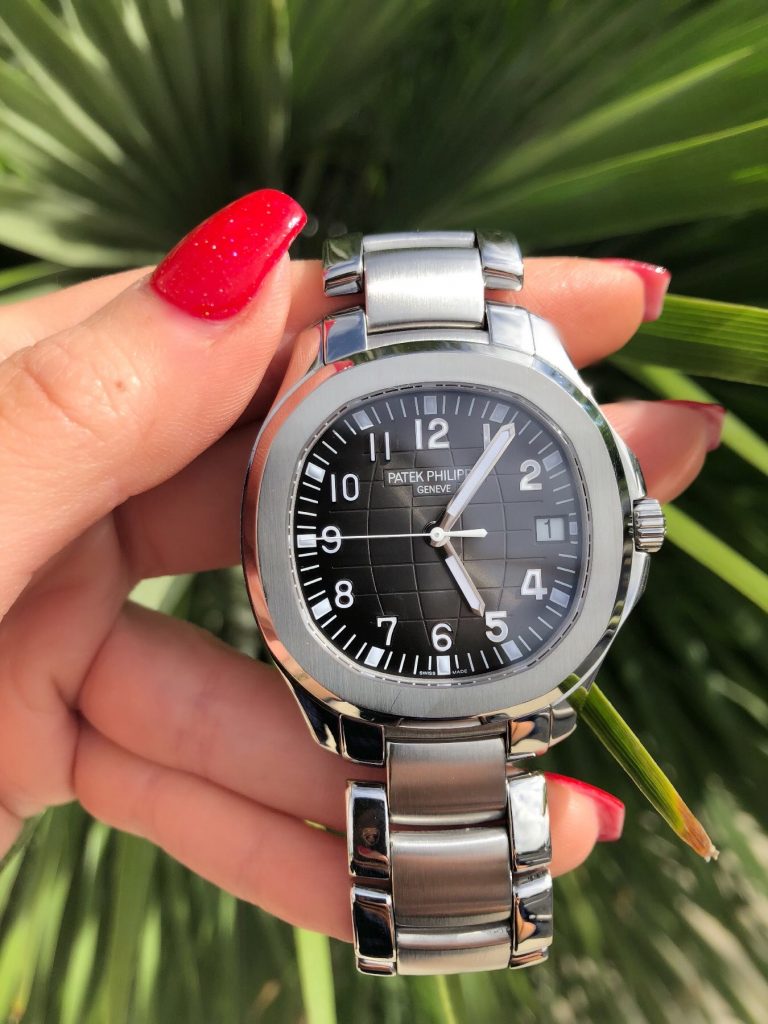 This is another watch that is creeping up to classic, iconic status. It was released in 1997, but it is just starting to get the attention it deserves, no longer playing the role of the Nautilus' little brother. Get it now as the price only continues to increase and before people buy them all up. 
See our Patek Philippe Aquanaut watches at Diamonds By Raymond Lee
Want to see more Plain Janes?
Shop Watches at Diamonds By Raymond Lee
Still love the iced out trend? You aren't alone. See some of our Bust Down Watches – PS. We Customize Watches at Diamonds By Raymond Lee. We have an expert gem-setter in-house at all times. So contact us if you are interested.