Have you ever seen a fully iced out watch from Rolex, Patek Philippe, Audemars Piguet or Cartier and wondered "did the watch brand make that or is it customized?" Well, more often than not, it's customized…and that's a bust down watch – a completely diamond covered timepiece that shines as bright as the sun…better yet, like a diamond, literally.
For those who are in the market for an iced out watch or anyone who wants to learn about the bust down watch trend, you've come to the right place. In this post, we are going to answer the most common questions about Bust Down Watches, such as how they are made and how the trend is evolving. We are also going to share with you 4 bust down watch masterpieces that are available and for sale now at Diamonds By Raymond Lee.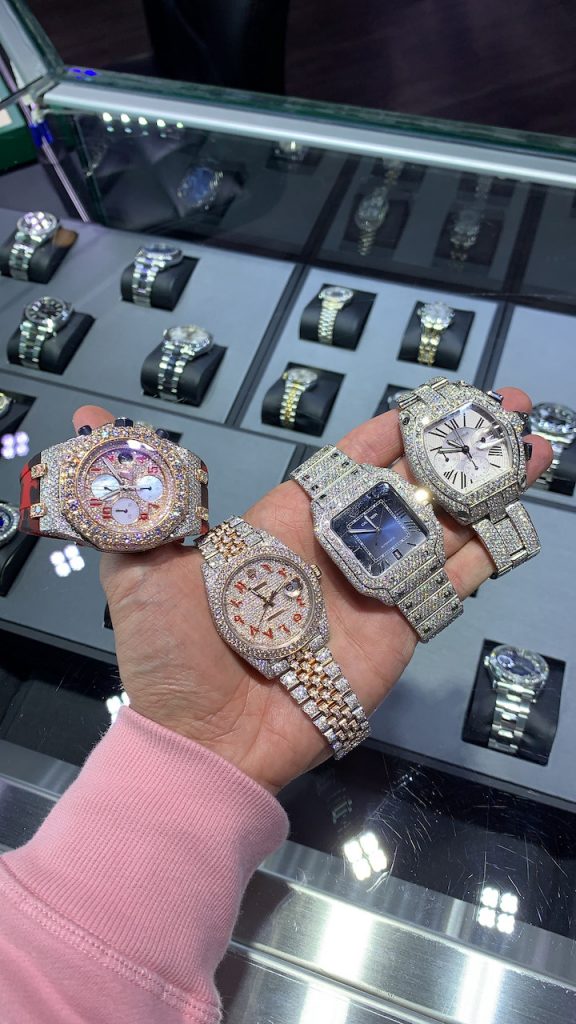 FYI – we have a highly skilled master diamond setter on staff at all times and he works out of our state-of-the-art watch workshop which is on site at Diamonds By Raymond Lee in Boca Raton.
Enter the glacial times…the Ice Age of Watches
Beware, you are about to see some iconic, larger-than-life specimens.
What is a Bust Down Watch?
A bust down watch is a fully diamond covered wristwatch – typically a Rolex, Audemars Piguet, Patek Philippe or Cartier watch. These are extremely expensive timepieces that have been "busted down" (taken apart) and then encrusted with high-grade diamonds and/or gemstones. This includes the bracelet, case, bezel, and dial.
Other names that refer to a bust down watch (or "buss down watch") are "fully flooded watch" and "iced out watch".
Bust down timepieces require incredible workmanship, so it must be done by a highly skilled diamond setter. It's a meticulous job that takes many hours.
It should be noted that there are many replicas and fake iced out watches out there and those are not considered to be bust down watches. Moreover, factory set diamond watches (meaning the actual brand/manufacturer did the diamond work) are not bust down watches. A bust down watch refers to genuine high-end watches that are completely covered in aftermarket gemstones.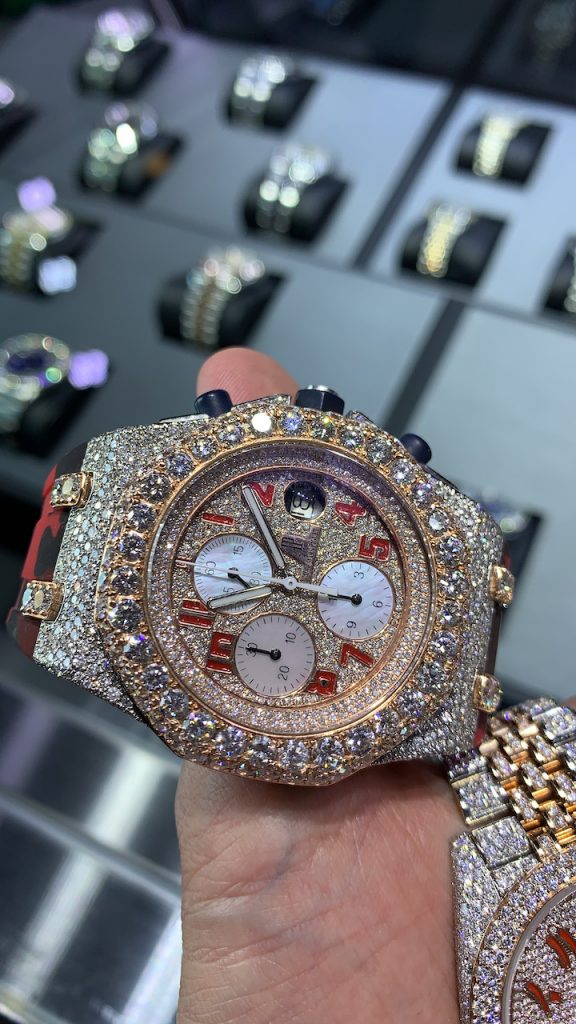 What is a Plain Jane Watch?
A Plain Jane Watch refers to a gold or platinum Rolex, Patek Philippe, or Audemars Piguet (although mainly Rolex) that has no diamonds at all. It is a watch from one of those brands that has not been touched with any aftermarket customizations.
"Plain Jane" does not have a negative connotation. In fact, Plain Jane Watches are as appreciated these days as Bust Down Watches in the rap game.
How are Bust Down Watches made?
First, the watch is taken apart carefully (busted down). Then, using a specialized metal excavating tool, each piece is carefully drilled in accordance to the dimension of the diamonds. This is called the setting. Once the settings are made, the pieces are clean and then fit with diamonds. The diamonds will fit so tightly and snug that they will not fall out.
Note: In some cases, a bezel will be created from scratch. The bezel is forged in the metal of choice using a CAD (computer aided design) and wax mold, and then it is set with diamonds. You can see an example of this here: Custom Bezel Setting.
All in all, this is an extremely scrupulous job that can only be done by the most proficient, master diamond setters.
Can you put diamonds in stainless steel?
There are no rules that say bust down watches can't be stainless steel. In fact, stainless steel is one of the best metals to set diamonds in as it is super durable and it can securely hold any gemstone or diamond in place.
Do Bust Down Watches work?
If you have an expert diamond setter do the job then it will absolutely work on all fronts. If it is done right then your watch's water resistance, and, of course, its timekeeping, will work just the same as before.

All of our bust down watches at Diamonds By Raymond Lee in Boca Raton work perfectly. Our aftermarket customization will not affect the functionality of the watch at all.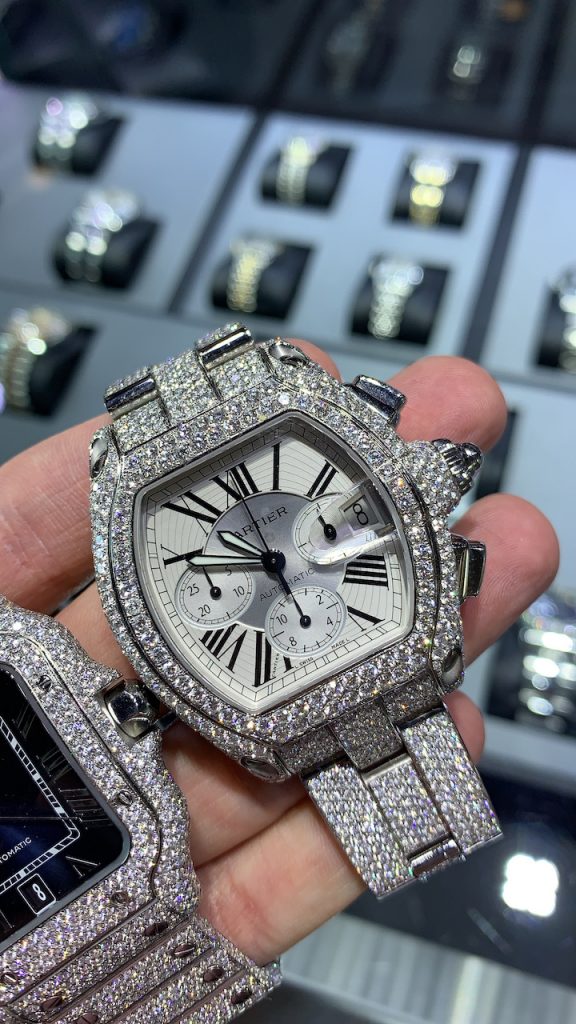 Do Bust Down Watches lose value?
Typically speaking, if you add aftermarket diamonds to a watch, it will lose value…and this applies to even the finest of diamonds. However, this really only matters if the watch is a highly collectible watch and if you plan to resell it someday.
As diamonds under 1 carat don't have so much market demand, and most bust down watches use many small diamonds that are far from 1 carat, the intrinsic value won't really go up either.
So, flooding a collectors watch (rare and highly sought after watches with low production numbers) with aftermarket diamonds is not recommended if you plan to resell it…But that's the point, it really only matters if you are worried about the resale value.
One the whole, Bust Down Watches are for people who aren't considering the watch as a "value investment". Rather, it is an "emotional investment". They buy it because they love the timepiece and the craftsmanship…and, of course, DIAMONDS, ICE, BLING. It's something for those with spending power, where money really isn't an object. And when it comes to craftsmanship, it has to be appreciated as it truly is incredible what a good diamond setter can do. It's can and should be considered as special as the watch itself.
Note: If you buy second hand Bust Down Watches, you are not losing any value on the purchase. You could resell it for the same price or more if there is a buyer. The demand for the timepiece won't have changed. This is much different than buying a collectors watch and then getting it customized.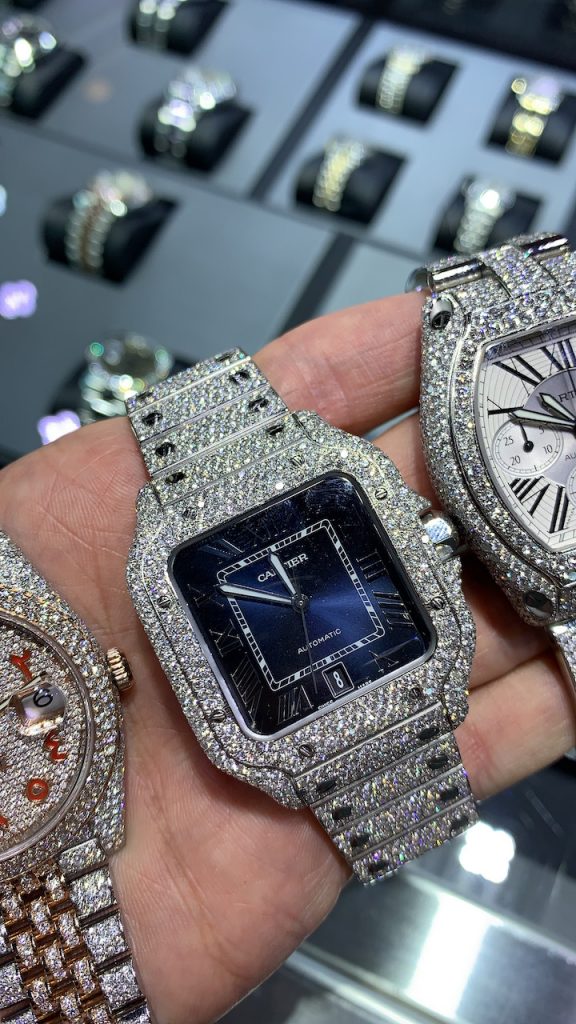 Are Bust Down Watches Popular? Are Bussdown Watches Going Out of Style?
With a lot of the hip hop culture showing their appreciation for "Plain Janes" these days, people are wondering "are bust down watches going out of style?"
As an expert in the industry and a luxury watch retailer who deals with high-end clients on a daily basis, we feel we are the right people to answer this question.
Evolution of the Bust Down Watch Trend
Let's first understand how the trend has evolved. It really started back 15 or 20 years ago with Master P and the Cash Money crew. They were icing out 36mm Rolex President watches. From there, things got bigger, much bigger. The hottest look was completely iced out oversized watches. We are talking 48mm watches drilled full of diamonds…
Then things started getting smaller, with 42mm Offshores and 41mm Presidentials being the go to's. This was crazy for a lot of people as these are some of the most prestigious watches. At this time, the trend really exploded and it only continued to grow. Watches like the Yachtmaster and Royal Oak Offshore were some of the best as they offered that extra size too (44mm).
Next, people started flooding Pateks and even Richard Mille watches. Again, people thought it was berserk, but the trend only grew.
Nowadays, the hottest look for the fully iced out bust down watch trend is honeycomb pave diamond setting and baguette diamonds. This is a big change from the traditional bust down settings as pave diamond settings offer a more completely covered look as the settings are closer together.
So, as you can see, the trend hasn't gone anywhere, it has just evolved, as most fashion trends do. It's like phases, and oftentimes, things come back around.
We expect to see the pave round diamond trend to be stronger than ever for quite a while, with special settings of diamonds that offer contrast (different sizes and even cuts). What it comes down to is, people just want something different, they want to stand out. The ice age isn't going anywhere, people will just buy different watches and try new things.
Diamonds setters have their work cut out for them as more and more people want bust down watches. You have to really respect and appreciate these skilled diamond setters as they are doing unbelievably stunning work.
This trend is still as icy as ever and we don't see it "melting" anytime soon. People will always want to stand out and be extra flashy.
People love diamonds and precious gemstones, they have for centuries. So, we have a feeling this is a look that is as timeless as the stones themselves. As long as there are diamonds, people will buy bust down watches.

For those who've never seen a bust down watch, it's understandable if you have doubts. Pictures don't do the justice a bust down watch deserves. When you see one in person, it's like moths to a flame. They are ridiculously stunning and it's hard to compare to a Plain Jane in that sense. The response you get when wearing a fully iced out watch is much different. It's like "hey that's a nice watch" vs "WOW".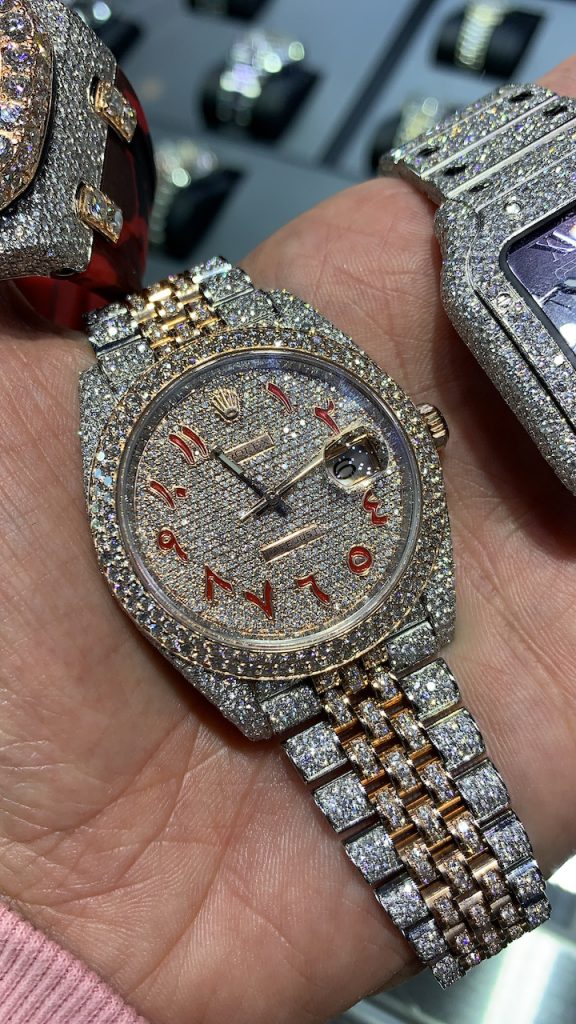 Should you buy a Bust Down Watch?
The best thing you can do now is take advantage of second hand bust down pave diamond watches (like the ones we have on display in this post), as the price is too good. They look like a million bucks, especially in the club. This type of setting is what we expect to see people continue to demand for the long run. And more and more people who are on the baguette trend will move back to this as the honeycomb look is by far the most stunning setting. After all, no diamond has as much fire and bling as the round brilliant.
All in all, if you are hesitant on bust down watches but you love the icy look, the second hand market is the best bet for money spent.
If you want to customize it to your exact liking with a new watch or a used Plain Jane, Diamonds By Raymond Lee will handle that too. We have the best diamond setter in South Florida, and he is in-house at our state-of-the-art workshop.
Why Bust Down Watches and not Factory Set?
With factory set watches, there are a couple of issues.
First, you can't get them to your exact liking. You get what you get.
Second, most of them aren't fully covered in diamonds. If they do diamond watches as some models don't come with diamonds. So, if you want your favorite watch with a completely iced out look, you need to go the customization route.
Third, most fully diamond covered Rolex, Patek and AP watches are rare and incredibly difficult to get your hands on. And if you can, the price will be FAR more than customizing it with an expert independent diamond setter.
The main reason people go for bust down watches is people want watches that are as rocky as possible. Bust down watches provide that.
Are Diamonds By Raymond Lee Bust Down Watches real?
Every single diamond in our bust down watches at Diamonds By Raymond Lee are natural. We test every single diamond to ensure they are real and not lab grown. We have a cutting-edge high tech machine that will tell us if any diamonds are lab grown or fake. It is a very expensive machine but we have invested in this so we can guarantee all of our diamond watches and diamond jewelry are natural. These days, it's more important than ever as there are lab grown diamonds flooding the industry.
What's more, we use only the finest diamonds for our bust down watches. So you are looking at high-grade gemstones with every timepiece you find at Diamonds By Raymond Lee in Boca Raton.
See more bust down watches at Diamonds By Raymond Lee
HOW DO YOU FEEL ABOUT THE FULLY ICED OUT WATCH TREND? COMMENT BELOW WITH YOUR THOUGHTS ON BUST DOWN WATCHES