While trends come and go, Art Deco engagement rings have proven to be timeless in style. From the 1920s to the 2020s, Art Deco designs have continued to inspire jewelry makers and engagement ring designers around the world. There is no other classic jewelry period with staying power like the Art Deco era.
It is said that the appeal of Art Deco style jewelry will never fade. The bold, vibrant, geometric and symmetrical styles that define Art Deco engagement rings are more popular than ever. 
WHAT ARE ART DECO ENGAGEMENT RINGS?
An Art Deco engagement ring can be one of two things – either it is an actual vintage ring from the Art Deco era or it is a modern engagement ring with a design that has been inspired by the Art Deco era.
The designs of Art Deco engagement rings are characterized by geometric patterns, a liberal use of symmetry, and linear shapes. They often feature colorful gemstones like sapphires, rubies and emeralds, in addition to diamonds. Although the former points are more so the defining features of Art Deco engagement rings.
Many Art Deco rings are BIG (like the Skyscrapers of their time), which means you will see halo settings or uniquely-shaped three stone settings. Overall, the rings are very architectural.
Furthermore, most Art Deco Engagement Rings, both modern and vintage, are made from platinum or white gold.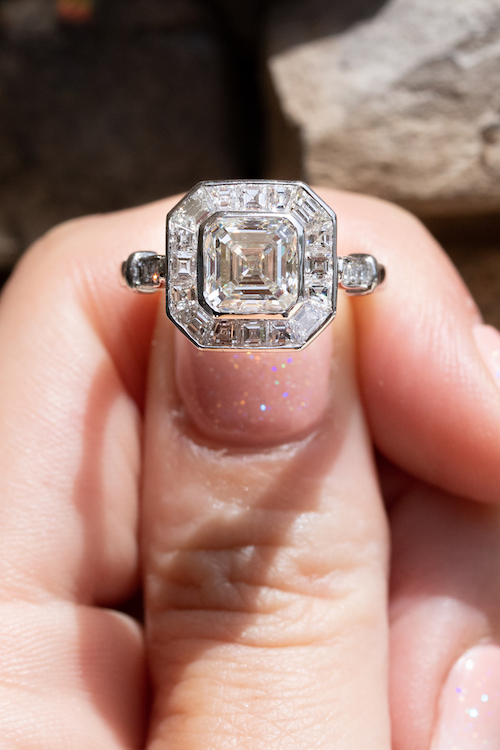 HISTORY OF ART DECO ENGAGEMENT RINGS
The Art Deco design movement started to materialize shortly before World War I. However, it really gained worldwide popularity in the 1920s. After the war ended, the Art Deco movement became so massive that it influenced everything from fashion to architecture to automobiles. It was a time of modernist trends, rich materials, and scrupulous craftsmanship. The designs represented luxury, glamour, and success. Think the "Great Gatsby", which was also a product of the Art Deco times. 
The name "Art Deco" came about during the International Exhibition of Modern Decorative and Industrial Arts in Paris, France in 1925. They called the designs Arts Decoratifs. This style of design developed into a major trend in the United States and western Europe shortly after. Then, it exploded in popularity in 1930s, and we can still see its presence when we look around cities like New York, as well as in the jewelry we wear.
During the 1930s, Art Deco engagement rings were all the rage for the contemporary woman. Like the confident, forward-thinking women who grew up in the Roaring Twenties, the rings were vivacious, bold, and beautiful. They were statement pieces, as they still are today.

Even though the Art Deco movement ended and the Retro era began, Art Deco designs kept their place in the jewelry industry. Now, 100 years later, we are seeing more and more designers turning to the glamorous Art Deco era for inspiration of their newest diamond engagement ring designs. The Art Deco period is without a doubt the most influential classic jewelry era for engagement ring designers of the modern time. Twenty-first-century brides simply can't get enough of the strikingly fascinating vintage look that Art Deco engagement rings provide. 
WHY IS ART DECO STILL SO POPULAR 100 YEARS LATER?
The answer is simple, Art Deco engagement rings make a powerful statement and they show a lot more personality than minimalist rings, which are also popular these days. The designers of the Art Deco days kept modernity and longevity of style in mind. They had a strong optimism for the future. Like the skyscrapers of those days, they were meant to be long-lived.
Overall, it worked. The stylistic lines and strong shapes make for a classic look. Women love halo designs, layered geometric shapes, sapphires juxtaposed between diamonds, and the cool shiny luster of platinum. This kind of style will never go out of fashion. It's timeless elegance in the purest form. The last hundred years have proven this.
At Diamonds By Raymond Lee in Boca Raton, we know what the modern bride wants, so we have a great selection of Art Deco inspired engagement rings to choose from. If you are looking for an Art Deco engagement rings, there's no better place to shop than with us.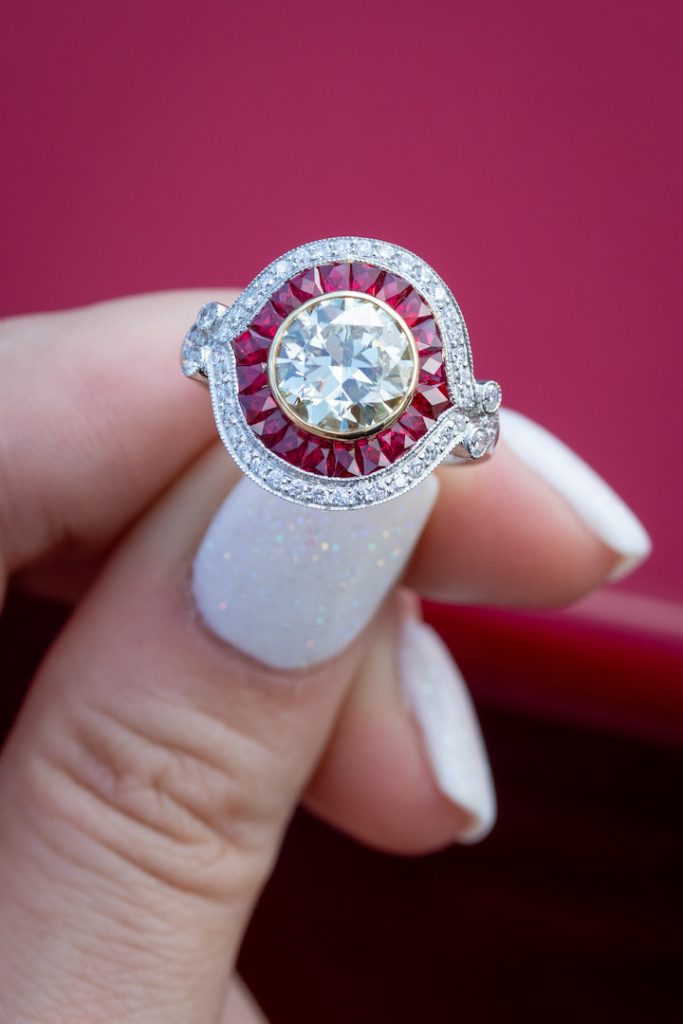 VINTAGE ART DECO RING VS ART DECO-INSPIRED MODERN RING
If you have your heart set on an Art Deco engagement ring, you have two options. You can put your antique shopper hat on and search for a genuine vintage piece or you can go to a jewelry store and see what options they have for Art Deco-inspired engagement rings, which, of course, are modern recreations.
Needless to say, an actual vintage Art Deco engagement ring would be amazing, as they have that one-of-a-kind, priceless historical aspect to them. Moreover, these rings have a lot of value, that often appreciates over time. However, you will be hard pressed to find an authentic vintage Art Deco engagement ring. Genuine Art Deco engagement rings from the likes of Cartier, Van Cleef & Arpels, Tiffany & Co. and other important jewelry houses are among the most sought-after pieces at auctions. They command top dollar. To get your hands on one, you will have to pay a very heft price. If you find one at a random pawnshop, you should be skeptical.
For most people, an authentic vintage Art Deco ring is not an option. Luckily, you can turn to modern Art Deco-style engagement rings. It may not sound as appealing at first, but upon further inspection, you can see there are a lot of benefits beyond price and attainability. Modern Art Deco engagement rings come with a more refined look. This is obvious, as technology has greatly advanced over the last hundred years. Your ring will have a much cleaner, newer look and the diamonds and gemstones will have modern cuts, which means better light performance.
Moreover, you can go for a more subtle take on the Art Deco style, which most women appreciate. You may want your ring to stand out with that Art Deco flair, but you don't want it to look old or overstated. So, with modern Art Deco-inspired engagement rings, you get the best of both worlds, the vintage and the new. 
You can even speak to your jeweler to create a custom piece that takes only certain elements of the Art Deco era that you like. That way, you can have a modern creation with an Art Deco vintage touch, exactly to your liking. 
Note: Many new designs are also incorporating old-style diamond cuts, like the Old European Cut diamond, for some historical charm. This is an interesting option.
Whether you decide to hunt down the perfect vintage Art Deco engagement ring or buy an Art Deco-inspired ring, both options will be forever timeless. 
Many of the celebrated jewelry houses are adding Art Deco influences into their new designs. Cartier has been doing this for the last few years to perfection. We'd love to show you what new options there are for you Art Deco lovers. Whatever you decide or want, Diamonds By Raymond Lee can help you. Just give us a call, come over to our showroom, or shoot us an email. 
Continue reading on to learn more about Art Deco engagement ring designs…
CHARACTERISTICS OF ART DECO ENGAGEMENT RINGS
Art Deco inspired engagement rings are easily recognizable. The rings express opulence and excess, and this applies to shapes, colors, and size. But let's get more specific. Here are the defining characteristics of both Art Deco engagement rings and jewelry:
1. LAYERED GEOMETRICAL SHAPES 
It was all about circles, squares, rectangles and triangles in the Art Deco days. The engagement rings highlighted bold shapes, often with shapes in contrast, like a round center stone in an octagonal halo.
You'd also find they used emerald shaped diamonds and Asscher cut diamonds echoed with vertical and horizontal lines.
Another unique design element of the Art Deco era was how they drew from step-cut square gemstones to create a halo rather than tiny round diamonds like you most often see today.
For three-stone diamonds, they loved the look of triangular or trapezoidal side stones with square and round prong-set center stones.
2. SYMMETRICAL DESIGNS
Art Deco engagement rings were perfectly symmetrical. The visuals were equally weighted on both sides, allowing you to draw attention to the ring as a whole. The designs were very strong, graphic, structured and rigid. It's like architecture for the finger. You will notice that Art Deco engagement rings are perfectly balanced in their design, which gives them a very elegant appearance.
3. POP OF COLOR
Designers were not afraid of color in the Art Deco era, which is something many modern women appreciate these days, especially as the value of sapphires, emeralds and rubies continues to increase.

Art Deco rings would use colorful gemstones as accent side stones. They'd also use colorful gemstones for halos, oftentimes layered in the middle of another halo of diamonds. These kind of rings pop so beautifully off the finger. The contrast between diamonds and colorful gemstones is truly stunning.
Some Art Deco engagement rings even employ a colorful gem as the center stone, with diamonds as accent stones.
The most sought after gemstones were, of course, sapphires, rubies and emeralds. However, many creators expanded their reach to other non-precious gemstones like aquamarine, exotic jade, lapis lazuli, coral, and onyx.
4. BIGGER THE BETTER
Women of the Art Deco era were not afraid to show their style and worth. They weren't bashful about being flashy. As a result, many Art Deco engagement rings are big. They are centered around large diamonds, and halo and three-stone engagement reigned supreme. The bigger the better may not have been the motto, but it sure seems that way.
The great thing about halo rings is, you get a bigger look without breaking the bank like you would with a similar size ring using a solitaire setting. Something to consider…
5. WHITE METALS – PLATINUM WAS KING
The Art Deco era coincided with the platinum engagement ring boom. At this time, platinum had all the hype. This is when using platinum for engagement rings really took off.

White gold was also invented during this time. It was a good substitute for those who wanted to save a little money, as it was less expensive than platinum.
In the end, the white precious metals for engagement rings stuck. 100 years later and the vast, VAST majority of engagement rings are still white gold and platinum.
All in all, if your engagement ring has the above design characteristics, you can be sure it was inspired by the Art Deco era. Furthermore, if you are looking for an actual vintage Art Deco era ring, keep these points in mind because if most are absent from the ring in question, it's probably not an Art Deco era piece.
HOW MUCH IS AN ART DECO ENGAGEMENT RING?
Authentic Art Deco Vintage Rings will often be exorbitant in price, especially from one of the big brands like Cartier and Tiffany. These are usually sold at auction for hundreds of thousands of dollars, at a minimum.
Art Deco-inspired rings on the other hand, can be as affordable as any modern ring design. Here are a few examples of Art Deco-style engagement rings to give you some price reference…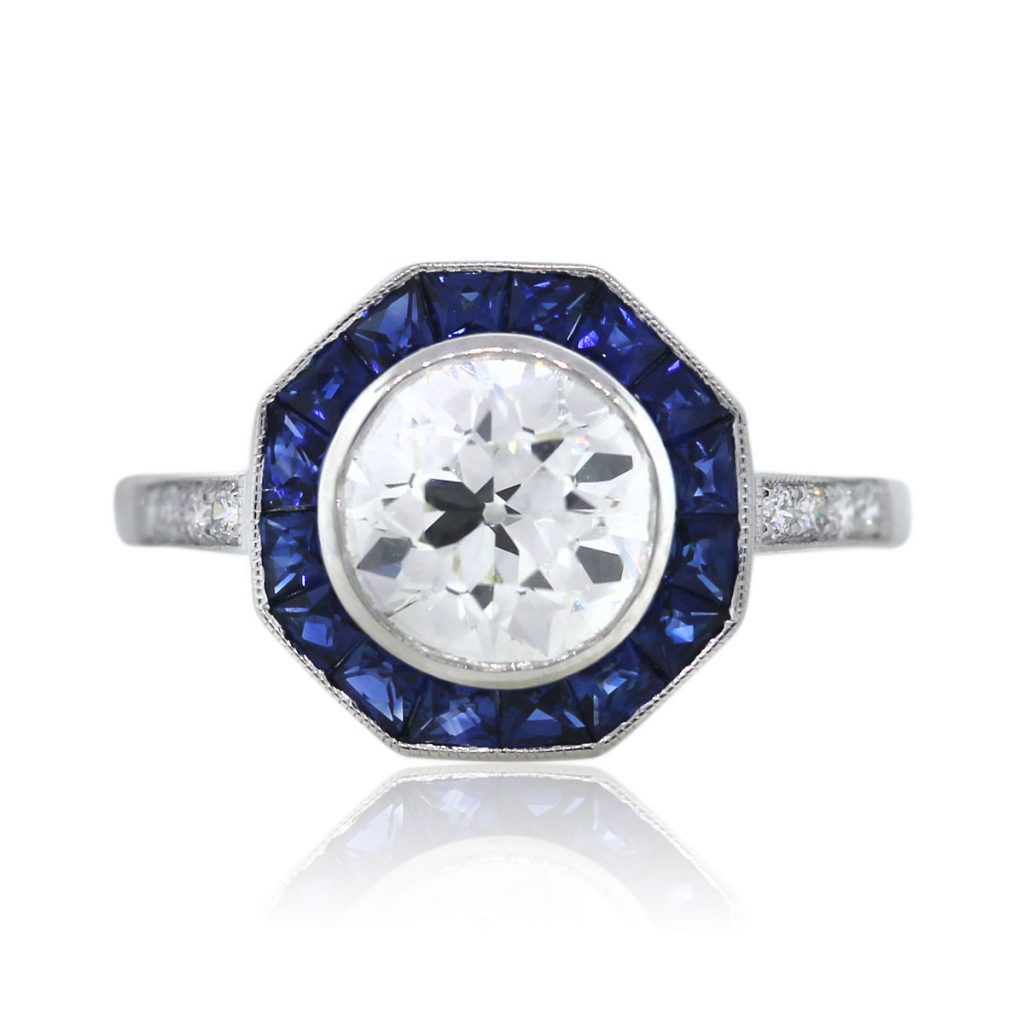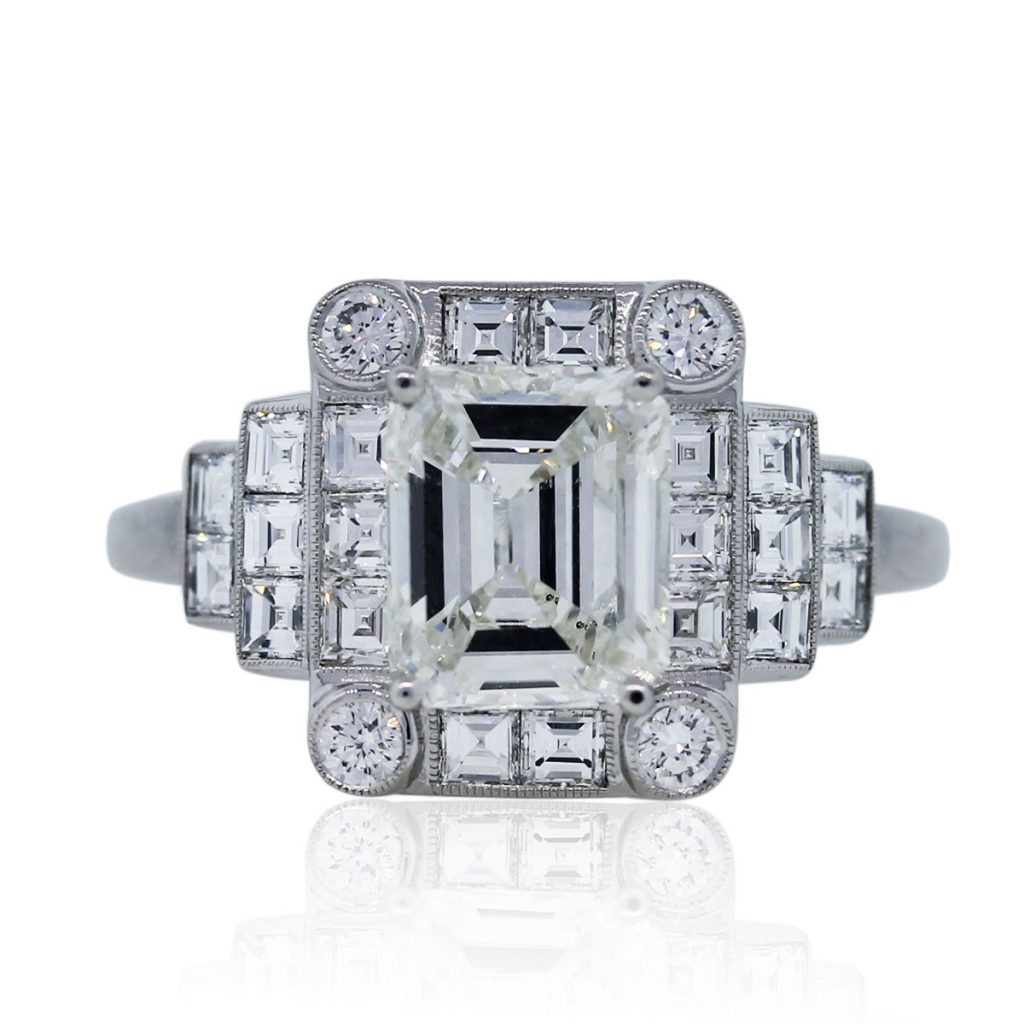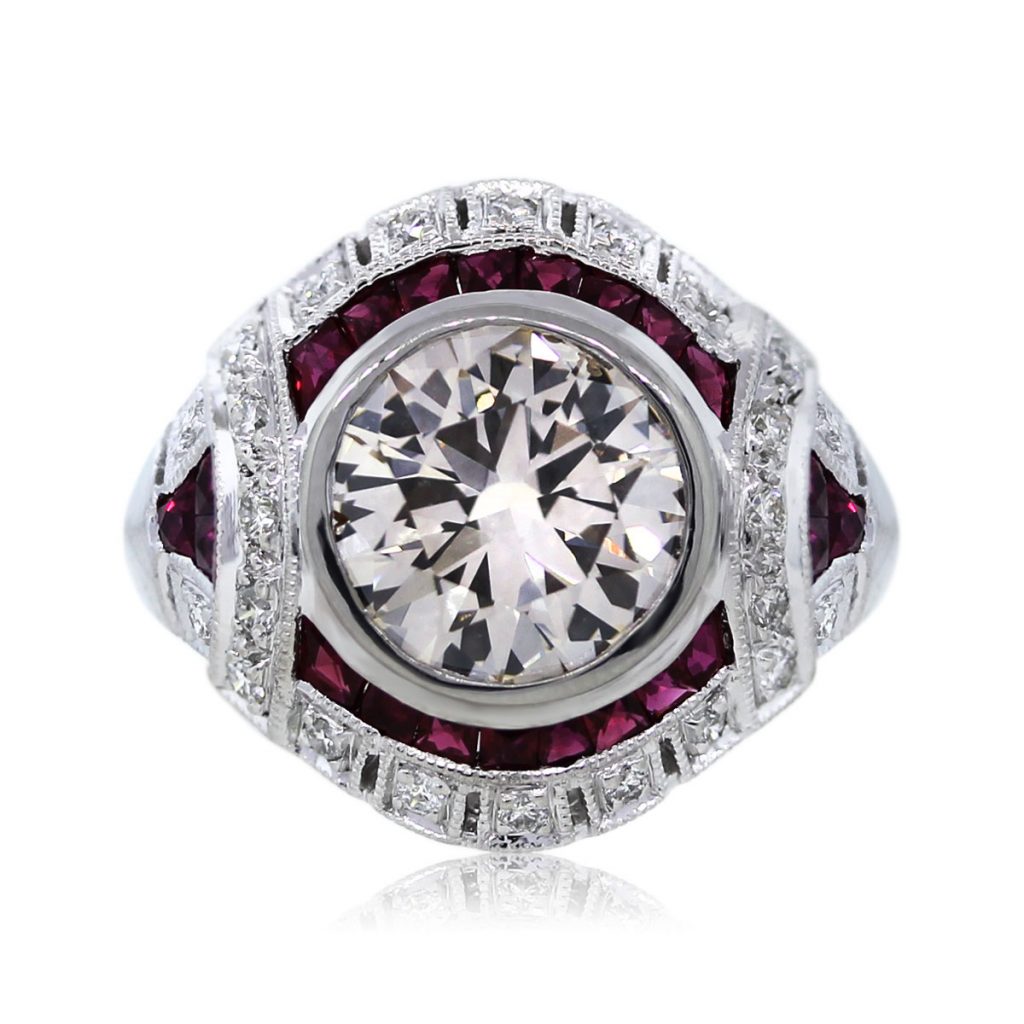 HOW DO I BUY AN ART DECO ENGAGEMENT RING?
At Diamonds By Raymond Lee, you can choose from our collection of private label, one-of-a-kind Art Deco engagement rings, as well as Art Deco inspired engagement rings from famous designer brands like Gabriel & Co and Tacori. 
We pride ourselves on offering both the best quality engagement rings at the most competitive prices.

If you want an Art Deco Engagement Ring, either come into our showroom so we can show you a number of options or contact us and we can facilitate a virtual tour. 
Another option to get the Art Deco inspired engagement ring of your dreams is to design one yourself. Well, not literally yourself. You tell us what you want and our master jewelry maker can design and handcraft your very own Art Deco ring from scratch. You can learn more about our custom ring design service here.