When you think of the Aquanaut, you probably envision the slim, sophisticated steel sports watch with a black rubber "tropical" strap. Rightfully so, considering that's the most commonly seen Aquanaut in the game. What you rarely see, though, is the newer stainless steel bracelet Patek Philippe Aquanaut, reference 5167/1A-001.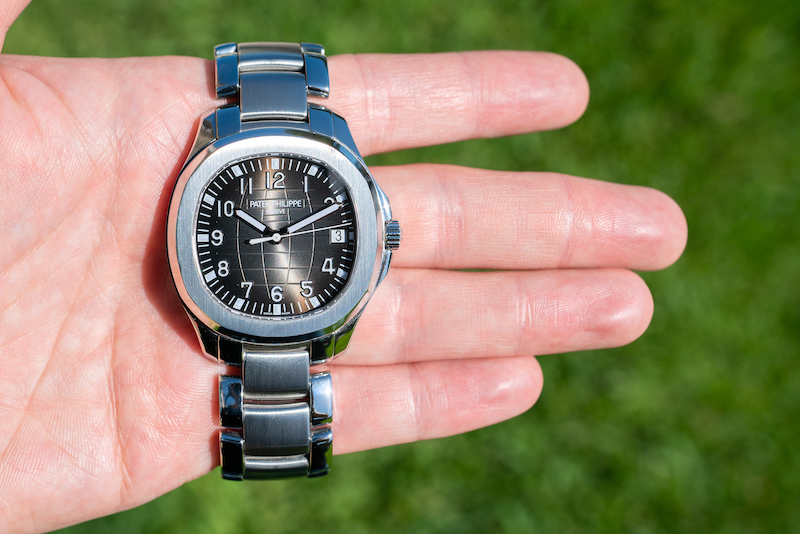 At Diamonds By Raymond Lee in Boca Raton, we recently acquired the exquisite, sleek, utterly refined Patek Aquanaut 5167/1A-001. With that, we've decided to give you an insider, in-depth review of this great entry-level Patek Philippe timepiece. And when we say "entry-level", remember this is Patek Philippe we are talking about, so it is far superior (and pricier) than many high-end watch models from other luxury watch brands. 
A BRIEF HISTORY OF THE PATEK PHILIPPE AQUANAUT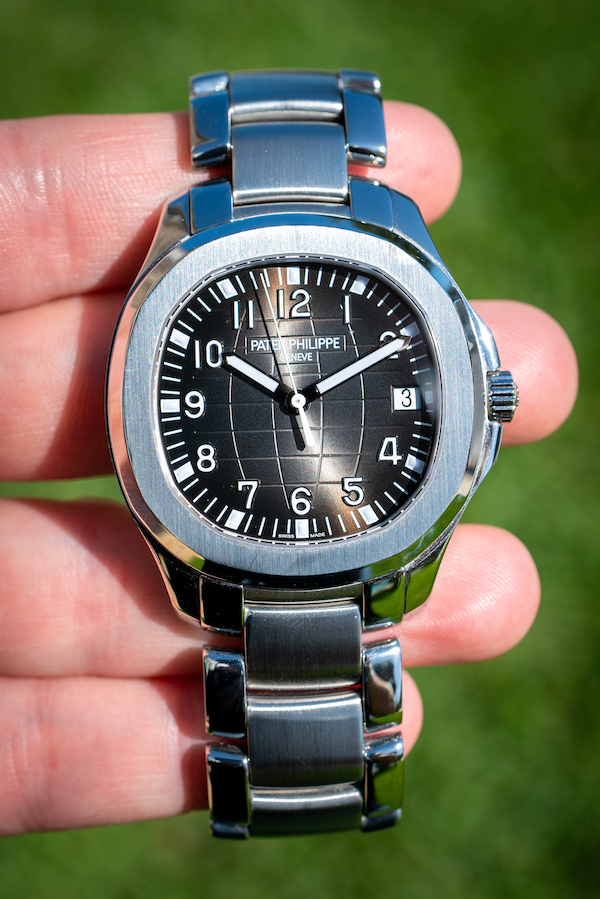 The Patek Aquanaut was introduced in 1997, some 20 years after the Nautilus. Upon its release, unsurprisingly, it didn't receive the greatest reception from Patek purists. People were skeptical and it took some time for the aficionados to fully accept the Aquanaut…
Nowadays, the Aquanaut is universally considered one of the best masterliness Patek Philippe watches you can buy. Both from a value and design perspective. The watch is subtle, sophisticated and smart, which is a breath of fresh air in a watch-world full of chunky, oversized, casual watches. The Aquanaut, like the Nautilus, is the perfect mix of sporty and formal. It doesn't ever have to be paired with a shirt and tie, but it can, and to perfection.
The Aquanaut has seen various upgrades over there years. There are quite a few references that can be discussed. That being said, beyond special complications, Patek has only made refinements, with very small, subtle changes. Nothing drastic…After all, there's no need to mess with what is already such a successful formula.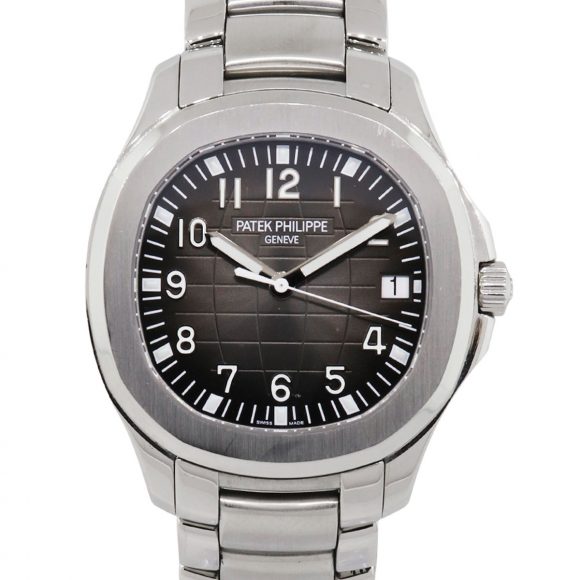 The Patek Phillippe Aquanaut 5167/1A-001 was released in 2007, on the Aquanaut's 10 year anniversary. So, it's by no means a new model. However, it has become increasingly harder to find. First, because there is a continually rising interest in steel sports watches, especially from Patek, Rolex, and Audemars Piguet. Second, Patek has a very small yearly production of steel sports watches (this specific model has pretty low production numbers). Lastly, the Aquanaut collection's desirability as a whole has rapidly increased, thanks to what people say is a "fresher, more modern demeanor than the older Nautilus". 
All in all, it is by no means a trivial task to get your hands on a steel Patek Philippe Aquanaut 5167/1A-001, especially new. Collectors are waiting years, which is why most turn to the second-hand market. Yet, even on the second-hand market, they can be hard to acquire. Thankfully, we got our hands on one and it is for sale now at Diamonds By Raymond Lee…
Now, let's talk specifics...
Since the biggest change from the 5167A to the 5167/1A is the stainless steel bracelet, let's start there. 
AQUANAUT 5167/1A-001 – FULL METAL BRACELET & CLASP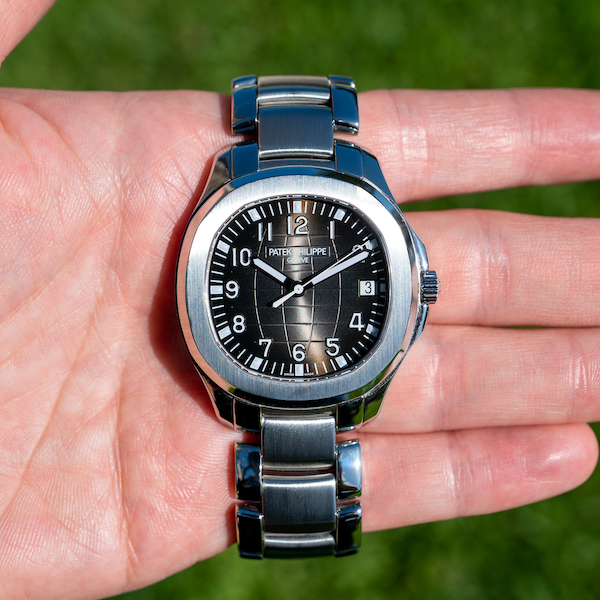 Patek Philippe is a company built on principles of traditionalism and formality. Their innovative classicism is clearly displayed through their stainless steel Aquanaut bracelet. For the Aquanaut purists out there, we guarantee the change to the steel bracelet from the rubber strap will surely not disappoint. Not when it's in your hands, and then on your wrist, that's for sure. 
While the full metal bracelet on the Aquanaut makes it somewhat similar to a Nautilus, which you can't hate on in any case, the Aquanauts' steel bracelet is thicker, sturdier, and more comfortable than the jewelry-esque Nautilus bracelet. It's bolder, more substantial, and its finishing is just as magnificent…
When the Aquanaut's steel bracelet is in your hands, you may get a Rolex Oyster feeling, with its large, solid links. However, it's, of course, completely, undoubtedly, and originally, Aquanaut. 
The centerlinks are large, with a satin finish. The endlinks are large too, with a mirror polish on the top, satin on the flanks. The combination is distinct and very aesthetically pleasing. 
As for fit, the bracelet doesn't flair out from the wrist. The pivoted end links pull down, contouring the wrist perfectly (even around smaller wrists), which is much nicer than the composite strap they previously used.
In terms of comfortability, wonderful Patek-effects continue. The links have substantial spacing, which completely prevents skin pinching and hair pulling. Furthermore, it allows the watch to breathe, never trapping heat. It vents much better than the Nautilus bracelet. 
Note: It's a modern Patek so it uses pins and sleeves for sizable links.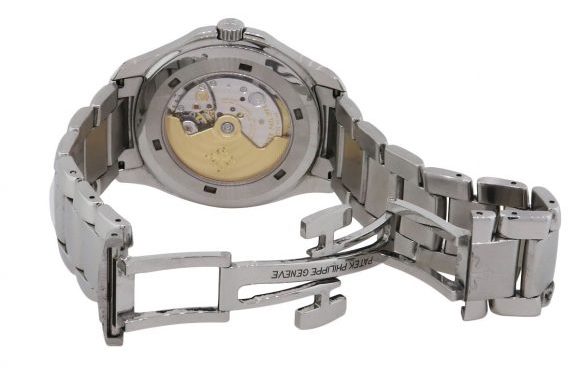 Trigger-Release Double Deployant Clasp
The newer clasp design is extremely reliable and comfortable thanks to the double folding twin trigger deployant design. It curves, matching the arc of the wrist impeccably.
What's more, the clasp is wonderfully low profile, so it's not susceptible to desk diving scars…unlike the Rolex Oyster. 
If you like the rubber strap, we recommend buying the Aquanaut in stainless steel and getting the rubber strap from Patek or a retailer like Diamonds By Raymond Lee. Win-win. You'll have the best of both worlds. 
THE 40MM CASE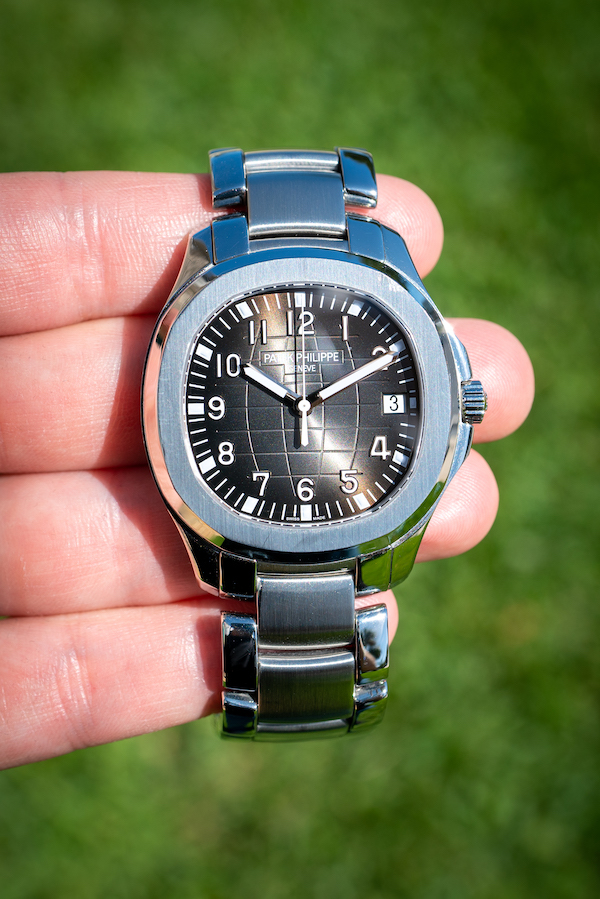 Just like the rubber bracelet Aquanaut, 5167A-001, the full steel Aquanaut 5167/1A has a slim, sophisticated Gerald Genta-like 40mm case.
Note: It is not designed by Gerald Genta like the Nautilus, but the resemblance is undeniable.
The 5167/1A-001 is 40mm across the round of the case, not including crown and crown guard. Lug to lug, the case spans the wrist 48mm. As for the crown, it is a traditional screw-down, so the Aquanaut is water resistant to 120 meters. Perfect for any kind of water activity. And, as always, the crown has Patek Philippe's signature Calatrava cross…
The Aquanaut's bezel has a satin finish on the top and a high polish on the beveled edge. The high polish on the flanks of the bezel differentiates beautifully from the satin finish of the case band. It makes the watch look almost impossibly slim, relative to its actual thickness, which is already uniquely graceful for a sports watch, at 8.3mm. This watch will slide under any cuff and will never, ever, get in the way. Again, in a world full of chunky sports watches, the Aquanaut comes off as incredibly dapper. It's setting the tone for what is "a la mode". 
THE GEOSPHERE FACE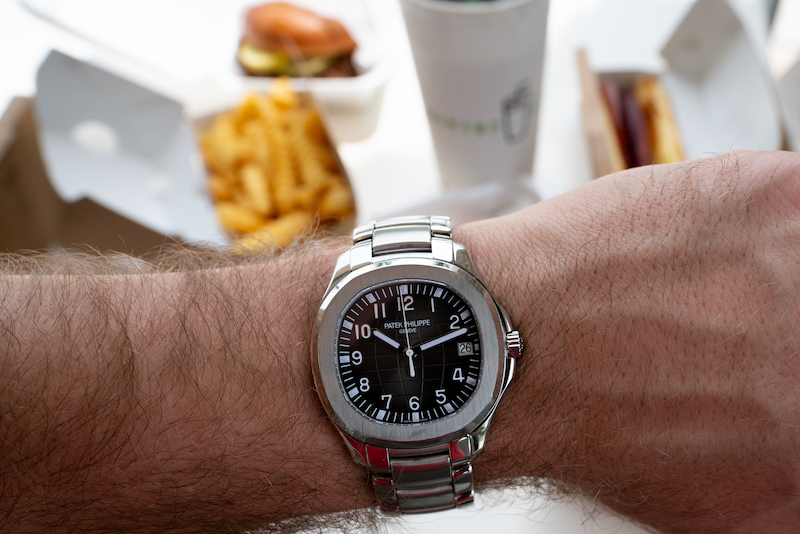 The dial of the Aquanaut 5167/1A is minimal, sophisticated, and clean…but the devil is in the detail. The geosphere cut and the gradient color that turns from black to an argent dark complex tone really adds tons of personality to an otherwise no nonsense watch.
Pictures don't do this watch justice. When looking closely at the embossed, dark-Swiss-chocolate-like dial, you can tell how much care and attention went into this creation. The hour and minutes hands are upscale, made entirely from white gold, as are the indices and Arabic numerals. They are polished to perfection, and the white on black allows for a pop that makes it incredibly easy to read in any setting. What's more, powerful luminescent paint is applied in the numerals and hands, so this watch glows in the dark like no other. 
5167/1A Dial changes from the older Aquanaut model 5065A
You should notice some changes from the older, original Aquanaut, reference 5065A. 
The embossed pattern is much less pronounced and is slightly more curved.
The Arabic numerals are slightly larger and the indices smaller and more refined. This allows the dial to have a more seamless look from the center to the outer edges too.
The "3" has been removed completely, leaving just the minimal date aperture, which gives the dial a much more balanced (and dare we say, less awkward) look.
They added "Swiss Made" below the 6 o'clock.
All in all, the changes are very welcomed, as we, and the vast majority of Patek enthusiasts, like the newer 5167A dial. It's simply cleaner, more sophisticated.
CALIBRE 324 S C MOVEMENT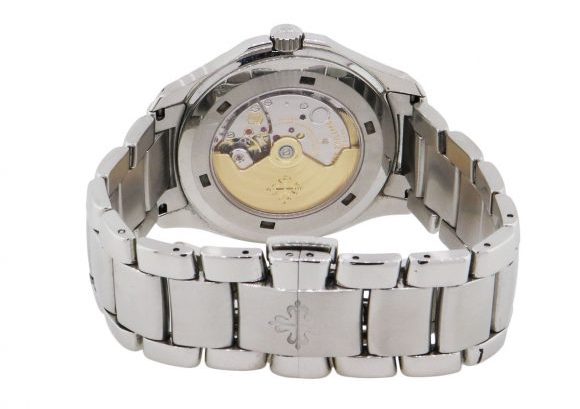 While the calibre 324 SC (which is the same movement the Nautilus 5711 uses) is not new, it still holds its own against any of the best new movements from the world of Haute Horology.
As the caseback is a see-through sapphire crystal, you can see how this watch ticks. 
The self-winding movement incorporates various Patek Philippe innovations, such as the four-spoke Gyromax® balance wheel with its slotted poising weights, and the Spiromax® balance-spring in Silinvar® which maintains the oscillations at a frequency of 28,800 vibrations.
The 324 SC is composed of 213 parts, 29 jewels, and six bridges. It has 45 hours of power reserve. Overall, the movement will hold up to the most ruthless scrutiny. Patek did some refinements to the finishing, making it prettier than ever. And, of course, it's all done by hand. It's appealing to the eye, with its gorgeous finishing, but it truly inspires awe when held to a loupe. The sports watch has a heart of gold. 
ON THE WRIST
Because of the steel bracelet, the 5167/1A-001 wears slightly larger than its rubber bracelet counterpart, the 5167A (however, the case is just as slim). Moreover, the wrist presence is very different. For those who prefer bracelets over straps, you will surely love the 5167/1A. It just feels more substantial. You honestly feel like you are getting more value, and you won't have to worry about replacing a rubber strap after years of wear and tear like you would with the 5167A.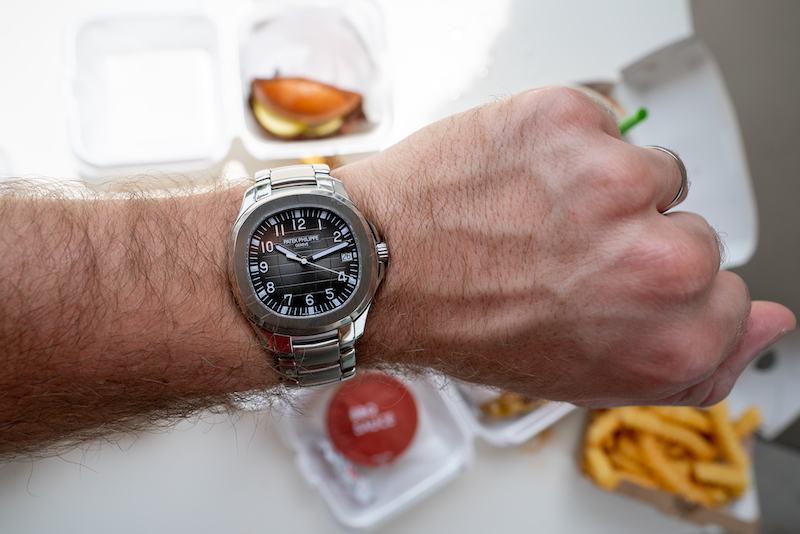 WHO IS THIS WATCH FOR?
The steel Patek Philippe Aquanaut in general is a very subtle, understated sports watch. It's not the watch you will see people with an inferiority complex wearing. It doesn't make a lot of noise like an AP Royal Oak Offshore or a Rolex Yachtmaster.
The 5167 is perfect for classy men (or women) who appreciate horology at its deepest level; someone who wants a sophisticated, handsome, no-nonsense watch. It may not garner attention from Average Joe's, but a real watch connoisseur will surely be impressed. It's a true "watch guy's" timepieces. And while it is subtle and understand, in the modern sports watch day and age, that makes it truly out of the ordinary.  
NOTEWORTHY OWNERS
The Aquanaut has become a star of Hollywood. It can be seen not he wrists of Paul McCartney, Ringo Starr, Mark Wahlberg, Michael Fassbender, Post Malone, Drake, and many others.
That said, these watches are not easy to come by. Not even for celebrities. You can't just walk into a Patek Philippe and buy an Aquanaut…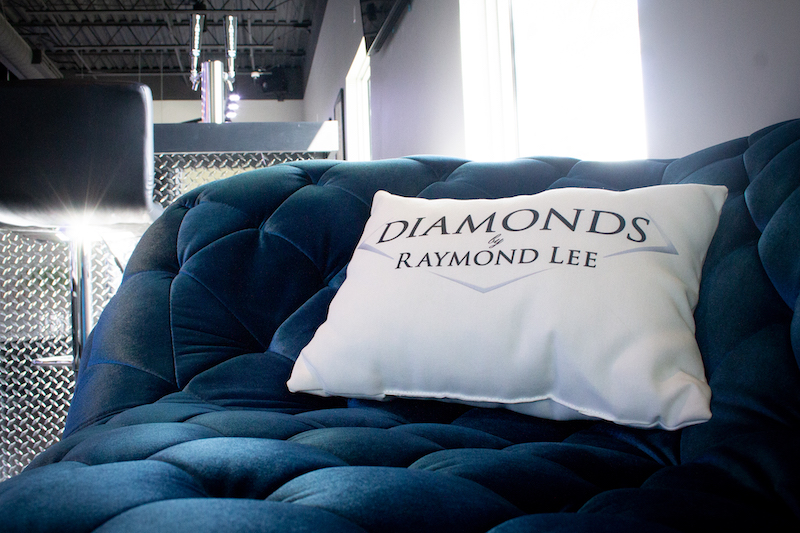 3 Must Have Patek Philippe Sports Watches
WHERE TO BUY A PATEK PHILIPPE AQUANAUT 5167/1A?
Due to the Patek Philippe Aquanaut 5167A's skyrocketing popularity, it is quite hard to obtain one. Waiting lists can be long, so many people turn to the secondary market. You'll have to just do your due diligence to find one available. If you live in South Florida, Diamonds By Raymond Lee in Boca Raton has a Patek Philippe Aquanaut 5167/1A-001 for sale. We can also facilitate a purchase securely and promptly online. 
When it comes to the Aquanaut, the 5167/1A, it was an instant hit, much like the 5711. This watch will be forever ingrained into watch history. That's why the price for the Patek Aquanaut 5167/1A is rising quickly. Right now it is around $38,000 on the second-hand market. At Diamonds By Raymond Lee, our Patek Philippe Aquanaut 5167/1A is in perfect condition and it comes with all the original paperwork and box.
The good thing about buying this kind of watch pre-owned is that you won't lose any value after purchasing. You can think of this watch as an investment. It's a classic that will surely increase in value, even during volatile market conditions, like what we are currently dealing with thanks to COVID-19.
It's a smartwatch and an even smarter purchase. In general, you absolutely can't go wrong with Patek Philippe, especially an Aquanaut. It's a watch that stands the test of time. A pure classic.