It all started with Russian-born Barry Verragio being an apprentice to a master jeweler. From there, he got set to embark upon his own career journey with the Verragio brand. His passion for Verragio engagement rings came from a longing to create an elegant piece "from nothing". 
So, upon his graduation from the Fashion Institute of Technology in New York City, Verragio spent twenty years creating fine jewelry. His target customers were some of the world's most distinguished jewelry stores.
For more than 20 years, Verragio remained a prominent designer of sought-after, refined diamond wedding bands and engagement rings. Presently, the Verragio brand is one of the most renowned bridal jewelry makers in the world. They are unique for setting some of the highest standards in the jewelry world.
Detailed History Of Verragio Engagement Rings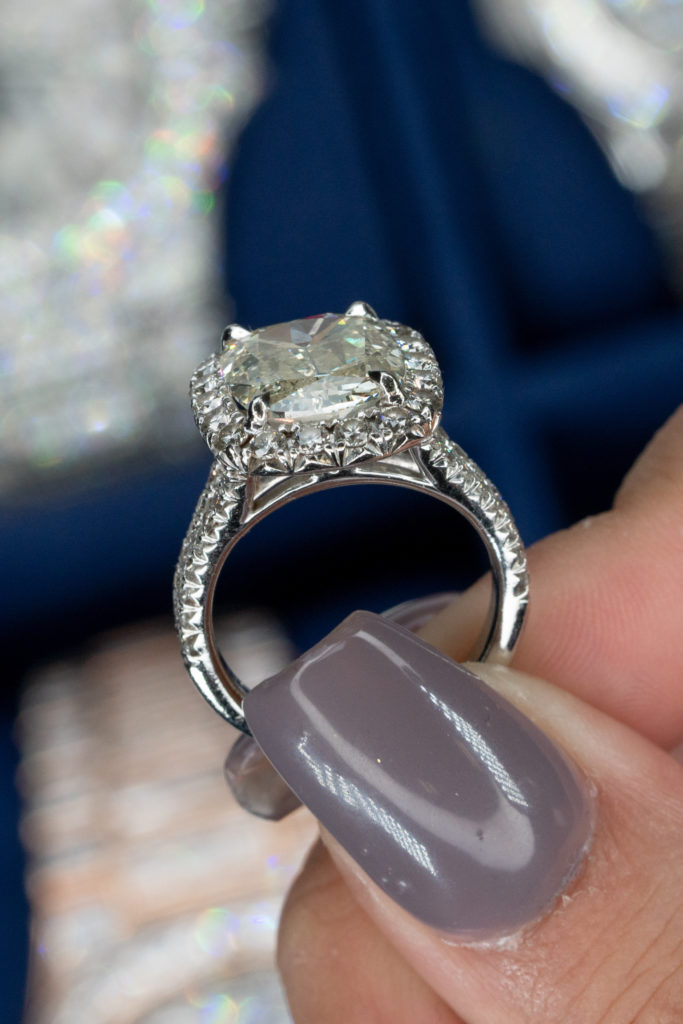 Above is a synopsis of what the beginning of the Verragio brand was like. Now, the history class is about to get more detailed. 
Eponymously, the founder of Verragio is Barry Verragio. As a youngster, we already mentioned that Barry Verragio began his career as an apprentice to a master jewelry maker. That was at the early age of 14. As soon as he finished his apprenticeship, he already grasped the art of jewelry making fully. Still, he chose to enroll in the famous Fashion Institute of Technology in a bid to further hone his skills.
During this period of studying at the Fashion Institute of Technology, Verragio learned from some of the very skilled mentors in the industry. One of them is Maurice Galley, who had amassed years of experience as a jeweler with the well-known Tiffany and Co. As a student under Maurice's guidance, Verragio began developing his own designs for beautiful engagement rings. He also did the same for other bridal jewelry items.
By the 1990s, Barry Verragio already had garnered a wealth of experience in the design and production of fine jewelry. More so, he even developed his distinct setting technique. Right amid all these signs of progress, he added the icing on the cake by designing the first-ever Verragio ring. These Verragio engagement rings were only beginning!  
Note: That first piece from the Verragio brand was for Barry Verragio's then-girlfriend, now wife.
As he designed the ring for his future wife, Verragio sought the help of the Lumino setting technique. This technique suspends the center stone to make room for more light to enter the diamond. With that, the technique enables the stone to reflect its true radiance and sparkle.
From the laudable success of this Verragio ring, Barry got the encouragement he needed to proceed. The Verragio brand went on to design and manufacture many more Verragio engagement rings, creating the internationally renowned jewelry brand we know today.
The Superiorities of the Verragio Brand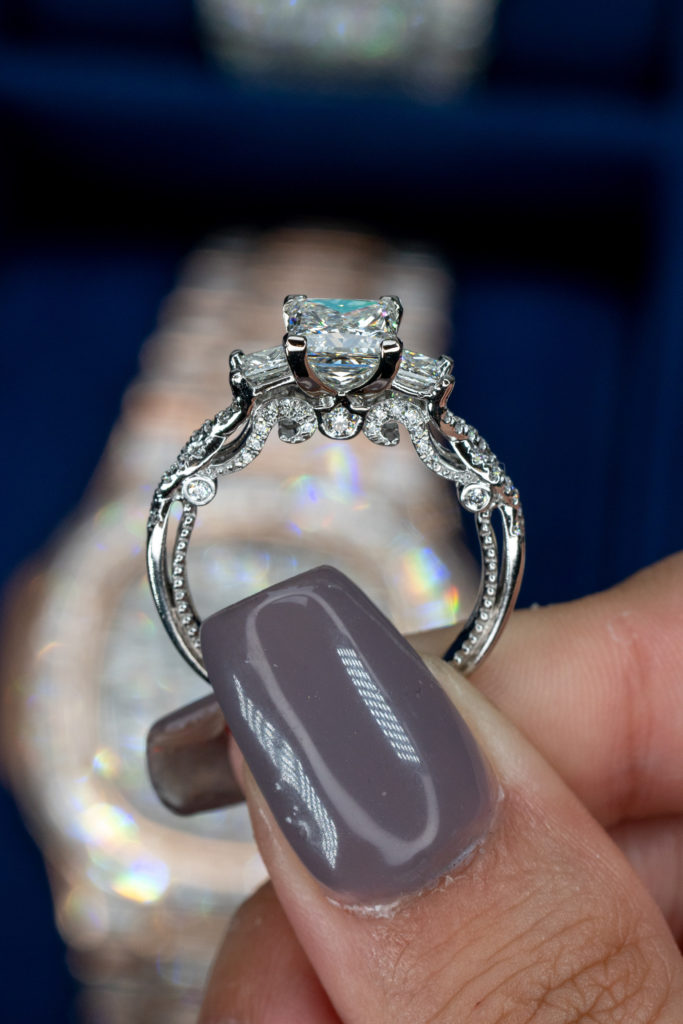 For various reasons, the Verragio brand always stands out. This Russian-based jewelry brand has certain superiorities over other jewelry makers. Keep reading to find out. 
The Verragio brand has a trademark style that revolves around making the most of a crown and bezel head combination. With this technique, Verragio engagement rings enjoy the exposure of the diamond to light from all angles. With that, the diamond maximizes its "fire". This setting simply takes the back seat and allows the centerpiece to take all the attention. Also, the Lumino setting gives the ring itself an aura of lightness that makes it very easy around your finger.
Distinct Ornamentation Technique
Aside from the Lumino setting, the Verragio brand utilizes a level of ornamentation that defined them as outstanding designers globally. In addition to their signature bents, Verragio engagement rings also parade some of the most thorough and sophisticated sides and twists. Most times, they come encrusted with diamond dust. The Verragio brand maximizes the unique appearance making it look like a ring housed in another ring.
Visual Aesthetics Over Size
Verragio's design ideology reflects a firm focus on improving the general look of the engagement ring. This need ranks higher than the need to create an overwhelming presence in a ring. Regardless of how fierce, detailed, or sophisticated the setting is, the Verragio brand ensures that the center diamond remains the central focal point.
Unrivaled Quality and Terrific Craftsmanship
All Verragio engagement rings come handcrafted with thorough attention to detail. Also, they all come from the finest materials. In addition, all of the designs used for Verragio engagement rings are products of 18K yellow gold, 18K white gold, 18K rose gold and platinum. Also, the Verragio engagement rings in the Parisian Collection are available for sale in 14K white, rose, and yellow gold.
Hell-bent on always delivering the best quality, Verragio engagement rings only feature VS clarity diamond melee and high-quality F-G color.
Setting Varieties For Verragio Rings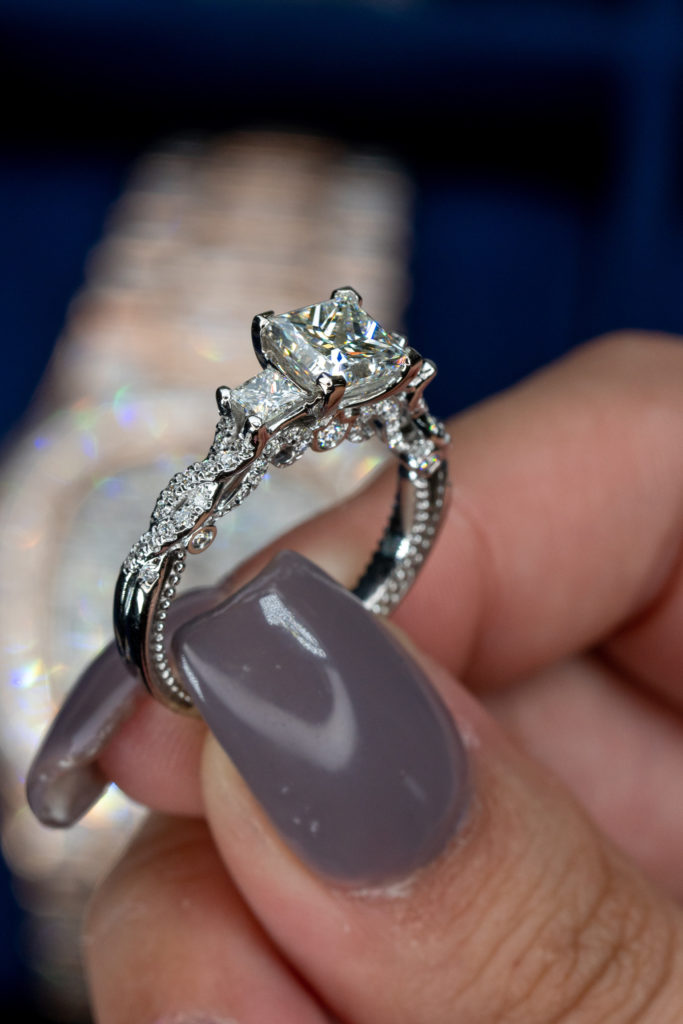 Verragio rings come in different sizes, designs, and most importantly, settings. The setting techniques used for Verragio rings were the first details to distinguish these rings from others. Below are a few of these setting styles:
The Insignia Setting Style
The Insignia collection is the actual collection from the portfolio of the Verragio brand parades. This style is a product of the ring Barry Verragio gave to his wife. Embellished with delicate details, this collection and style have the Verragio logo curled up into the ring's crown. Then, there are two diamond pave scrolls steering up to the center stone.
This is one of the rings most Verragio fans prefer to go with when shopping for Verragio engagement rings. It is an excellent illustration of the incredible level of adornment the Verragio brand uses in its designs. More so, the twists and side accents flow perfectly together and the craftsmanship exceeds an improved level.
The New Classic Setting Style
The Classic setting comes in as the latest addition to Verragio's array. This style still carries all the glamor the brand is famous for. Also, it comes at a fraction of the price of some of their better diamond-heavy styles. It has a neat, single-accent diamond that looks like the Insignias. Then, the rings' inner faces come streaked with micro-French beading as well. 
If you are yet to check out the Venetian style, you are indeed missing a great deal. This style is the flagship of the Verragio brand. The style comes with lace spiraling around the exterior of the rings' shanks and shoulders. There is also French beading along with the interior of these Verragio engagement rings. 
The majority of the designs in this setting make use of countering metals to bring out an extra impact. These Verragio rings can be customized with 5 different styles of foundation: Centro, Euro, Venetian Lace, Classic, and Lido.
Design Collections Of Verragio Rings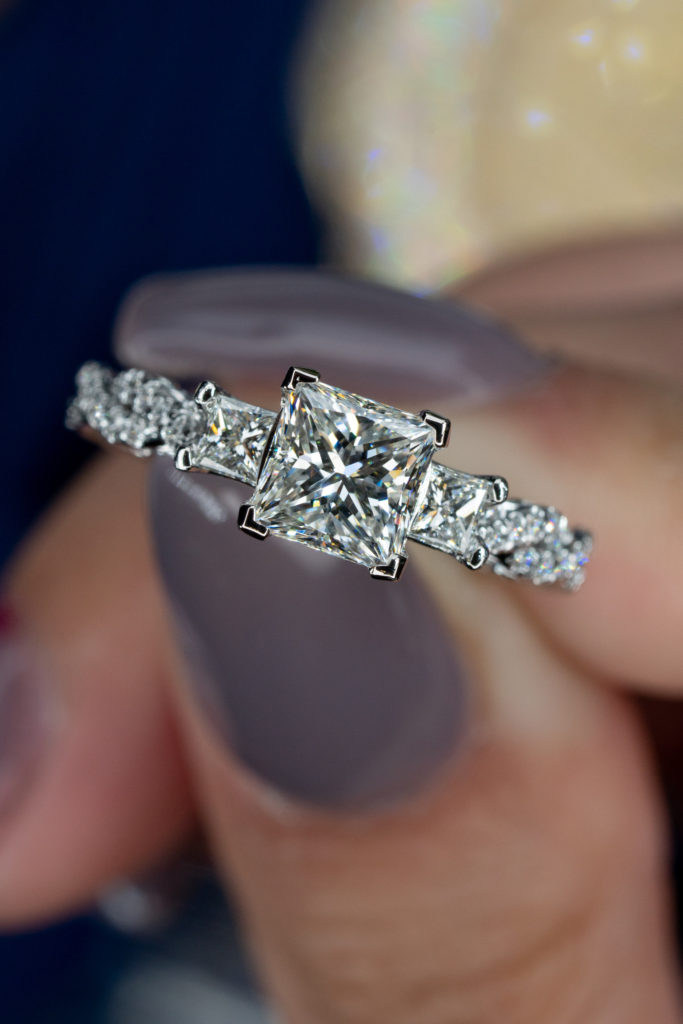 One detail that sets Verragio engagement rings apart is their iconic profiles. This element of their brand makeup makes them famous in the engagement ring world. It also attracts fondness and respect from customers all over the world.
Presently, the Verragio brand offers fully customized rings and options. This includes everything from mixed metals to intricate design elements such as beading and filigree work. The brand's innovative designs are all entirely handmade to arouse a feeling of timeless luxury and status.
The Verragio brand offers six different collections of Verragio engagement rings. Each of these collections has a specific market niche it targets. In this section, we take a brief look at some of the brand's main collections.
The Verragio's Classic Collection takes on timeless and elegant engagement ring styles. This collection of Verragio engagement rings brings together unique and artistic style details in yellow, rose, and white gold.
The Parisian Collection delivers the most freedom for customization out of all the Verragio brand collections. This collection comes with customizable diamond and non-diamond wraps, French beading, and lacework. It is also available in white, yellow, and rose metal options. 
In all, this budget-friendly collection gives you room to enjoy the brand's beloved vintage designs. Yet, it doesn't flinch in the areas of style or quality to fit in with your budget. You can get this collection in 14ct gold at a lower price.
The Venetian collection gives you room to customize your Verragio engagement rings from the inside out. With this distinct collection, there is a strict emphasis on the side profiles of the Verragio engagement rings. Verragio rings in this collection combine thorough craftsmanship and intricate details flawlessly.
Thanks to its completely customizable interior profile, the Couture Collection allows you to develop a ring that is as special as you are. This collection features Verragio's signature Lumino setting alongside a crown-shaped bezel under the center stone. What makes this collection stand out is its use of multi-colored gold and clean cut design techniques.
For the Insignia Collection, you get an unusual profile design that brings to life the Verragio logo. Using elegant ornate scrolls, delicate swirls, and, of course, the signature Lumino setting, the collection exudes elegance and feminine charm effortlessly.
Watch Out And Avoid The Replicas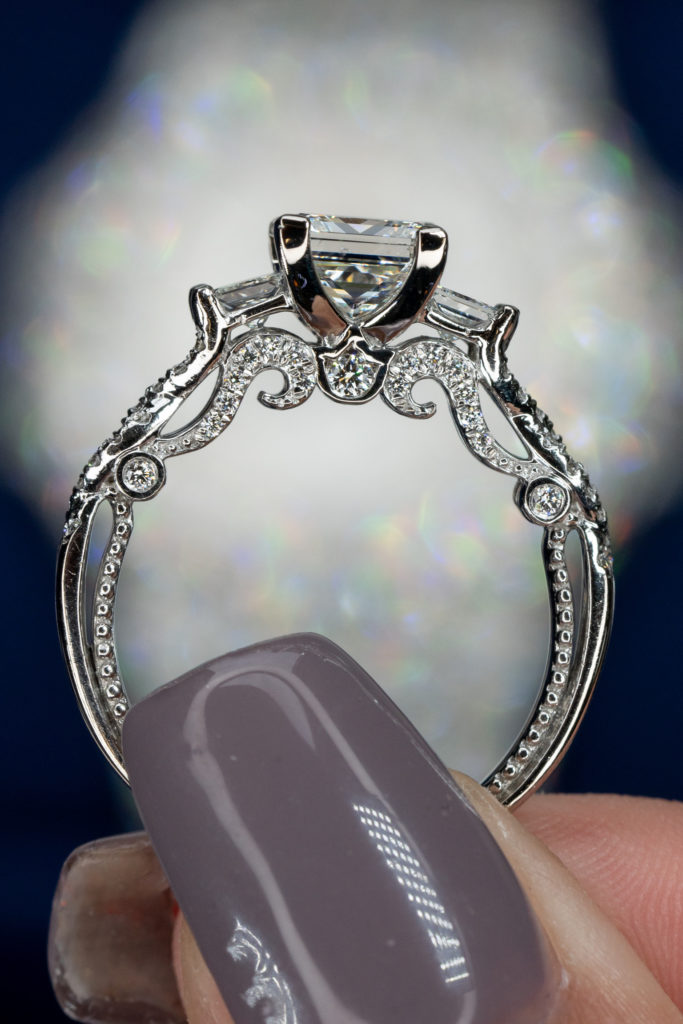 With any thriving jewelry piece, it is unavoidable that replicas and fabrications will start to form in the market space. The case is no different for Verragio engagement rings. No doubt, these replicas can be awfully enticing due to their generally lower price tags. Yet, we would firmly advise you to stay away from them for the following reasons.
Watered-down Quality and Craftsmanship
To begin with, it is very doubtful that a replica ring will give the same level of quality or craftsmanship as the real deal. In fact, the vast majority of Verragio engagement rings come with sophisticated details and detailed designs, which are tough to replicate. The last thing you want is to pay a huge amount of money for a clumsy replica piece.
That is not all. Should you eventually find a highly skilled bench jeweler who is able to create a design that is very comparable to actual Verragio rings, there is still one hitch. You will possibly end up spending almost as much as you would spend for real Verragio engagement rings
Therefore, if you want our recommendation, we'd always recommend investing in original Verragio rings. At the end of the day, you may pay slightly more for the Verragio name. But, you will potentially save a lot with zero hassle, zero risk, and zero chance for disappointment.
Buying Your Verragio Rings
Whenever you're in the market shopping for Verragio rings, go with a diamond that follows our color recommendations. Most of their settings would need an I+ center stone if you go for a round diamond. For those that prefer one of Verragio's halo settings, however, you are best off choosing H+.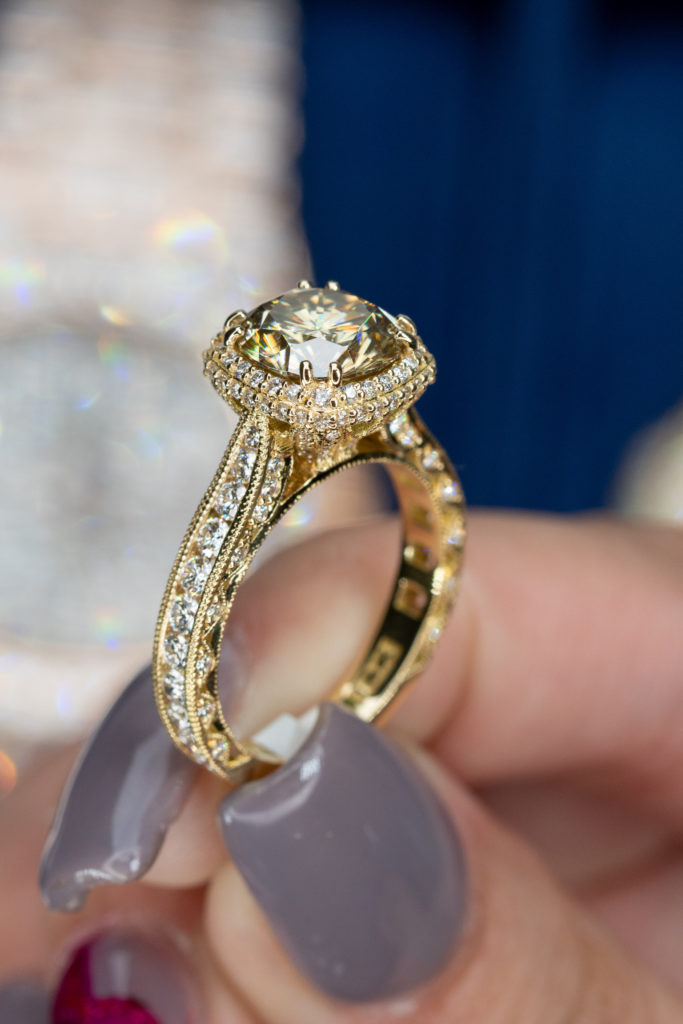 Also, note that all original Verragio rings come branded with the Verragio emblem on the interior of the ring. That should be your first search when examining whether it is an original engagement ring or not. 
Moreover, the best way to ensure you buy only true Verragio rings is to buy from a reputable jeweler, like Raymond Lee Jewelers. We will take care of your every preference and need.
Conclusion
Whenever you need an engagement ring that delivers improved and outstanding quality plus artistic design, then you should certainly consider Verragio engagement rings. Although, the rings are indeed only available for sale as semi-mounts and this might seem problematic. Yet, given that you use the right, authorized retailer, this should not give you any bother at all.
The Verragio brand remains one of the most impressive designers and a fine choice for you if you want an intricate and unique piece of jewelry. Also, if you want to flaunt a really nice diamond in one of their settings, we got you covered. With our excellent customer service, vast variety, and intuitive selection process, you will surely get a center stone worth flaunting.