They say money can't buy happiness, but the bustdown watch game says otherwise. These custom, fully-covered, super clean baguette GIA-certified diamond AP Royal Oak and Patek Nautilus watches say "oh, yes we can". They say money is a route of happiness, so shine with it.
We are here to present two of the hottest and finest watches you can get your hands on – for those with deep pockets that is – both of which have been customized with superb, GIA-certified baguette diamonds – Patek Philippe Nautilus & AP Royal Oak Chandeliers (contact us for pricing).
We are also going to talk about the bust down watch trend, how it has shaped watch culture, who is responsible, and what diamond setting is poppin' right now. At the end, we are going to discuss a trend that we are seeing more and more; a trend that will make some people scoff; but a trend that is undeniably (Ric) Flair, showing fashion is truly a statement and watches double as jewelry. That trend is…rocking two watches (iced out watches at that) at the same time.
If you don't know about the basics of bustdown watches, read this: Bust Down Watch Trend. It will answer all your questions.
BUSTDOWN WATCH TREND TIMELINE – Past to Present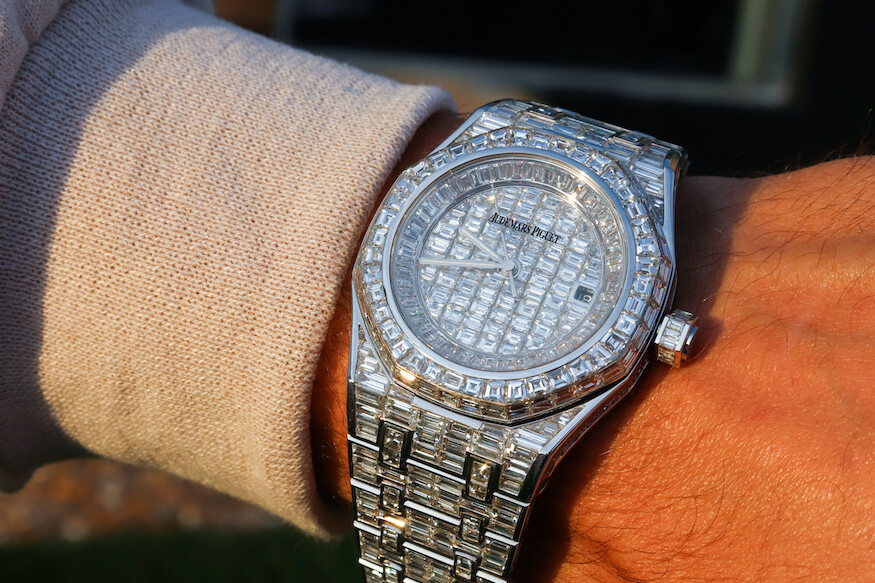 The hottest look in bustdown watches right now are the baguette diamond Patek and AP Royal Oak chandelier watches. Hands down.
This hasn't always been the case though…
Let's discuss how the bustdown watch trend has transformed over the last couple decades, so we can see how we got to the current state, where the world's finest, most iconic and most historic timepieces are being flooded with flawless baguettes.
Phase 1: 90s – No Limit & Cash Money Days
The trend first busted into the hip hop culture back in the 90s, with Master P and Birdman's Cash Money squad really setting the tone.
Even No Limit's logo was a bust down piece of jewelry.
During this era, we were seeing mostly 36mm Presidentials being iced out. It was the time of Bustdown Rollies. The term "bustdown" wasn't even a thing back then…yet this was the dawn of it all and the watch game has never looked back.
Phase 2: 2000s – Oversized Watches
The trend flipped the switch in the early 2000s, going from bustin' down traditional smaller watches to larger-than-life type watches like the Franck Muller 48mm. It was all about oversized iced out watches.
As with the 90s, the rocks were round brilliants. This is also the time when you started seeing aftermarket bands flooded with diamonds.
From what we remember, diamond flooded watches really started during this era. "Flooding" meaning the entire watch.
Phase 3: Late 2000s – Bustin Down Some of the World's Finest Watches
Just after the oversized iced out trend started melting down, we started seeing some of the world's finest and most sought after watches being fully customized with diamonds. Rappers were flooding Stainless Steel AP 42mm Royal Oaks with round brilliants. It was all about Audemars Piguet. This shocked traditionalists out there. For those who know watches, you can discern why. AP watches are pure collectibles and they are from one of the Big Three in Horology. At that time, it was almost unfathomable to bust down a watch like the Royal Oak…and "devalue" them with diamonds.
It was a fearless time, taking watches from the top and most historical brands and doing as pleased. But it worked. The trend only continued to explode, and this when it spread to the entire population.
When flooding APs became too common, people started switching to other watches like Presidential 41's and Yachtmaster II's. Yachtmaster 2s were especially popular as they offered more size at 44mm. Not oversized but definitely not traditional. Settings became tighter and we started to see advancements in how they were done. Independent diamond setters only got better and better, deleting more viewable metal from the watches.
Phase 4: 2010s – Pateks
After traditional AP Royal Oaks, both SS and gold, and every coveted Rollie you can think of was iced out and flossed, we started seeing Pateks get drilled out and flooded with diamonds. If you thought customizing APs was crazy, this was next level. But this hit the game like an atomic bomb. Since the 2010s, Pateks have been the hottest watches to bust down, and still to this day. In fact, 1 out of 8 songs that hit the billboards reference Pateks, most of which are talking about them with diamonds.
Sometime in the early-to-mid 2010s, we even saw Richard Mille's being drilled – rose gold and titanium versions. Insane…but it was hot. You have real F U money when you do something like this.
Phase 5: Mid 2010s-2018 – Advancement in Settings
As we said, diamond setters only continued to improve, so we saw creativity in the form of settings. Settings went from rows of diamonds to pave diamonds. The only metal that can be seen on a pave setting are the edges. Pave settings, which are also referred to as flower settings or honeycombs, require a lot more work and time, and a lot more diamonds. This was a game-changer, as it meant all the watches of the bust down past were up for grabs again, being able to differentiate thanks to this new setting style.
Phase 6: Current time – AP Royal Oak and Patek Baguette Diamond Chandeliers
Right now, it's baguettes everything. From watches and bracelets to chains and grills, everyone wants baguettes. They offer a completely different look. The baguettes are larger and the cut is different. What's more, the settings are tight, allowing the watch to be completely covered. It creates the appearance of water, which is why you keep hearing "Patek Water" (Future).
The trend is hitting so hard, you even have the brands themselves doin these settings. AP has some super rare, limited edition chandelier (completely covered) versions of the Royal Oak. If they are doing it, you know the style is boomin'.
All in all, with the bust down trend, it's simple, people just want to be unique and they want the hottest style out. Whether that will change anytime soon, we don't know. But we can see the baguette trend is just getting started and it's on fire.
"When hip-hop does it, the whole entire world wants to do it." Now we are seeing everyone trying to get their hands on bust down baguette watches. Sadly, for most, it's out of their price range.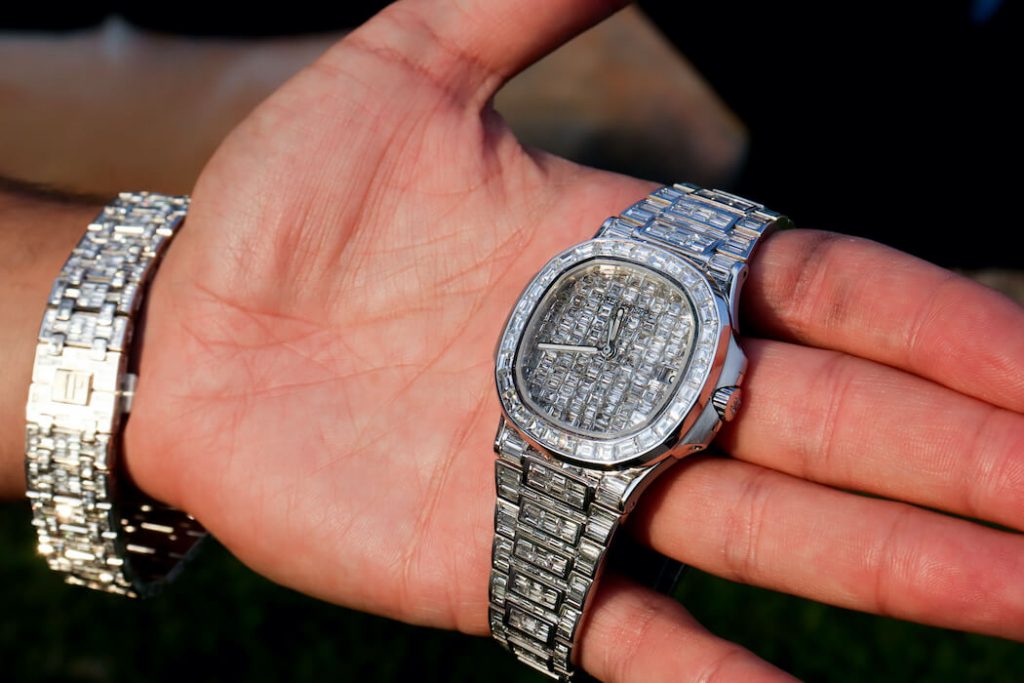 2020 Baguettes Chandeliers or Plain Janes – No Happy Medium
You don't need to look far or listen hard to know that bust down baguette watches and plain janes are the most coveted styles. For icy, extravagant days, you want the bustdown Baguette Diamond Patek watch or the AP Royal Oak Chandelier. When you want that classic look, the Plain Janes come into play.
The Chandelier AP Royal Oak and Patek Philippe Baguette Diamond Nautilus you see here are the newest additions to our collection at Diamonds By Raymond Lee.
2 Timepieces The Rap Game Loves to Bust Down – Royal Oak & Nautilus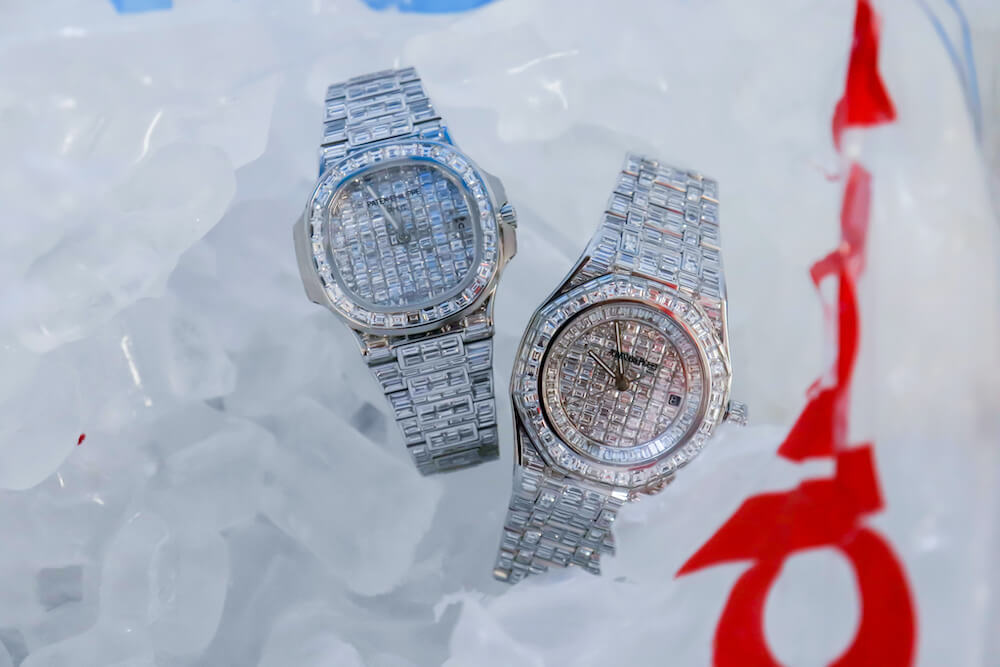 The Patek Philipe Nautilus and Audemars Piguet Royal Oak are two watches with regal status. If the Patek Philippe Nautilus is the king of sports watches, the AP Royal Oak is the prince…a very fitting analogy considering both watches share a strong bond, having been designed by the same person.
The Royal Oak and the Nautilus were both designed by world-renowned Swiss watch designer and artist, Gérald Genta. The Royal Oak came first, with its release in 1972, and then the Nautilus in 1976. You can see a lot of commonalities in both watches since both are designed by Gérald Genta and they come from the same era.
The PP Nautilus and AP Royal Oak are two of the most iconic and coveted sports watches on the planet. They still hold true to their original design, not needing any major changes as they were timeless in style from the very beginning. Instant Classic.
The only major change since their birth is the fact that the entire rap game wants to customize these two watches more than any other, drilling them out to flood them with diamonds. It may seem like a crime to some, but if you have the money, you can do what you want with it. Plus, the overall integrity of the watch remains true. Patek and AP don't seem to have issues with it, even if some of the purists out there do.
Flooded with Baguette Diamonds
Having a bust down version is like poppin champagne in the club. It's not going to get your drunk fast, it's not the best bang for your buck, but it declares spending power like no other…and the flavor is good, real good.
This AP Royal Oak Chandelier and Patek Baguette Diamond Nautilus are the perfect example of that.
These diamonds look like they came from Antarctica or straight from the North Pole. The baguette diamond's on these watches have such high clarity they look like water. Pure diamond glass, flawless.
These are watches that separate the men from boys. This is a high class bust down situation. They take watches and make them double as some of the Earth's finest jewelry.
As for the craftsmanship, it was done by only the best. Everything is measured and set to perfection. Production for these watches takes a long time. We are talking about 6 months or so.
Now, let's take a look at both individually…
AP Royal Oak Bustdown Chandelier Watch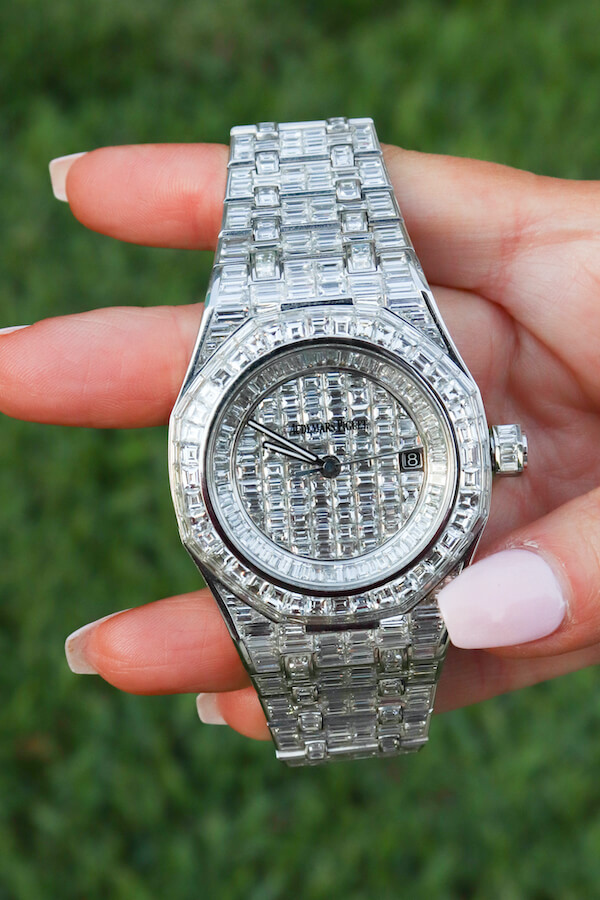 Audemars Piguet was founded in 1875. They are one third of the Holy Trinity of Watches. A traditional company that did more than stand the test of time, they changed it. It's a brand that old-timers admire and young generation desire.
Out of AP's extensive line up, the AP Royal Oak is the quintessential collection for the biggest spenders and the true horology appreciators. It's a classic watch that has never left the spotlight since its inception.
Everyone wants, admires, and respects the Royal Oak. It's royalty in the watch game.
The AP Royal Oak is an iconic watch that has been ingrained into our culture. In part, that's thanks to it being talked about in countless rap songs:
"I think I'm Big Meech, look at my timepiece/It's an Audemar, hundred racks at least" – Rick Ross
"Y'all n***** better not call the law/Get no blood on my Audemar" Mr Nice Watch – Jay Z.
No one sets watch trends like Jay-Z. He is arguably the one who put the Audemars Piguet on the map, within the rap and popular culture. He knew leaders in the watch industry and taught him true horology class. Ever since, he's been hooked on horology. He commands the respect for trends without needing to try…So if Jay-Z, the king of rap, is talking about a watch, the entire rap game and the world listens.
"Audemar on my wrist, bustdown/We poppin' bottles like I scored the winning touchdown" – Meek Mill
"Check my Audemar, no clouds in my stones" – Game
100Gs worth of ice on the Audemar/And we in the street life until they call the law" – Jim Jones
"I told her 'Sorry for the wait,' I value her time like an Audemars-Piguet" – Lil Wayne
"Need rooms, just bought a new safe/Audemar just got a new face" – Young Jeezy
"Damn, my AP goin' psycho" – Post Malone
You can find the biggest names rocking iced out APs on their wrist:
The Royal Oak is everywhere, which is why you are going to see different versions and unique customizations.
Here are some of the most high profile artists and celebs who's wrists don an AP Royal Oak:
Jay Z
Rick Ross
Offset
Lil Wayne
DaBaby
Young Ace
Jim Jones
Meek Mill
Post Malone
John Mayer
James Corden
Justin Bieber
Kevin Hart
Ellen DeGeneres
Denzel Washington
John Legend
Usher
The list goes on and on. After all, it is one of the top three watches celebrities, athletes and rappers want. Nowadays, they want a bust down AP Royal Oak chandelier watch.
Patek Philippe Nautilus Baguette Diamond Chandelier Watch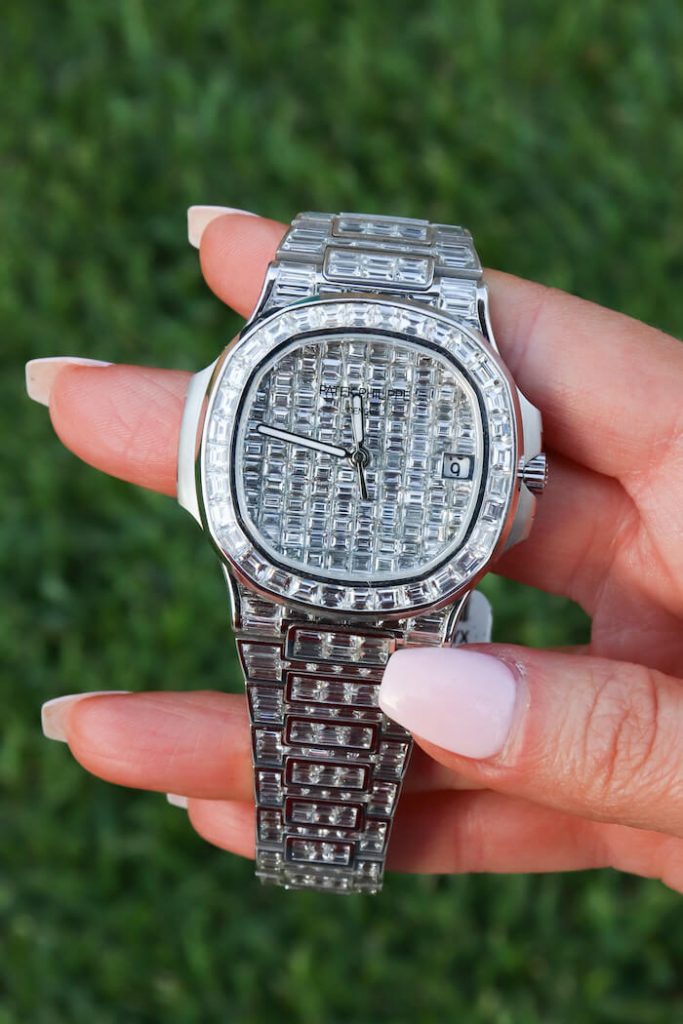 This is the sports watch worn only by royalty and the most elite members of society. Only the deepest pockets can slip their hand through a Nautilus, especially one that has baguette diamonds completely covering it.
If you want to talk about a watch that has iconic status, is a status symbol, and is the status quo for reaching the top, the Nautilus is the one.
The Patek Philippe Nautilus is extremely popular. It straight dominates the rap culture. A brand that was created back in 1839 is the most talked thing in the rap game, as if it is some sort of god. Very few things in this world have perennial popularity like Patek does.
Moreover, it has never been as popular as it is today. Like we mentioned earlier, 1 out of 8 of the top billboard songs have "Patek" in their lyrics. And when we are speaking Patek, 99% of the time it's the Nautilus, unless you are Jay-Z and you are speaking about obscure references only adept horologist and watch connoisseurs will know.
Huge hit songs with Patek in their lyrics:
First Day Out, Kodak Black
1942 Flows, Meek Mill
Rake It Up, Yo Gotti
Motorsport, Migos
I Get The Bag, Gucci Mane
Call Casting, Migos
Sacrifices, Big Sean
No Limit, G-Eazy
Ghostface Killers, 21 Savage
Ric Flair Drop, Offset
You Da Baddest, Future
No Promises, A Boogie Wit Da Hoodie
Rap Saved Me, 21 Savage
Then you got major hits with Patek in the name of the song!
Patek Water, New Patek, Midnight Patek.
Need we say more?
Some lyrics you probably know from new songs. Did you catch them?
"Double Gs on me and my Patek luminescent, yeah. Buss down the Cartiers and got a new necklace"- Roddy Ricch ('How it is')
"Virgil got a Patek on my wrist going nuts" – Future ('Life is Good' with Future)
Nobody talks about (baguette diamond) Patek watches as much as Future – Songs: Racks Blue, Stains, Patek Water, Life is Good, First Off. He had 4 top billboard songs last year with Patek in the lyrics. If it works, it works.
There are so many other songs referencing Patek. It's the number one watch in lyrics in the last few years. That says enough about its status in our culture. KING.
Rappers with Patek Watches:
Drake is one of the biggest names who always talks about Patek Philippe. His collection, which includes a couple bustdown Patek Baguette diamond Chandelier watches, is insane. 9/10 are Pateks – Nautilus watches and an Aquanaut in the mix.
Jay Z, of course, has a collection of Patek Philippe Watches, some flooded baguette diamond models, and rare models casual Patek fans don't even know about.
Migos, they all own multiple bustdown Patek watches.
Then you have Kanye West, Rick Ross, Wiz Khalifa, Khalid, Gucci Mane, Future, Young Thug, Cardi B, and (insert every rapper who's making big money).
The bond between Patek and hip hop culture is strong. Rolex 1990-2010 strong.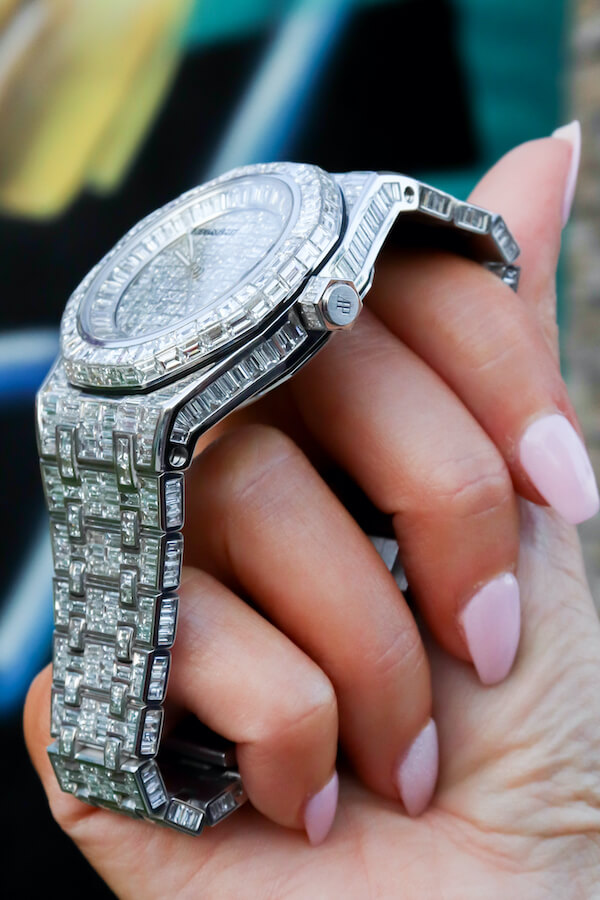 Should you get a bust down watch?
If you got millions in the bank, you aren't worried about the appreciation of your watch. So, you should get what you want to get. If you want to flood your wrist, flood it. Bustdown watches are as much the watch industry as the brands themselves now. Just make sure you buy one of the highest quality, done by the best gem-setter…like the AP Royal Oak and Patek bustdown chandelier watches featured here.
Rockin two bust down watches?
If you think drilling out a watch and setting diamonds in it is crazy, you are going to think rocking two watches is even crazier. The thing is…a lot of fashion forward people are doing it.
You have Drake, Offset, Quavo, Takeoff, Young Ace, Gucci Mane, and more.
It's a rebel move. It makes a clear representation of watches being more than a watch, but also jewelry.
Overall, it's a trend and style that only the most confident people can pull off. But, believe it or not, it extends past rappers and it dates further back than you might think…
Justin Bieber and Billie Eilish rock two watches loud and proud.
Even more surprising is Chris Pratt (actor), Diego Maradona (Argentina soccer manager), and Fidel Castro (no intro needed). They all wear (in Fidel Castro case 'wore') two watches unashamedly.
So, can you wear two watches at the same time? Yes! Will you? That's on you. The baguette diamond Patek on the left and AP Chandelier on the right would be the way to go if so. If not, one will do just fine.
Make one or both of these bustdown watches yours – contact us now.